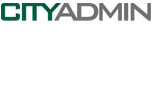 Center for New York City Law's CityAdmin Online Library
All administrative decisions by DCA dating to January 1, 2003 are available on the CityAdmin Web site.


 Visit CityAdmin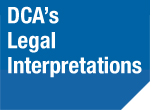 DCA's Legal Interpretations
DCA's Legal Division issues legal interpretations to help businesses comply with New York City laws and rules enforced by the Department. Each interpretation addresses specific facts and circumstances.


 Read Legal Interpretations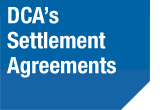 DCA's Settlement Agreements
DCA reaches resolutions with parties that are charged with violating the laws and rules the Department enforces.


 Read Settlement Agreements