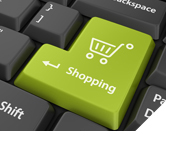 The Internet has become a big part of our everyday lives. New, unregulated technology means new opportunities for consumers, investors, businesses – and scam artists.
The continuing rise of Internet use brings more opportunities for deceptive and misleading promotions, bogus travel offers, contests, lotteries, and other illegal practices.
Unlike print advertising, impressive-looking Web sites can be designed relatively easily and affordably. Remember, just because an advertisement on the Internet appears to be professional does not mean it's legitimate.
Internet sales sites, like other businesses, are not above the law. DCA takes complaints about sites selling electronics, if the sites have a New York City mailing address.
Deceptive advertising can also come in the form of e-mail promotions. If a business makes an offer that reaches New Yorkers via e-mail, DCA can intervene if the business takes payment and doesn't make good on its agreement.

Read DCA's Internet Scam Guide (In PDF)

Learn how to avoid marketplace scams