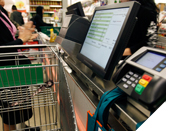 SUPERMARKET

DCA does not license supermarkets; however, businesses must comply with City laws and rules enforced by DCA, including the Consumer Protection and Weights and Measures laws. 
 


Your ads must truthfully describe the name, variety, and size of the item on sale and list any purchase restrictions. You must make reasonable quantities available.


You must place a scale within 30 feet of prepackaged food sections. You must subtract the weight of the package, or "tare," from the cost of the weighed item. The scale must pass a DCA inspection, start at zero, and come to rest before weight or price is quoted.


The unit price—the cost per measure (pound, pint, etc.)—must be listed on the shelf below most products.


All market commodities sold or offered for sale in New York City must have a stamp, tag, or label giving the item's cost. Exceptions:


baby food in jars
tobacco
bulk-food sales
vending machine products
display items at the end of the aisle
eggs
food sold for on-premise consumption
fresh produce
items on sale for seven days or less
milk
snack foods
some frozen foods



You must mark perishable food products, such as eggs, dairy products, and baked goods, with "Open" or "Freshness" Dates to show the last recommended sale or use date.


The label on packaged products must include the product's identity, net weight, measure or numerical count, and the name and address of the distributor.

 Visit DCA's Know the Law page 
 Visit Take-It-Back NYC (information about take-back program requirements)