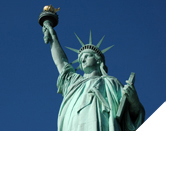 IMMIGRATION ASSISTANCE SERVICE PROVIDER

You are an immigration assistance service provider if you provide any type of service for a fee that relates to customers' immigration status. This includes filling out immigration forms.

Immigration assistance service providers must follow New York City Law and Rules. Note: The law and rules do not apply to nonprofit groups charging no fees or nominal fees, lawyers, or government agencies.

Under the law, you must:

Give customers contracts and separate receipts that itemize all services and fees
Maintain a bond, irrevocable letter of credit, or contract of indemnity
Post the following four signs where customers will see them, in both English and any other language in which you provide services:
1. Non-Attorney Disclosure Sign
2. Fee Schedule & Cancellation Policy Sign
3. Consumer Complaint Sign
4. Surety Disclosure Sign
State in all business advertisements that you are not lawyers and cannot give legal advice
Sign each immigration form you prepare for a customer

You may not:

Give customers legal advice, including telling them which immigration forms to file or coaching them for immigration interviews
Tell customers you have special influence with immigration authorities
Keep customers' original documents, like birth certificates

These tips are only summaries of requirements. You must read the law and rules carefully to get more detailed information about what you must and may not do. See RESOURCES section for the law and rules.

DCA inspects businesses to make sure they comply with requirements.

NYC law governing immigration service providers

Download NYC Sign Requirements for Immigration Assistance Service Providers

Model contract

Sample surety bond form

In one complete guide, learn what an immigration assistance service provider can and cannot do; read about Executive Order 41 which protects people seeking City services; review an immigration assistance service model contract; and learn the differences between a Notario Público and a Notary Public. Download the guide