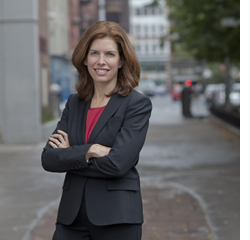 Julie Menin, Commissioner of the New York City Department of Consumer Affairs, was appointed by Mayor Bill de Blasio in May, 2014.
An accomplished lawyer and community leader, Commissioner Menin began her career as a regulatory attorney at Wiley, Rein & Fielding in Washington D.C. in 1992, and worked as a senior regulatory attorney at Colgate-Palmolive in New York City beginning in 1995. Commissioner Menin specialized in consumer protection law, helping ensure businesses complied with product safety regulations and were not engaged in deceptive advertising. In 1999, she opened and operated Vine, her own restaurant, market and catering operation, in lower Manhattan.
After September 11, Commissioner Menin founded and ran the non-profit Wall Street Rising to help lower Manhattan recover. Commissioner Menin helped small businesses collect business interruption insurance, grew the organization to 30,000 members, and created a variety of community programs, including the Retail Attraction Program—which helped more than 600 small businesses stay in lower Manhattan.
Beginning in 2005, Commissioner Menin served as Chairperson for Community Board 1 for three consecutive terms, and was widely recognized as helping spearhead lower Manhattan's recovery after September 11. In 2009, she created, hosted and produced NBC's Give & Take, an interview show focused on politics, current events, media and health. Commissioner Menin has served on the boards of the Lower Manhattan Development Corporation, The NYC Redistricting Commission, the Municipal Art Society, Governor's Island, and the WTC Performing Arts Center, among others.
Awards that Commissioner Menin has received include the National Association of Women Business Owners Community Service Award, The Women's Club of NY "City Spirit Award," Manhattan Youth's Community Service award, 2010 NY League of Conservation Voters award, and 2011 Citizen Union's 2011 Civic Leadership award. In addition, she was named as a "Rising Star 40 Under 40" by City Hall newspaper in 2008.
Commissioner Menin ran for Manhattan Borough President in 2013. Commissioner Menin earned her B.A. Magna Cum Laude at Columbia University and attended Northwestern University School of Law.