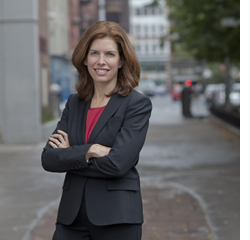 Julie Menin was appointed Commissioner of the New York City Department of Consumer Affairs (DCA) in May 2014, by Mayor Bill de Blasio after nearly 20 years as an advocate for consumers and small businesses. Ms. Menin has dedicated her career to community leadership, consumer advocacy and entrepreneurship in New York City.
As Commissioner of the first municipal consumer protection agency in the United States with a staff of 400 and a budget in excess of $30 million, Ms. Menin administers a department that licenses nearly 80,000 businesses across 55 different industries, conducts enforcement of the City's consumer protection laws, and has subpoena power. Through its Office of Financial Empowerment, DCA also works to achieve financial stability for New Yorkers with low incomes, developing and offering products, programs and services including: nearly 30 Financial Empowerment Centers that provide counseling; banking products like NYC Direct Deposit which address the needs of the city's 825,000 unbanked; and SaveUSA, a bank account with matching grants for deposits that helps New Yorkers with low incomes save their tax refunds.
Under Ms. Menin's leadership, DCA spearheads the implementation of Mayor de Blasio's Paid Sick Leave Law, which allows more than a million New York City workers to take time off for illness or care for a family member. Ms. Menin is also implementing a Small Business Relief package of nearly two dozen reforms designed to reduce the number and cost of DCA fines, increase the transparency and fairness of agency operations, and expand DCA's outreach and education efforts to small business. These reforms are projected to reduce DCA's yearly total of fines by a third to $10 million down from $15 million.
An accomplished lawyer and community leader, Ms. Menin began her career in 1992 as a regulatory attorney at Wiley, Rein & Fielding in Washington D.C., and worked as a senior attorney at Colgate-Palmolive in New York City beginning in 1995. As an attorney, Ms. Menin specialized in FDA, FTC, CPSC, DOJ and other aspects of regulatory law. In 1999, she opened and operated Vine, a restaurant, market and catering operation in lower Manhattan, which had over 75 employees.
Following 9/11, Ms. Menin founded and was the president of the nonprofit Wall Street Rising, which was a leading catalyst to help the neighborhood recover. Ms. Menin helped small businesses access grants and other monetary aid, grew the organization to 30,000 members, and created a variety of programs, including the Retail Attraction Program—which helped more than 600 small businesses stay in lower Manhattan.
Beginning in 2005, Ms. Menin served as Chairperson for Community Board 1 for three consecutive terms totaling seven years, and was widely recognized as helping to achieve lower Manhattan's revitalization after the upheaval of the September 11 attack. Ms. Menin has served on the boards of the Lower Manhattan Development Corporation, The NYC Redistricting Commission, the Municipal Art Society, Governor's Island, The National September 11 Memorial & Museum, and the WTC Performing Arts Center, among others. She currently serves on the Advisory Board for Public Service at Harvard College and as an Ex-Officio Board Member of NYC & Co.
She has been the recipient of various awards including the National Association of Women Business Owners Community Service Award, The Women's Club of NY "City Spirit Award," 2010 NY League of Conservation Voters award, and 2011 Citizen Union's Civic Leadership award.
Ms. Menin previously served as a host and co-producer of a NBC national cable news show, "Give & Take", and was a frequent commentator on numerous national and local news networks. In 2013, she ran for Manhattan Borough President.
Ms. Menin earned her B.A. Magna Cum Laude at Columbia University and her J.D. at Northwestern University School of Law. She resides in Manhattan with her husband and three children.