NYC °Cool Roofs is a City initiative that utilizes local talent to coat rooftops throughout the five boroughs with a white reflective coating that reduces building energy consumption. Participants work in teams to complete cool roof installations for individual buildings and are a part of a 25-person cohort that completes a 2-3 month training program. In addition to performing the physical labor involved with a cool roof installation, participants also: lead other team members through an installation; perform professional self- and project-evaluations; and work with a diverse set of stakeholders, including building owners, tenants, community volunteers, and program partners. All participants are supported by the NYC Department of Small Business Services' Workforce1 system throughout the training and post-training in connecting them to full-time work in sectors ranging from industrial to construction to building maintenance, among others.

The program launched in 2009 with a targeted pilot and has since aimed to coat one million square feet of rooftops each year, engaging local property owners, community partners, workforce training organizations, and volunteers throughout the process. A cool roof coating minimizes building energy consumption and cooling costs in addition to reducing greenhouse gas emissions citywide. Since its launch, the program has successfully coated over six million square feet of New York City rooftops.
Help keep New York City Cool!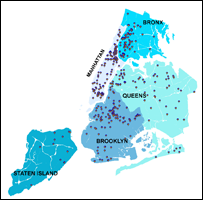 See Coating Season by Borough
Reduce roof temperatures
During a typical summer day, flat, black asphalt rooftops can reach temperatures up to 190°F which is 90° hotter than the surrounding air temperature!
Reduce internal building temperatures
Cool rooftops can reduce internal building temperatures by up to 30%, making the building cooler and more comfortable during the hot summer months.
Reduce the Urban Heat Island Effect
New York City can be up to five degrees hotter than surrounding areas due to greater amounts of dark surfaces, such as roofs and roads, and less shading from vegetation.
Reduce carbon emissions
Every 2,500 square feet of roof that is coated can reduce the city's carbon footprint by 1 ton of CO2 and help fight climate change.
Improve air quality
Cool roofs lower air pollution and greenhouse gas emissions by reducing power demand.
Extend the lifespan of rooftops and HVAC equipment
A Cool Roof coating better regulates a roof's temperature as compared to typical rooftop surfaces. By decreasing the roof temperature and cooling loads, the life of the rooftop and cooling equipment can be extended.