The NYC °CoolRoofs initiative encourages building owners to cool their rooftops by applying a reflective white coating that reduces energy use, cooling costs and carbon emissions. The program supports New York City's goal to reduce greenhouse gas emissions 80 percent by 2050, as announced in Mayor de Blasio's One City Built to Last plan to reduce energy use in buildings.
Help keep New York City Cool!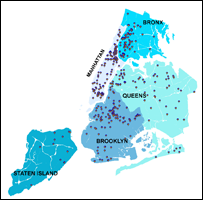 See Coating Season by Borough
Reduce roof temperatures
During a typical summer day, flat, black asphalt rooftops can reach temperatures up to 190°F which is 90° hotter than the surrounding air temperature!
Reduce internal building temperatures
Cool rooftops can reduce internal building temperatures by up to 30%, making the building cooler and more comfortable during the hot summer months.
Reduce the Urban Heat Island Effect
New York City can be up to five degrees hotter than surrounding areas due to greater amounts of dark surfaces, such as roofs and roads, and less shading from vegetation.
Reduce carbon emissions
Every 2,500 square feet of roof that is coated can reduce the city's carbon footprint by 1 ton of CO2 and help fight climate change.
Improve air quality
Cool roofs lower air pollution and greenhouse gas emissions by reducing power demand.
Extend the lifespan of rooftops and HVAC equipment
A Cool Roof coating better regulates a roof's temperature as compared to typical rooftop surfaces. By decreasing the roof temperature and cooling loads, the life of the rooftop and cooling equipment can be extended.