Welcome to the home page of the Public Service Puzzler, a contest brought to you by the Conflicts of Interest Board! Spending just five minutes with the City's Conflicts of Interest Law could win you prizes! Each month a new puzzle, question, or other activity will be brought to you by the Board's Training and Education Unit. All you have to do is give five minutes of thoughtful consideration and send in your answer to contest@coib.nyc.gov.
One lucky winner each month will receive a gift package from COIB, his or her name, picture and bio on the contest web page, and the same in the following month's edition of the Board's monthly newsletter, The Ethical Times.

This Month's Contest

October's Public Service Puzzler takes the form of a word scramble. Click the link below for all the details, and good luck! Entries are due on October 17th.

● October Public Service Puzzler (in PDF)
Meet Last Month's Winner

Meet Lauren Hamid-Shapiro, the winner of the October 2014 Public Service Puzzler! Lauren is a City Planner at the Department of City Planning.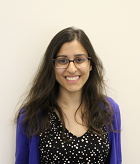 Learn more about Lauren in our interview below.
Q: What do you do in your job?
A: Review of environmental assessment statements for private land use applications.

Q: How long have you been working for the City?
A: 1 1/2 years.

Q: Name a special interest or hobby!
A: Learning about the history of New York and exploring different parts of the City.
Q: What's your favorite thing about City service?
A: Contributing to policies that shape the City's built environment.