The SIF Learning Network convenes participating providers, local government partners, foundations, and others to further develop programs, build organizational capacity, and improve services.  The Learning Network offers a venue for organizations and researchers to share best practice across programs and seeks to engage additional stakeholders, including policymakers and other national experts.
SIF Learning Network Newsletter
The NYC Center for Economic Opportunity (CEO) and the Mayor's Fund to Advance New York City (MF) released their inaugural issue of the CEO/MF Social Innovation Fund (SIF) Learning Network Newsletter in July 2011. Through this Learning Network, providers and other partners will be able to learn from each other and spread knowledge to the wider anti-poverty community.
Download the newsletter to:
read about the launch of the CEO/MF SIF Learning Network in May

learn about the importance of evaluation to the SIF project, from Gordon Berlin, President of MDRC

discover how mayors have supported the project to date meet Chris Bernhardt, the Director of the WorkAdvance program in Tulsa run by Madison Strategies Group
We hope you enjoy!
Download the Newsletter (in PDF)
SIF Learning Network Kick-Off (New York City, May 5-6, 2011)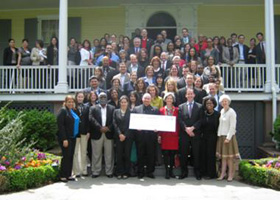 The Mayors Fund to Advance New York City, the Center for Economic Opportunity, and MDRC held the Learning Network Kick-Off event May 5-6 in New York City.  Over 120 individuals from eight cities attended the two-day conference hosted at Lincoln Center and Gracie Mansion.  Special guests included Paul Carttar, Director of the Social Innovation Fund at the Corporation for National and Community Service, Memphis Mayor AC Wharton, and New York City Mayor Michael R. Bloomberg.
The Kick-Off event provided an opportunity for program teams to meet together to further develop programs and share best practices.  Event activities included an introduction to the Social Innovation Fund (SIF), a roundtable discussion on aspirations for the initiative, a panel discussion that addressed how SIF activities and programs can inform future policy, site visits, and design team meetings, and cross-program capacity building sessions.