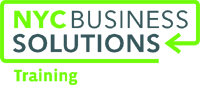 The NYC Department of Small Business Services wants to ensure that your employees gain the skills they need to make your business more profitable and productive. NYC Business Solutions Training Funds provide New York City employers with funding and support to develop the skills of their workers and promote career advancement for their employees.
Benefits of Training Funds:
Up to $400,000 provided to fund 60% of eligible training costs, with the employer paying the balance.
Small Businesses (fewer than 100 employees) can receive funding for up to 70% of training costs.
Wide range of training accepted. Funding is available for training that is on-the-job, off-site, led by your own manager or external training providers. In addition to occupational skills, funding is also available for English as a Second Language, adult literacy, and math training.
Access to free one-on-one assistance throughout the application process.
For more information on how to apply for a Training Fund award, visit www.nyc.gov/training.

Contact David Zipper, Executive Director of Customized Training for more information at (212) 513-6470.
Read the Business Solutions Training Funds press release.
For a brief description of the customized training funds, see the program summary in the CEO report