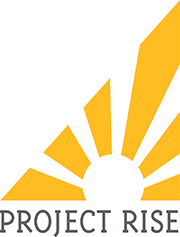 WBAI Interviews Kingsborough Community College Project Rise Participants
On December 10th WBAI's Women in the Making interviewed members of Kingsborough Community College's Project Rise, a CEO Social Innovation Fund program. Project Rise creates new pathways to stability for young people through education, paid internships, and support services. KCC's Project Rise Associate Director Dina LiMandri spoke about the impact Project Rise has seen for its students, and participants Maxine Jackson and Erika Glen spoke about the difficulties faced in their communities and the obstacles they have personally overcome with the support and help of Project Rise.
Listen to the WBAI segment here.


Evaluation Released for CEO Innovative Nonprofit Awardee, Youth Represent
CEO has released an evaluation of Youth Represent, a recipient of CEO's 2013 Innovative Nonprofit Award for its community-lawyering model. Youth Represent is a holistic youth defense and advocacy organization that provides education and legal services to young adults ages 24 years and under. Founded in 2006, Youth Represent partners with select New York City non-profit organizations to deliver legal representation, RAP sheet reviews, workshops, and staff training.



Key Findings
Between 2013–14, Youth Represent attorneys and staff worked on a total of 1,233 reentry and criminal legal services on behalf of 738 young adults, successfully resolving 4 out of 5 legal cases.
Where RAP sheets errors were identified and corrected, Youth Represent helped clients avoid unnecessary negative consequences and outcomes. Youth Represent performed reentry services concerning young adults' criminal records 962 times in 2013-14, identifying and correcting RAP sheets errors in over one quarter of cases.
Youth Represent was most successful on cases involving education (93 percent success rate) and the correction of criminal records (87 percent success rate).
Young adults universally expressed a willingness to approach Youth Represent for help and guidance in the future. Additionally, partner organizations described the services provided by Youth Represent as valuable to their organization and supportive of their efforts to serve youth. 80 percent of organization staff described their partnership with Youth Represent as extremely valuable.
Learn more about Youth Represent in the full report

Evaluating the Earned Income Tax Credit for Single Adults
Earlier this year CEO participated in the Office of Planning, Research and Evaluation (OPRE)'s 17th annual Welfare Research and Evaluation Conference. At the conference CEO's Executive Deputy Director Carson Hicks led a panel discussing the earned income tax credit for single adults, including CEO's Paycheck Plus program. The federal Earned Income Tax Credit (EITC) supplements the earnings of low-wage workers, mostly benefiting those with children. The Paycheck Plus demonstration project tests whether the size of the credit for single adults improves labor market and related outcomes.
Watch this and other breakout sessions from the conference.
Read the MDRC Paycheck Plus policy brief.
Shop Healthy Spreads the Word
Shop Healthy NYC works with communities – including residents, food retailers, and food suppliers and distributors – to increase access to healthy foods. In October 2014 Shop Health staff participated in two cutting edge food retail webinars.
Shop Healthy staff presented "Addressing the Distribution Challenge" for California's Change Lab Solutions. The webinar focused on how to improve the food environment by partnering with food retail distributors.
As a part of a Center for Science in the Public Interest (CSPI) webinar, Shop Healthy staff presented "Healthy Checkout Subcommittee of the Food Marketing Workgroup." This webinar focused on the process of working with distributors to implement Healthy Checkout Line, which Shop Health piloted July 2013.
Visit Shop Healthy NYC on the Department of Health's Website.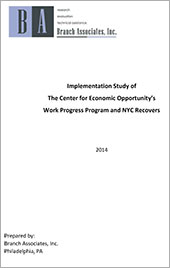 CEO and Branch Associates release new implementation study of the Work Progress Program and NYC Recovers
The New York City Center for Economic Opportunity (CEO) is pleased to announce the release of an implementation study from Branch Associates on two subsidized jobs programs- the Work Progress Program (WPP) and NYC Recovers. This report documents promising indicators of early successes, with 75 percent of participants completing their subsidized jobs and about half subsequently placed in employment or educational opportunities. In addition, the evaluators find that the programs delivered a variety of additional important benefits for participants, including: providing basic exposure to work, a modest paycheck, a positive place to be, and caring staff to help them grow. The evaluation also identified benefits for service providers, including: opportunities to grow staff from within their communities, an ability to provide youth with a "ladder of services," increased organizational capacity and office morale, and simple administrative requirements.

CEO launched WPP in 2012 in partnership with the NYC Young Men's Initiative and NYC Human Resources Administration. WPP is a flexible subsidized jobs program in which CEO reimburses CBOs for wages paid to low-income young adults (aged 16-24) who have been placed in short-term jobs that typically last 12 weeks, with a special emphasis on serving disconnected youth. The program was designed to complement existing community based youth programming (e.g. education classes) by adding a subsidized job into programs that did not currently offer them. The types of services and jobs offered are determined by each CBO, the employers they work with, and their participants' needs, skills, and preferences. NYC Recovers is a similar program designed to either serve residents from Hurricane Sandy affected communities or place New Yorkers in recovery-related work.

Learn more about the benefits of WPP and NYC Recovers in the full report.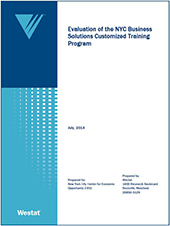 Westat releases new report on impacts of Customized Training
On October 31, 2014, Westat released an evaluation report on the Customized Training program (CT). Launched in 2007, CT helps businesses train, retain, and promote employees – with CEO fund supporting a particular focus on those earning $15 per hour or less. The program provides funding for employers to deliver tailored trainings for their incumbent workers, and businesses agree to provide wage gains to the employees upon completion. The program is run in partnership with Small Business Services, and is also partially funded through federal Workforce Investment Act funds.

Westat's evaluation shows that the program's unique approach to helping low-wage workers advance by partnering directly with employers, effectively helps employees improve their wages. Evaluation findings show that participants in the CT program overall experienced a statistically significant wage gain of nine percent, which translates to approximately $3,286 annually. When compared to the level participants were earning prior to training, lower wage employees (those making $15 per hour or less) received average wage gains of 11 percent ($2,621 more a year). By helping low-wage workers advance by partnering with employers, the program provides a strong complement to CEO's workforce program models that recruit on an individual basis and tailor services to specific needs.

Learn more about the positive impacts of CT in the full report.
MDRC releases latest findings for WorkAdvance and Family Rewards
On October 30, 2014 CEO's research partner MDRC released two reports – each evaluating the implementation of one of CEO's Social Innovation Fund (SIF) programs, WorkAdvance and Family Rewards.
WorkAdvance and Family Rewards are two of five programs being implemented through a federal Social Innovation Fund grant to CEO and the Mayor's Fund to Advance New York City, in partnership with seven other cities. MDRC is currently conducting Randomized Control Trial impact evaluations of both programs, with findings expected late in 2015.
Read the complete WorkAdvance and Family Rewards implementation reports.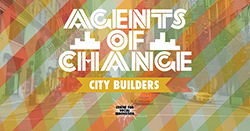 Agents of Change: City Builder Contest
Great Cities are the product of engaged and active citizens - the types of people who insist on rolling up their sleeves to make their city a better place. But we need your help to find the very best! That's why we're proud to announce that we've partnered with the Centre for Social Innovation and 15 other outstanding organizations to support ten great ideas for a better New York City. The deadline to apply is November 30, 2014.
Read more at:http://nyc.socialinnovation.org/agents-of-change
Rockaways Economic Advancement Initiative: Workforce Development Program Request for Proposal
CEO, in collaboration with Small Business Services (SBS), NYCHA, and Citi Community Development, is launching a new initiative to connect Far Rockaway residents to high-quality, full-time employment by expanding place-based strategies that promote economic empowerment and mobility.

The selected vendor will contribute to positive employment outcomes in close coordination with the Far Rockaway Workforce1 Career Center and the Workforce1 system with a particular focus on residents of the six NYCHA developments in Far Rockaway. Furthermore, this investment in Far Rockaway is intended to be a pilot program that will inform best practices which can be replicated on a city-wide scale in other targeted communities with similar structural challenges as well as used to enhance the Workforce1 system's approach to promoting access and opportunity for higher quality, full-time employment among all New Yorkers.

Final applications are due December 8th, 2014 at 5pm.
Click here for the RFP (in PDF); Addendum 1; Addendum 2
DYCD, CEO, YMI, and Policy Studies Associates release new qualitative evaluation of the Cornerstone Mentoring Program
Launched in 2012 as a component of the NYC Young Men's Initiative (YMI) in partnership with the NYC Center for Economic Opportunity (CEO), the YMI Cornerstone Mentoring Program supports youth in grades five through nine during their transitions from elementary to middle school, and middle school to high school, by cultivating positive personal relationships and community involvement. Employing a group mentoring model with a ratio of one mentor to four youth, Cornerstone promotes participant growth using dialogue, role modeling, trips, as well as academic support. The program targets youth of color living in or near public housing who are at risk of dropping out of school. Participants in school year 2013-2014 were 59% Black and 35 % Latino. Cornerstone is administered by the Department of Youth and Community Development (DYCD) and operates in 25 DYCD Cornerstone Community Centers located in New York City Housing Authority facilities.
Key Findings
Mentoring program participants reported positive attitudes about their abilities to do well in school and beyond, compared to non-mentoring participants.
Cornerstone participants were more likely to report feeling confident and capable of achieving success in school when supported by a mentor. Mentors reinforce the importance of school through regular check-ins and by addressing challenging school situations that disrupt academic success. Mentoring relationships provide support to help youth to stay in school and achieve academic goals.
Mentoring program participants reported high levels of trust and positive relationships with their mentors.
Cornerstone promotes participant growth by connecting youth to caring mentors who help mentees to navigate race and class issues, and to build healthy relationships with their peers and adults. Mentees reported that they were able to talk to the mentors about their needs and concerns.
Mentoring program retention is higher compared to traditional afterschool programs (43% vs 35%).
Engaging and enriching experiences help to bolster voluntary commitment to the program. Participant data suggests that mentoring participants were more connected to Cornerstone programming than their peers who were not enrolled in the mentoring program. On average, mentoring participants attended 397 hours of Cornerstone programming, compared to 174 hours of traditional afterschool programming attended by nonparticipants.
YMI Cornerstone Mentoring Report (in PDF)
New NYC Center for Economic Opportunity Report Shows Sector Strategy Making an Impact for Low-Wage Workers
The New York City Center for Economic Opportunity (CEO) is pleased to announce the release of an evaluation report from Westat on NYC Sector Focused Career Centers. This report shows that Sector Centers produced higher employment rates, greater job stability, and substantially higher wages compared with traditional career center participants. When compared with similar clients at Workforce 1 Career Centers, SFCC participants increased their earnings by an average of $5,800 over the course of a year.
CEO launched its first sector center in 2009 with the NYC Department of Small Business Services. An earlier report from Westat (2010) found positive impacts on employment and wages. The follow-up report released today (which covers a longer timeframe and includes new Sector Centers) continues the trend of positive findings.
Learn more about the positive impacts of Sector Centers in the full report (in PDF)
CEO, YMI, and Urban Institute Release New Qualitative Evaluation of The CUNY Fatherhood Academy
Launched in 2012 as a component of the NYC Young Men's Initiative and with funding from the Campaign for Black Male Achievement at the Open Society Foundations, the CUNY Fatherhood Academy(CFA) is a 16?week high school equivalency and college preparatory program serving New York City fathers aged 18 to 24 years. Participants are 62% Black and 38% Latino. The program uses a cohort-model and promotes responsible parenting, college readiness, and work among unemployed and underemployed fathers.
Key Findings
CFA Increased HSE Attainment by nearly 9% compared to the NYS average
This is notable as CFA serves young fathers who are disconnected from education and employment, and who have high rates of criminal justice system involvement. In only 16 weeks, the program helps its participants earn high school equivalency (HSE) diplomas at rates above the NYS average (61.3% average pass rate among CFA participants, compared to 56.4% average among all 19- to 24-year-olds in New York State).
Community of Fathers was a Draw for Participants
The program's focus on fatherhood was the primary draw for participants. The fathers value the parenting workshops and peer learning opportunities, and highlight the bond that develops between cohort members as key to program retention.
College Campus Location Impacted Participant Confidence and Motivation
Stakeholders and participants credit CFA's location on the LaGuardia Community College campus as a source of motivation and self-confidence for the fathers. The campus setting helps CFA participants develop a sense of belonging and possibility, which the fathers report was missing in HSE programs they had experienced elsewhere.
Read CEO's Findings at a Glance (in PDF) or read Urban Institute's Full Report (in PDF).
The New York City Young Men's Initiative: Working to Improve Outcomes for Black and Latino Young MenMetis Associates' June 2014 report, "The New York City Young Men's Initiative: Working to Improve Outcomes for Black and Latino Young Men," presents findings from a cross-program evaluation of the Young Men's Initiative (YMI). It examines the influence of YMI on New York City agency programming and practices and identifies best practices in serving the needs of young men of color. In addition, it presents recommendations for strengthening YMI.

Highlights from the report include:
YMI has resulted in changes to City agency practice, bringing increased attention to major issues affecting young men of color.
YMI has enhanced networks within city government, between city agencies and service providers, and among service provider organizations. Agency staff report closer and more direct relationships with provider organizations, while providers report more receptive and collaborative relationships with city agencies.
Service provider organization staff and YMI program participants report improved education and employment outcomes, and a range of positive personal outcomes, including increased self-efficacy, improved interpersonal and conflict mediation skills, and a greater sense of personal and community responsibility.
NYC YMI Metis Evaluation Full Report (in PDF)
NYC YMI Metis Evaluation Findings at a Glance (in PDF)
FY13 data has been releasedCEO Releases Fiscal Year 2013 Performance Data on CEO and YMI.
Work Progress Program Application for Fiscal Year 2015 Now Open
CEO in partnership with the NYC Human Resources Administration is seeking qualified youth service providers to deliver the Work Progress Program (WPP) in fiscal year 2015 (July 1, 2014 – June 30, 2015). WPP is a subsidized wage program designed to complement existing youth services programs by providing participating low-income young adults with work experience. The original WPP pilot in spring 2012 selected 17 youth service providers across the five boroughs to serve over 300 participants. Since then, the program has expanded to serve over 600 participants through more than 20 service providers.
Apply (in PDF)
NYC Recovers Application for Fiscal Year 2015 Now OpenCEO in partnership with NYC Human Resources Administration is seeking qualified service providers to deliver NYC Recovers in fiscal year 2015 (July 1, 2014 – June 30, 2015). NYC Recovers is a subsidized wage program designed to provide Hurricane Sandy-affected residents with general employment opportunities and to place unemployed New Yorkers in recovery-related work within Sandy-affected communities. Since December 2012, NYC Recovers providers have served neighborhoods including those on the Rockaway Peninsula, Breezy Point, Gerritsen Beach, Brighton Beach, Broad Channel, Coney Island, Gravesend, Red Hook, St. George, Dongan Hills, New Dorp Beach, Tottenville, Throgs Neck, and Lower East Side.
Apply (in PDF)
Poverty and Evidence-Based Governance
The New York City Center for Economic Opportunity by the Nelson A. Rockefeller Institute of Government (RIG) analyzes CEO's innovative processes and impact. The Institute describes CEO as "more than an anti-poverty agency. It is an ongoing experiment in governance, one that addresses a complex public problem through innovation, testing, and problem measurement." The report goes on to consider CEO as a potential national model in making government policy smarter and more effective.

Poverty and Evidence-Based Governance - The New York City Center for Economic Opportunity - March 2014 (in PDF)

Health Department and Center for Economic Opportunity Release Shop Healthy NYC Report Detailing Success of Program in Its First Year
The Health Department and the Center for Economic Opportunity released the results from the first year of the Shop Healthy NYC program showing the program has been successful in increasing both awareness and promotion of healthier foods in low income neighborhoods. Shop Healthy NYC is a voluntary program that works with communities to increase access to healthy foods. The results of the new report show that in its first year, Shop Healthy NYC increased promotion and access to healthier foods in 170 neighborhood stores, reached more than 80% of bodegas and supermarkets in the neighborhood, and increased the proportion of advertising for healthy foods and the stocking of healthier food options.

Read the press release
Read Shop Healthy NYC Evaluation report (in PDF)
Health Department and Center for Economic Opportunity to Release Report Showing Success of Shop Healthy NYC in Bringing Healthier Food to Low-Income
Neighborhoods
Download the media advisory (in PDF)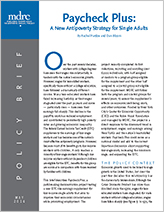 CEO and MDRC Release First Policy Brief on Paycheck Plus
In partnership with the social policy research firm MDRC, the New York City Human Resources Administration, the Department of Consumer Affairs, and the City University of New York, CEO is piloting a local demonstration project to simulate the expansion of the Earned Income Tax Credit (EITC) to low-income single workers without dependent children, with the goal of increasing employment and earnings. The five-year pilot includes a rigorous evaluation led by MDRC to help inform policy discussions focused on poverty and work supports. An MDRC policy brief on this initiative, released today, describes major milestones reached in the first year of the Paycheck Plus demonstration – specifically the recruitment and enrollment of over 6,000 individuals into the study.

Paycheck Plus simulates an expanded EITC for single adults and tests its effects on employment, earnings, and other outcomes including child poverty. Low-income, single individuals were randomly assigned using a lottery-like process to either a "program" group, eligible for the new EITC-like wage subsidy, or a "control" group, eligible only for benefits under the current system. Paycheck Plus offers an expanded benefit to single adults of up to $2,000, which participants in the program group are eligible to receive for up to three years. The evaluation will follow individuals over a four-year period – tracking their employment, earnings, and other outcomes. Interim reports will be issued annually and the study will conclude in 2018 with the release of a final impact report.

The EITC is widely considered to be the most successful antipoverty program in the United States, and policy leaders have long advocated a more robust EITC for single workers. Paycheck Plus marks the first time government is putting the idea to the test.
Read more about Paycheck Plus in MDRC's new policy brief.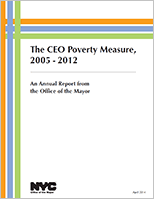 Mayor Bill De Blasio and CEO Release Latest Citywide Poverty Measure
Mayor Bill de Blasio and the New York City Center for Economic Opportunity (CEO) announced that they have submitted to the City Council the Mayor's Annual Poverty Report. The 2005-2012 analysis, incorporating the latest data available, showed that as the economy emerged from recession in 2012, citywide poverty remained statistically unchanged from the previous year. Yet the poverty rate remains at troubling levels, especially when considering the number of New Yorkers living at or near the poverty line. This report highlights the importance of the social safety net in reducing poverty and identifies populations where the poverty rate is increasing at a somewhat faster pace than the rest of the city. The report also highlights some of the City's new antipoverty initiatives targeting problems cited in the report. Learn more

Some highlights from the report include:
While the city's economic and employment conditions improved since the 2008 recession, a large percentage of the city's population (45.6 percent) continued to live near the poverty line in 2012, compared to 30.7 percent in the official federal measure.
The poverty rate for working age adults (18-64 years of age) who were employed full-time, year-round, rose by 1.8 percentage points from 2008, reaching 8 percent in 2012.
Increases in poverty were particularly pronounced for Asian New Yorkers (a 6.6 percentage point increase, totaling 29 percent) and non-citizens (a 5.3 percentage point increase, totaling 29.9 percent).
"This report highlights the urgency of our policy and legislative agenda," said Mayor Bill de Blasio. "The data clearly shows that too many New Yorkers are struggling to get by, and the city must do more to address their needs. We are committed to helping level the playing field, while ensuring that New York continues to be a vibrant economic city for all."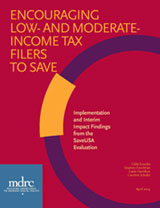 SaveUSA Increases Savings
Since 2011, SaveUSA, a tax-time savings incentive program, has provided the opportunity for low-income families in four cities to set aside part of their tax refund to save more in short-term, non-retirement savings. An MDRC report on this program, released today, demonstrates that low-income families can, in fact, save and that this program helps turn low-income non-savers into savers. MDRC is using a randomized control trial (RCT), the gold standard in evaluation, to determine the impacts of SaveUSA. Their report, "Encouraging Low- and Moderate-Income Tax Filers to Save: Implementation and Interim Impact Findings from the SaveUSA Evaluation,"shares impact findings on participants 18 months after they enrolled in the program in 2011.
MDRC found that after 18 months:
79 percent of SaveUSA participants had non-retirement savings, eight percent more than regular tax filers.

SaveUSA participants had an average of $512 more in savings than regular tax filers.
SaveUSA participants also have more positive attitudes toward savings, with over 85% viewing savings as "very important."
The average household income of SaveUSA participants is under $18,000, and about 74 percent of account holders maintained their savings for about a year, receiving a 50 percent match, up to $500. MDRC did not find any impact on overall financial well-being 18 months after enrollment – SaveUSA participants were able to save without incurring more debt, but their financial picture was not improved by the program. MDRC will continue to study the effects of SaveUSA through 36- to 42-months after program enrollment. The final report, scheduled for late 2015, may shed light on possible impacts to participants' overall financial health.
Read more about the effects SaveUSA has on participants in MDRC's new report.