CEO and Department of Education Release Research Study on First Year of Pre-K for All
CEO and the New York City Department of Education (DOE) are proud to announce the results of a new evaluation of the first year of Pre-K for All, the City's ambitious program to expand full-day, high quality pre-kindergarten to all four-year-olds.
This research study is conducted by Westat, Metis Associates and Branch Associates on behalf of the DOE and CEO, with support from the New York University's Institute for Human Development and Social Change. DOE and CEO launched this study to inform long-term planning for building a sustainable pre-K system, while also identifying ways in which Pre-K for All can increase support for providers and better meet the needs of New York City's children and families in the near future. The Year 1 evaluation was based on surveys, focus groups, interviews and assessment data from a variety of stakeholders including parents, teachers, principals, site leaders, and staff from the DOE and other City agencies. In total, approximately 200 pre-K programs were surveyed with responses from 750 pre-K educators and 1,100 families. Approximately 1,150 pre-K students were studied across 75 pre-K programs, and over 40 interviews were conducted with key stakeholders from City Agencies.
Key findings include:
92 percent of surveyed families rate the quality of their child's pre-K program as "good" or "excellent"
83 percent of surveyed parents report that Pre-K for All improved their child's learning and behavior "a lot"
Students made gains in academic and executive functioning skills across income levels, races, and home language statuses, over the course of the study period
Pre-K for All sites report using a variety of family engagement and communication practices
Pre-K for All sites report that they feel supported by the DOE in implementing curriculum
Pre-K for All sites report using a wide variety of data to inform instruction and make programmatic decisions
Most providers that applied to offer Pre-K for All report that the application process was clear and well-supported
A majority of Pre-K for All site leaders and teachers report using each type of support provided by the DOE (e.g. coaching, professional development seminars), and most sites report that these supports are helpful
You can view all the reports here under "Pre-K for All"

New CEO Research Shows WorkAdvance Program Increases Earnings for Low-Wage Workers


CEO is pleased to announce the release of a new research report from MDRC on WorkAdvance, a sector-focused job training program that focuses on career advancement. The evaluation shows that WorkAdvance improved earnings for participants when compared to a control group that did not receive WorkAdvance services. In particular:
WorkAdvance, a sector-based workforce development program with a focus on long-term career advancement, significantly increased employment in the target sector at all providers.
By the second year after entering the program, participants at three out of four sites saw annual earnings increase significantly.
At two sites that were newer to this approach, the program had much larger impacts on earnings and employment for those who began the study later in the study period, showing that WorkAdvance takes time to fully implement.
WorkAdvance was able to increase earnings and employment rates for the long-term unemployed.
WorkAdvance is one of the programs supported by a 2010 Social Innovation Fund (SIF) grant to CEO and the Mayor's Fund to Advance New York City, and its elements build on learnings from CEO workforce programs and research such as the 2014 sector center study by increasing evidence on effective workforce development models. MDRC, a social policy research firm, conducted the multicity Randomized Control Trial of WorkAdvance's impact on participants' earnings, employment, and other economic outcomes. The SIF is an initiative of the Corporation for National and Community Service (CNCS) that is being implemented in locations across the country. The CEO/Mayor's Fund 2010 SIF grant is a partnership between NYC and seven other cities.
You can view the full report here, the report summary here and CEO's Findings at a Glance here.
CEO, Mayor's Fund, and MDRC Release SaveUSA ImpactReport
SaveUSA, a tax-timesavings incentive program, provided the opportunity for low-income families infour cities to set aside part of their tax refund save more in short-term,nonretirement savings. An MDRC report on SaveUSA demonstrates that low-incomefamilies can, in fact, save and that this program helps turn low-incomenon-savers into savers. MDRC used a randomized control trial (RCT), the goldstandard in evaluation, to determine the impacts of SaveUSA. The report, "EncouragingNonretirement Savings at Tax Time: Final Impact Findings from the SaveUSAEvaluation "shares impact findings on participants 42 months after they enrolled in theprogram in 2011.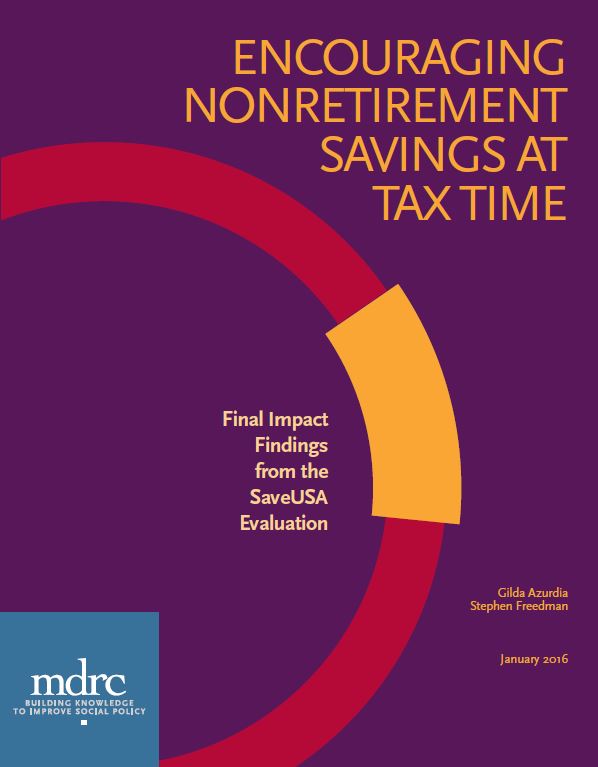 MDRC found that:
80 percent of SaveUSA participants had nonretirement savings at 42-months, nearly eight percentage points more than regular tax filers without access to a SaveUSA account and savings match.
SaveUSA participants had an average of $522 more in savings than regular tax filers.
SaveUSA participants were able to save without accumulating more debt, leading to some gains in financial security.
The average householdincome of SaveUSA participants was under $18,000 and participants had nearly$10,000 in non-housing-related debt. Sixty-eight percent of account holdersmaintained their savings for about a year, receiving a 50 percent match, up to$500. MDRC did not find positive or negative impacts on longer-term financialsecurity 42 months after enrollment—SaveUSA participants were able to savewithout incurring more debt, but their long-term financial security was notimproved by the program, pointing to the need for supplementary programsfocusing on long-term financial stability for low- and moderate-incomeindividuals.
Read more about the effects SaveUSA has on participants in MDRC's new report.
CEO and MDRC Release Second PolicyBrief on Paycheck Plus
In partnership withthe social policy research firm MDRC, New York City Human ResourcesAdministration, Department of Consumer Affairs, and City University of NewYork, CEO is piloting a local demonstration project to simulate the expansionof the Earned Income Tax Credit (EITC) to low-income single workers withoutdependent children, with the goal of increasing employment and earnings. Thefive-year pilot includes a rigorous evaluation led by MDRC to help informpolicy discussions focused on poverty and work supports. An MDRC policy brief on this initiative released today, thesecond in a series, describes implementation of the program in its first taxyear.
Paycheck Plussimulates an expanded EITC for single adults and tests its effects onemployment, earnings, and other outcomes including child poverty. Low-income,single individuals were randomly assigned using a lottery-like process toeither a "program" group, eligible for the new EITC-like wage subsidy, or a"control" group, who do not receive the subsidy but are still eligible for taxcredits under the current system. Paycheck Plus offers an expanded benefit tosingle adults of up to $2,000, which participants in the program group areeligible to receive for up to three years. The evaluation will followindividuals over a four-year period – tracking their employment, earnings, andother outcomes. Interim reports will be issued annually and the study will concludein 2018 with the release of a final impact report.

The EITC is widely considered to be the most successful antipoverty program inthe United States, and policy leaders have long advocated a more robust EITCfor single workers. Paycheck Plus marks the first time government is puttingthe idea to the test. As discussed in this brief, MDRC will be launching areplication of the test in Atlanta, Georgia with funding from the Annie E.Casey Foundation, Ford Foundation, U.S. Department of Health and HumanServices, and U.S. Department of Labor. The Atlanta project will complement andbuild on the evidence from Paycheck Plus in New York City, which is funded byCEO, the Robin Hood Foundation, and the U.S. Department of Health and HumanServices in partnership with the New York State Office of Temporary andDisability Assistance.
Read more aboutPaycheck Plus in MDRC's new policy brief.
CEO Announces Release of two Program Evaluations toImprove Education and Employment Outcomes in Low-Income Communities

CEO isproud to announce the release of two reports from evaluation partner MDRC onprograms in the CEO and Mayor's Fund to Advance New York City Social InnovationFund (SIF) portfolio. These two reports include helpful guidance forpolicymakers and practitioners in New York City and beyond. The CEO/Mayor'sFund SIF grant is a partnership between NYC and seven other cities. The SIF isan initiative of the Corporation for National and Community Service that isbeing implemented in locations across the country.

The Jobs-Plus report, "The SecondGeneration of Jobs-Plus Programs," describes the implementation of Jobs-Plus, apublic housing-based employment program, in the Bronx and San Antonio. Becauseof the compelling evidence supporting Jobs-Plus, it is now being replicated inNew York and several other cities across the country. This report includesdetails on best practices for participant recruitment, employment-relatedservices, rent incentives, and community involvement, while also discussingsome of the challenges in all these areas. In addition, the report includesdetails on participant outcomes and costs of the program during the early yearsof SIF Jobs-Plus.

The ProjectRise report, "EngagingDisconnected Young People in Education and Work," describes the implementationof Project Rise, a cohort-based education and paid internship program for outof school and out of work youth who lack a high school diploma or equivalent.Project Rise is located in New York, Kansas City, and Newark. The reportincludes details on the value of the cohort approach and individualized, flexiblecase management, and also describes the value of high-quality, high-dosageeducational instruction. The report discusses outcomes in terms ofparticipants' educational attainment and employment status.

Bothof these reports represent guidance on implementing anti-poverty programs, andboth can be useful to a broad range of stakeholders. You can read the reports here and here and the Findings at aGlance here and here.
Connections to Care RFP Release

TheMayor's Fund to Advance New York City, with the assistance of the Center forEconomic Opportunity and the Department of Health and Mental Hygiene, is proud to announcethe release of the Connections to CareRequest for Proposals, available here. The Mayor's Fund is seeking proposals from qualified501(c)(3) Community Based Organizations, in partnership with licensed mentalhealth providers, to implement the Connections to Care model.

Connections to Care will supportstaff training and ongoing coaching to support implementation of evidence-basedmental health interventions for at-risk populations. Target service populationsinclude low-income (1) expectant mothers and parents of children 0-4; (2) outof school, out of work young adults ages 16-24; and/or (3) unemployed orunderemployed low-income working-age adults ages 18 and over receivingworkforce development services. Connections to Care is expected to lastfive years, and is a program and research study of the federal Social Innovation Fund ofthe Corporation for National and Community Service. For more information,please read the Press Release.

All applications are due by October19th at 2:00 PM. Letters of Interest are strongly encouraged and dueby September 25th. Prospective applicants may ask questionsregarding the RFP by emailing SIF@cityhall.nyc.gov. Allquestions must be received by October 8th.
Announcing Connections to Care

The Center for EconomicOpportunity (CEO) is pleased to announce that the Mayor's Fund, CEO and theDepartment of Health and Mental Hygiene (DOHMH) have been awarded a five-yeargrant from the Social Innovation Fund of CNCS to integrate mental health servicesinto programs currently serving low-income New Yorkers.

This new $30 millionpublic-private partnership, the Connections to Care program, builds on researchthat suggests many evidence-based interventions for common mental healthconditions involve skills that can be performed by non-mental health workers.Connections to Care would give staff with access to at-risk populations thetraining to efficiently provide this support, and will track the experience ofthe service provider organizations in order to not only promote real-timeinformation sharing and best practices, but also to assess the sustainabilityof the program. The Mayor's Fund, CEO, and DOHMH partnership will also fund astudy to better understand the impact of the program on individuals who willreceive these services.

The Mayor's Fund willcompetitively select service providers to implement Connections to Care, with aRequest for Proposals to be released in the fall.

For more information, read the press release.
CEO and Abt Associates Release a Study of the Effects of Neighborhood Change on Public Housing Residents

In May 2015, CEO and Abt Associates released a report, examining how the socioeconomic makeup of neighborhoods surrounding New York City Housing Authority (NYCHA) developments, and recent changes in that makeup, affect public housing residents' quality of life.

The economic landscape surrounding many NYCHA developments – often first built in low-income neighborhoods - has changed over time. Researchers separated neighborhoods surrounding NYCHA developments into three classifications of persistently low, increasing, or persistently high income when compared to the NYC median over three decades.
Researchers found statistically significant differences in earnings for NYCHA residents living in different neighborhood types, unlikely to have been affected by resident selection bias. Annual household earnings average $4,500 higher for public housing residents in high-income neighborhoods as compared to persistently low-income neighborhoods. Earnings are $3,000 higher for those in increasing income neighborhoods.

The study engaged NYCHA residents as research partners in three in-depth case studies in Morris Heights, Long Island City, and Chelsea. The qualitative results complement the quantitative findings by describing residents' personal experiences of neighborhood change, highlighting some of the ways this observed difference in incomes may be offset by higher costs for NYCHA residents in high income neighborhoods. In all three types of neighborhoods, residents expressed a need for more enrichment, skill-building, and employment opportunities, of the sort offered by CEO and NYC Young Men's Initiative (YMI) programs.
The report was conducted in partnership with the NYU Furman Center, BronxWorks, Hudson Guild, and Urban Upbound, and the New York City Housing Authority.
Read full report, The Effects of Neighborhood Change on New York City Housing Authority Residents, and the Findings at a Glance.

Work Progress Program and NYC Recovers: Funding Notice

CEO's Work Progress Program (WPP) and NYC Recovers, implemented in partnership with the NYC Human Resources Administration (HRA), are subsidized wage programs designed to complement existing youth services programs by providing participating low-income young adults with work experience. The programs currently serve over 1,000 participants through more than 30 service providers.

Service providers currently serving low-income young adults are eligible to apply for subsidized job funding for their participants. Applications are considered on a rolling basis, and the new FY16 application can be found here.

Please note that CEO is currently accepting applications proposing program start dates prior to June 30th (in addition to programming that starts within FY16).
Mayor Bill De Blasio and CEO Release Latest Citywide Poverty Measure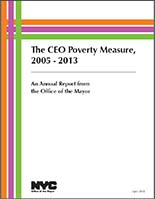 The NYC Center for Economic Opportunity's annual report on poverty, "The CEO
Poverty Measure, 2005 - 2013" is now available. As the economy continued to
emerge from recession in 2013, citywide poverty remained statistically
unchanged from the previous year. In addition to the CEO Poverty Measure
Report, please see the recently-released OneNYC report, a comprehensive
plan for a sustainable and resilient city for all New Yorkers.
Read the Poverty Measure report (in PDF)
Read the OneNYC report (in PDF)
Urban Institute Releases Latest Evaluation of Teen ACTION

In March 2015, the Urban Institute released an evaluation of Teen ACTION, an after-school program offered by the Center for Economic Opportunity (CEO) in partnership with the Department of Youth and Community Development (DYCD). Teen ACTION (Achieving Change Together in Our Neighborhood) is designed to reduce risky behavior among teens in middle and high school through service learning, which combines community service with structured classroom activities.
Urban Institute's evaluation focuses on identifying participant experiences of the program, as well as outcomes with regard to risky behavior (e.g. sexual health) and academic achievement. The evaluation finds that:
Teen ACTION has positive effects on participants' knowledge, behaviors, school performance, interpersonal relationships, and community engagement.
The program helped participants to set long-term goals and understand how to achieve them, and participants reported being able to connect their choices to potential outcomes.
Incorporating youth input and youth-driven decision making was a key element for keeping youth engaged and motivated while also contributing to their development of leadership skills and overall growth.
Recognizing the evidence supporting a service learning strategy, CEO and DYCD have included service learning in other programming for young people including NYC Justice Corps, Project Rise, and Justice Community. Going forward, CEO will continue to research these and similar youth development strategies with the goal of bringing effective practices to scale.

Read Urban Institute's complete evaluation report on Teen ACTION.
The State of New York City Women
As UN Women celebrates the 20th Anniversary of the Beijing Declaration and Platform for Action during the 59th session of the Commission on the Status of Women here in New York City, the Mayor's Office joins in the effort to review recent progress and emphasize the ongoing commitment to increasing gender equality. Confronting inequality is the central focus of the de Blasio administration and improving the safety, equality and empowerment of women and girls is fundamental to building a greater New York City for all.
CEO prepared this brief in partnership with the Office of the Counsel to the Mayor, the Department of Education, the Department of Consumer Affairs, and the Mayor's Office to Combat Domestic Violence. It focuses on three issue areas of central importance to women where advances have been made in the past year, with more to come: Paid Sick Leave, Pre-K for All, and combatting domestic violence.
Highlights for Gender Equity in 2014:
53,000 students enrolled in full-day pre-K (51% girls) which supports girls' education and improves parents' child care options. Pre-K for All provides greater economic opportunities for working families, including working mothers, and through an investment in teachers supports early education careers.
243,000 estimated women gained the right to paid sick leave through an expansion of the Earned Sick Time Act. Paid sick leave is especially important for women, who make up the majority of care takers.
36,700 people (86% women) received domestic violence prevention or support services at New York City Family Justice Centers. Client visits increased 22.3 percent in 2014 due to greater outreach and community engagement.
In November 2014, the City entered into a memorandum of agreement with UN Women on the Safe Cities Global Initiative which underscores New York City's commitment to serve as a global leader in achieving women's equality.
Read the full brief (in PDF)
MDRC Releases Latest Evaluation of the Young Adult Literacy Program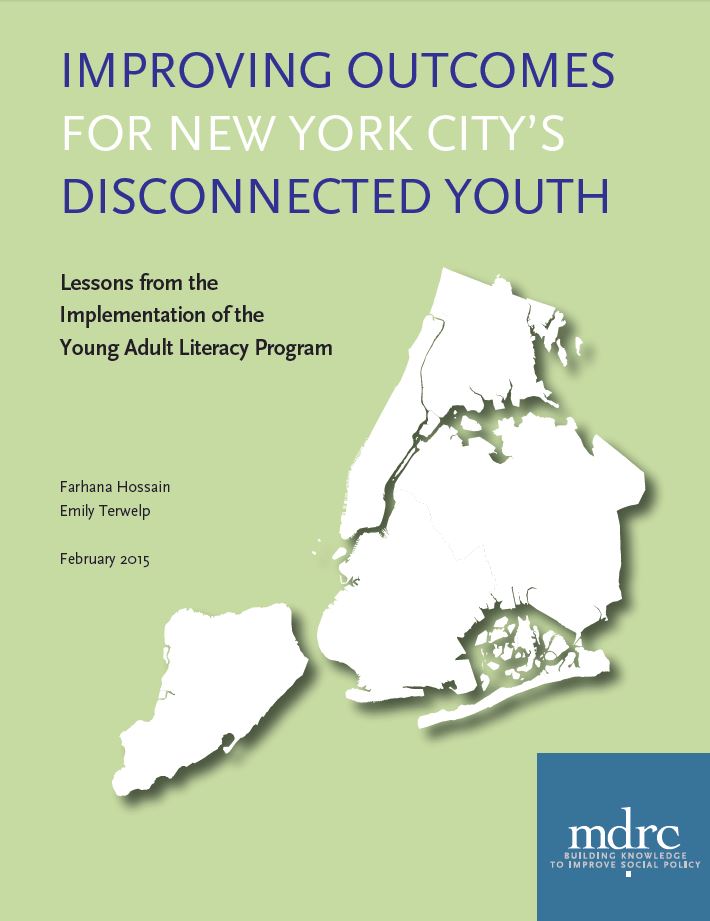 In February 2015, the Center for Economic Opportunity (CEO) released Improving Outcomes for New York City's Disconnected Youth, an MDRC evaluation of the Young Adult Literacy program (YAL). The evaluation documents some of the core challenges of implementing a literacy program for young adults and shares strategies programs are using to overcome challenges.
The program provides young adults ages 16-24 who are out of work and out of school and read at the 4th-8th grade levels with targeted instruction specifically tailored to their needs and interests. It was launched by CEO in partnership with the Department of Youth and Community Development (DYCD), Brooklyn Public Library, New York Public Library, and Queens Public Library in 2008 and expanded under the Young Men's Initiative in 2011.
The MDRC evaluation finds that some of the core challenges to implementation include: participant attendance and retention, teacher and other staff turnover, and engagement of students with sometimes widely different skill levels. In addition, programs report challenges with striking a balance between enforcement of program requirements and flexibility to accommodate participants' life circumstances.
However, the report also documents some key strategies programs are using to overcome challenges or enhance their success such as:
Strong team coordination
Use of full-time instructors
Allowing time for lesson-planning
Fostering a sense of community among students and staff
Clear articulation and reinforcement of program norms
Linking to on-site HSE programs
Looking forward, CEO will continue to partner with DYCD and others to ensure that the lessons of Young Adult Literacy and its other programs are informing programming across the city to help low-literacy youth connect to pathways that further their education and careers.
Read MDRC's full evaluation of the Young Adult Literacy Program, as well as previous studies of the program that helped to inform its current model.
2014 Data-Driven Provider Award Winners: Celebrating Excellence in Program Management and Performance



The Center for Economic Opportunity (CEO) and its agency partners are pleased to present the 2014 Data Driven Provider Awards. These winners represent service providers of CEO and Young Men's Initiative (YMI) programs whose smart use of data and excellent outcomes produced exciting advances in their delivery of services for low-income New Yorkers.
CEO and YMI are committed to a culture of performance management and evaluation to ensure program participants receive the highest quality services. This second annual Data-Driven Provider Award celebrates community-based providers who demonstrated data-driven decision-making and high performance throughout Fiscal Year 2014.
CEO and YMI providers were invited to apply for an award if their program had at least five providers and they achieved performance outcomes in the top 50% of those providers. In their applications, providers were asked to describe how they used data to drive learning and innovation in their program management. City agency partners in collaboration with CEO reviewed all applications and selected the winners.
CEO and YMI thank its partners and all providers who submitted applications.
Award Winners
Click on the links below for descriptions of the programs and to see more information about the providers. An (*) indicates a program expanded or created with support from the NYC Young Men's Initiative.

Advocate, Intervene, Mentor (AIM) Program administered by the NYC Department of Probation*
Winner: Youth Advocate Programs, Inc.

Arches: Transformative Mentoring Program administered by the NYC Department of Probation*
Winner:New York Center for Interpersonal Development

Jobs-Plus administered by the NYC Human Resource Administration and New York City Housing Authority*
Winner: Bedford Stuyvesant Restoration Corporation

Justice Community administered by the NYC Department of Probation*
Winner: The Osborne Association

Justice Scholars administered by the NYC Department of Probation*
Winner: NYC Mission Society

Social Innovation Fund, All NYC Program Providers administered by the Center for Economic Opportunity
Winner: Children's Aid Society (Family Rewards)

Teen ACTION administered by the NYC Department of Youth and Community Development
Winner: SCO Family of Services, Center for Family Life

Young Adult Internship Program administered by the NYC Department of Youth and Community Development*
Winner: The Door

CEO is committed to assessing the impact of its programs using data and evaluation. CEO releases annual key performance indicators for its programs and shares evaluation findings on its website.