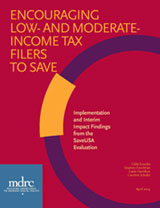 SaveUSA Increases Savings


Since 2011, SaveUSA, a tax-time savings incentive program, has provided the opportunity for low-income families in four cities to set aside part of their tax refund to save more in short-term, non-retirement savings. An MDRC report on this program, released today, demonstrates that low-income families can, in fact, save and that this program helps turn low-income non-savers into savers. MDRC is using a randomized control trial (RCT), the gold standard in evaluation, to determine the impacts of SaveUSA. Their report, "Encouraging Low- and Moderate-Income Tax Filers to Save: Implementation and Interim Impact Findings from the SaveUSA Evaluation,"shares impact findings on participants 18 months after they enrolled in the program in 2011.

MDRC found that after 18 months:
79 percent of SaveUSA participants had non-retirement savings, eight percent more than regular tax filers.

SaveUSA participants had an average of $512 more in savings than regular tax filers.
SaveUSA participants also have more positive attitudes toward savings, with over 85% viewing savings as "very important."
The average household income of SaveUSA participants is under $18,000, and about 74 percent of account holders maintained their savings for about a year, receiving a 50 percent match, up to $500. MDRC did not find any impact on overall financial well-being 18 months after enrollment – SaveUSA participants were able to save without incurring more debt, but their financial picture was not improved by the program. MDRC will continue to study the effects of SaveUSA through 36- to 42-months after program enrollment. The final report, scheduled for late 2015, may shed light on possible impacts to participants' overall financial health.
Read more about the effects SaveUSA has on participants in MDRC's new report.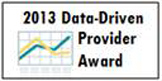 CEO Announces 2013 Data-Driven Provider Award Winners


CEO and the NYC Young Men's Initiative (YMI) are pleased to announce the winners of the 2013 Data-Driven Provider Awards, recognizing providers of CEO and YMI programs that improve services for low-income New Yorkers through data-driven decision-making. The awards celebrate both robust data collection and high performance that met or exceeded program targets during the period of July 1, 2012 to June 30, 2013.

CEO and YMI are committed to using performance management and evaluation to ensure program participants receive the highest quality services and target outcomes are achieved. High performing community-based providers were invited to apply for an award if a program had a minimum of five providers. They were asked to assess how they use data to improve their program performance. City agency partners in collaboration with CEO reviewed all applications and selected the winners. This is the first annual award and we hope to expand the process in the future. CEO and YMI thank its partners and all providers who submitted applications.

Award Winners
Click on the links below for descriptions of the programs and to see more information about the providers. An (*) indicates a program expanded or created with support from the NYC Young Men's Initiative.

Advocate, Intervene, Mentor (AIM) Program administered by the NYC Department of Probation*
Winner:Good Shepherd Services

Arches: Transformative Mentoring Program administered by the NYC Department of Probation*
Winner:Harlem Commonwealth Council

CUNY Accelerated Study in Associate Programs (ASAP) administered by the City University of New York
Winner: Bronx Community College ASAP

Financial Empowerment Centers administered by the NYC Department of Consumer Affairs' Office of Financial Empowerment
Winner:Bedford Stuyvesant Restoration Corporation

Teen ACTION administered by the NYC Department of Youth and Community Development*
Winner: WHEDco

Young Adult Internship Program administered by the NYC Department of Youth and Community Development*
Winner: Catholic Charities Brooklyn and Queens

Young Adult Literacy Program administered by the NYC Department of Youth and Community Development*
Winner:BronxWorks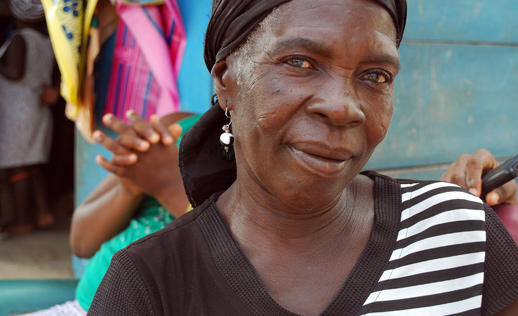 PhotoVoice
This summer 18 young people from the Brooklyn neighborhoods of Brownsville, Red Hook and surrounding communities were able to participate in PhotoVoice, a participatory photography program that teaches a documentary style of photography focused on issues related to their neighborhoods and self-exploration. The goals of this program were to empower participants, inform policy-makers and raise awareness about issues facing these young people.
PhotoVoice was funded by the Center for Economic Opportunity, and was launched in collaboration with four Brooklyn organizations – The Red Hook Community Justice Center, the Brownsville Community Justice Center (both projects of the Center for Court Innovation/Fund for the City of New York), the Brooklyn Arts Council and United Photo Industries.
Participatory photography gives youth the opportunity to engage visually in dialogues that may often exclude them. This project employs professional photographers to teach participants photography skills and engages students through a series of workshops, class critiques and field trips, and culminates in a final exhibit. Teaching Artists named Brenna McLaughlin and Janay McNeill facilitated these workshops and students crafted visual stories from their own unique perspectives.
View Photos from Brownsville (in PDF, 20.5MB)
View Photos from Red Hook (in PDF, 10.3MB)