WorkAdvance seeks to boost the earnings of unemployed and low-wage working adults by helping them obtain quality jobs in targeted sectors with opportunities for career growth. WorkAdvance prepares, trains, and places unemployed and low-wage workers in good quality jobs with established career tracks. After placement, the program continues to assist participants to help them advance in their chosen careers.
The Program Model
WorkAdvance sites are located in New York City, Cleveland, Youngstown, and Tulsa. In each city, a nonprofit targets a specific industry that is projected to have substantial job opportunities. Participants receive job training and work readiness preparation tailored to their needs. The provider then works with the participants and with employer partners to help the participants secure placements in quality jobs. Providers continue to work with participants to help them retain their jobs and advance in their careers. The program takes a dual customer approach by helping both job-seekers and businesses that need assistance meeting their human resource needs. As of the end of December 2012, the program had served 903 people and 318 had been placed in jobs. WorkAdvance has also helped over 275 businesses hire new employees, creating a benefit for the broader business community and addressing industry skills gaps.
The Evidence
An increasing body of evidence has shown that sector-based programs such as WorkAdvance are well-structured to provide strong pathways to opportunity. An evaluation of a successful, CEO-piloted, sector-focused career center demonstrated positive impacts on placement rates and wages. A groundbreaking random assignment study from Public/Private Ventures showed that sector-based programs lead to increases in income and employment for low-income participants. Additionally, programs focused on advancement have shown a positive effect in increasing earnings, as demonstrated by an MDRC evaluation. WorkAdvance combines these two positive features – sector-based services and career advancement focus – into one strong program model.
The Evaluation
MDRC conducted a Randomized Control Trial (RCT) evaluation of WorkAdvance to learn more about the most effective strategies to promote employment for low-income workers. The evaluation showed that WorkAdvance improved earnings for participants when compared to a control group that did not receive WorkAdvance services. In particular:
WorkAdvance, a sector-based workforce development program with a focus on long-term career advancement, significantly increased employment in the target sector at all providers.
By the second year after entering the program, participants at three out of four sites saw annual earnings increase significantly.
At two sites that were newer to this approach, the program had much larger impacts on earnings and employment for those who began the study later in the study period, showing that WorkAdvance takes time to fully implement.
WorkAdvance was able to increase earnings and employment rates for the long-term unemployed.
Providers
Per Scholas (New York City, NY)
St. Nicks Alliance (New York City, NY)
Towards Employment (Cleveland & Youngstown, OH)
Madison Strategies Group (Tulsa, OK)
SIF WorkAdvance Evaluation Reports:
SIF WorkAdvance Background Research: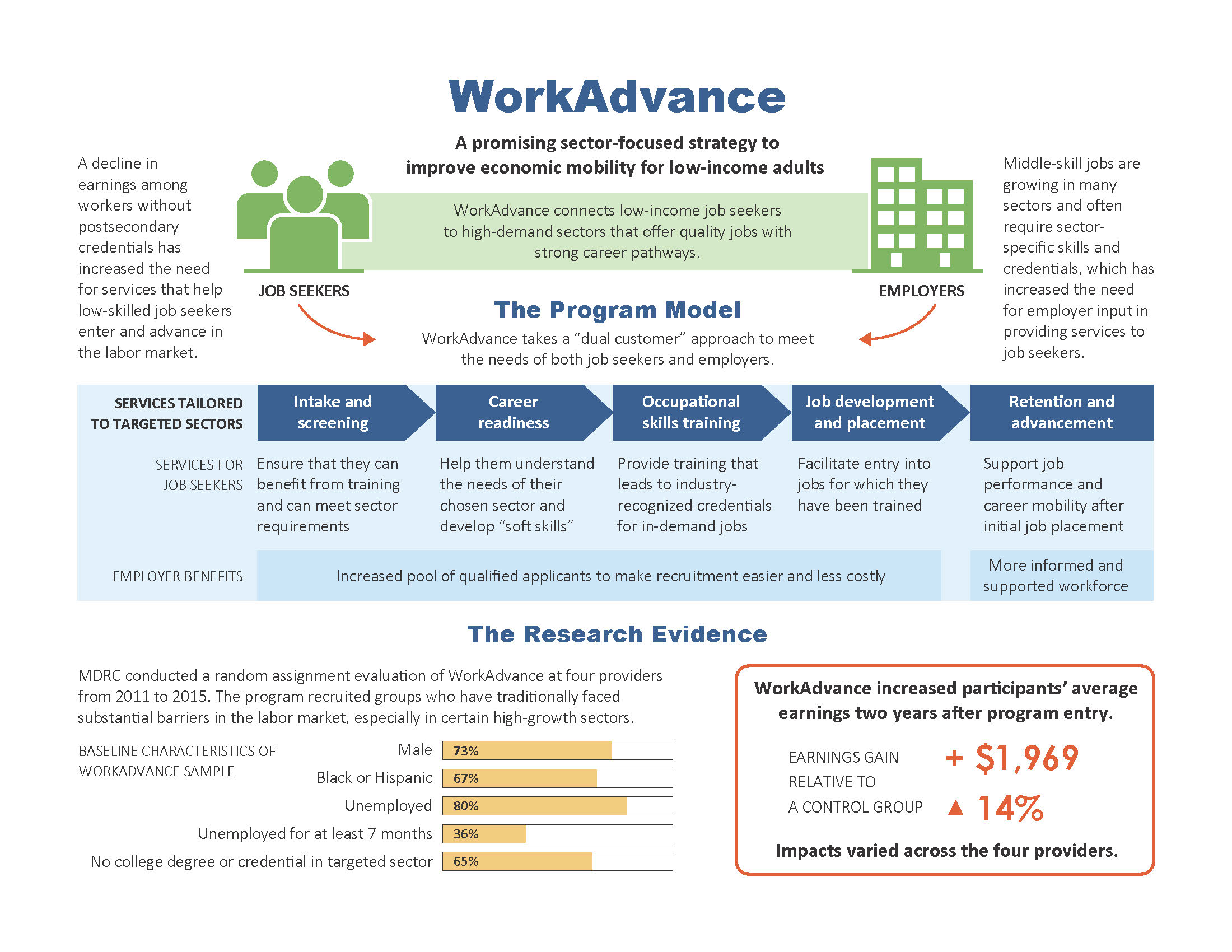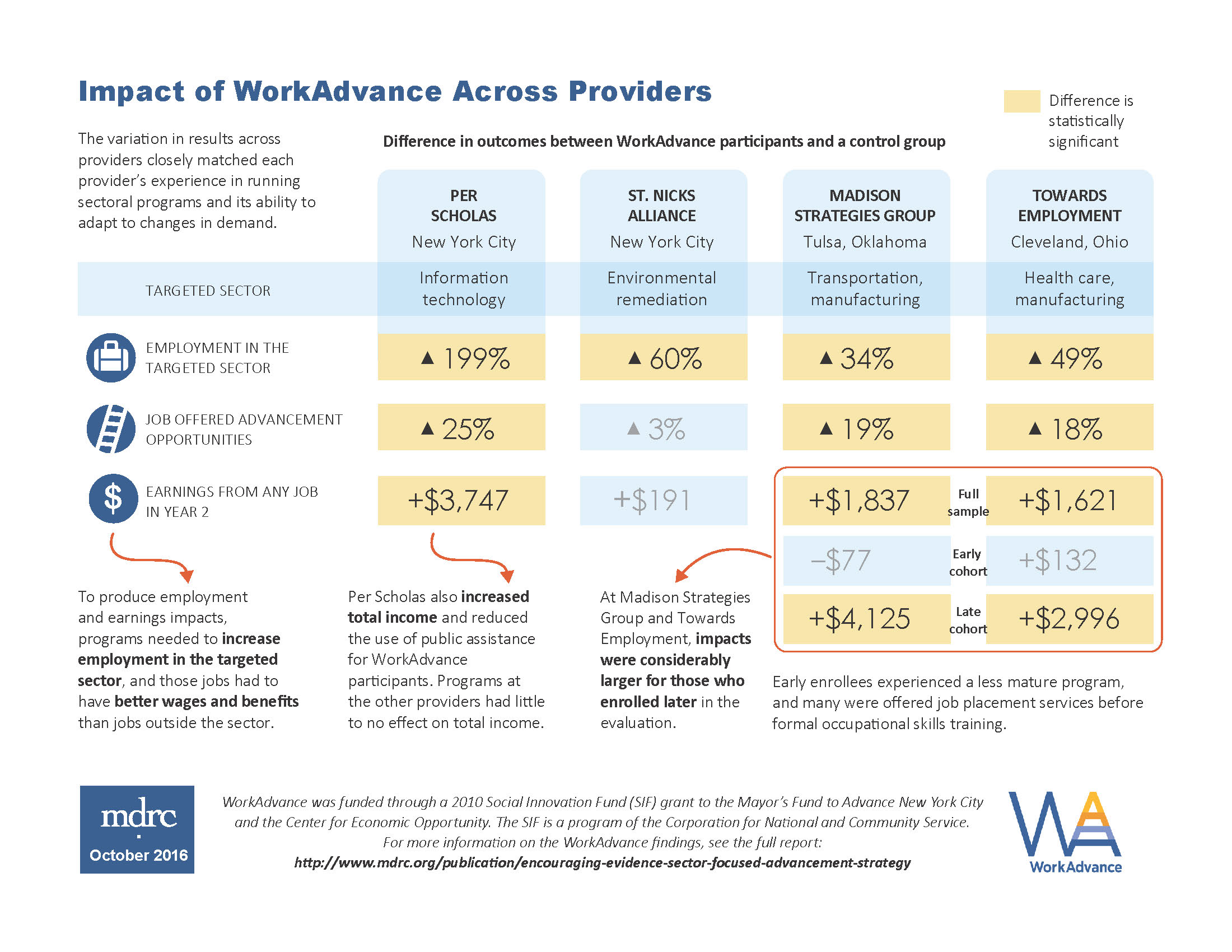 Source: MDRC, October 2016, http://www.mdrc.org/publication/workadvance-promising-sector-focused-strategy
---