New CEO Report Shows WorkAdvance Program Increases Earnings for Low-Wage Workers


CEO is pleased to announce the release of a new research report from MDRC on WorkAdvance, a sector-focused job training program that focuses on career advancement. The evaluation shows that WorkAdvance improved earnings for participants when compared to a control group that did not receive WorkAdvance services. In particular:
WorkAdvance, a sector-based workforce development program with a focus on long-term career advancement, significantly increased employment in the target sector at all providers.
By the second year after entering the program, participants at three out of four sites saw annual earnings increase significantly.
At two sites that were newer to this approach, the program had much larger impacts on earnings and employment for those who began the study later in the study period, showing that WorkAdvance takes time to fully implement.
WorkAdvance was able to increase earnings and employment rates for the long-term unemployed.
WorkAdvance is one of the programs supported by a 2010 Social Innovation Fund (SIF) grant to CEO and the Mayor's Fund to Advance New York City, and its elements build on learnings from CEO workforce programs and research such as the 2014 sector center study by increasing evidence on effective workforce development models. MDRC, a social policy research firm, conducted the multicity Randomized Control Trial of WorkAdvance's impact on participants' earnings, employment, and other economic outcomes. The SIF is an initiative of the Corporation for National and Community Service (CNCS) that is being implemented in locations across the country. The CEO/Mayor's Fund 2010 SIF grant is a partnership between NYC and seven other cities.
You can view the full report here, the report summary here and CEO's Findings at a Glance here.
Project Rise Evaluation Describes Youth Program Strategies
Project Rise is part of CEO and the Mayor's Fund to Advance New York City's federal Social Innovation Fund (SIF) grant from the Corporation for National and Community Service. The model is being implemented in New York City, Kansas City, and Newark. Project Rise is a cohort-based program for young people that includes both education and a paid internship. It specifically targets young people who are disconnected from school and work. The program's goal is to help participants attain their high school equivalency (HSE), build literacy, numeracy, and employment skills, and ultimately transition to ongoing employment or continuing education.
MDRC's evaluation focused on how the program has been implemented and what the outcomes have been for participants, and it has already informed changes to the program. MDRC identified some trends that can serve as lessons for those working with disconnected youth. These lessons include:
Contrary to program design expectations, participants were more drawn to the program by the educational component than by the internship.
The cohort model, as well as support from caring adults, appears to help support engagement in the program.
Given some of the positive changes that participants saw in themselves, and that providers saw in participants, it may be important for policymakers and researchers to take a closer look at non-traditional or intermediate outcomes in programs for disconnected young people. Examples of these outcomes include improved communications, setting priorities, and academic growth measured by non-HSE assessments.
Read more about the report here or check out the Findings at a Glance here and executive summary here.
Jobs-Plus Evaluation Shares Implementation Lessons for Place-Based Program
Jobs-Plus is a proven model for increasing earnings and employment for residents of public housing. Jobs-Plus saturates target housing developments with job and career support, rent-based and other financial incentives that "make work pay," and community organizing activities that support a culture of work. Building on the already-strong evidence of program success from an earlier demonstration, CEO and the Mayor's Fund to Advance New York City are supporting a Jobs-Plus replication in the Bronx and San Antonio through their Social Innovation Fund (SIF) grant from the Corporation for National and Community Service.
MDRC's evaluation finds that Jobs-Plus remains promising in today's program and policy context, but that strong implementation matters and implementing all pieces of the Jobs-Plus model effectively can be a challenge even for well-equipped providers. Specifically, the evaluation found that:
Jobs-Plus enrolled over half of the residents of the targeted housing developments in the program, which represents a strong early indicator of program saturation.
Jobs-Plus was able to successfully integrate financial counseling into program delivery — an enhancement of the original Jobs-Plus model.
Providers needed substantial time and technical assistance to effectively implement the program.
CEO is continuing to support replication of Jobs-Plus in New York through the Young Men's Initiative, and HUD is supporting a national replication, so these results are already helping to guide practice in these replications.
Read more about the report here or check out the Findings at a Glance here and executive summary here.
SaveUSA Study Begins Second Survey Round

SaveUSA offers a matched savings account to tax filers, building on the savings opportunity presented by tax-time refunds, especially the Earned Income Tax Credit. The SaveUSA program has been implemented by a partnership, led by MDRC, the NYC Center for Economic Opportunity, and the NYC Department of Consumer Affairs' Office of Financial Empowerment, as well as local partners Food Bank for NYC, Ariva, the Community Action Project of Tulsa County, and the United Way of San Antonio & Bexar County. As part of a study of SaveUSA, about 1,600 individuals who had their tax returns prepared by community organizations in New York City and Tulsa in 2011 and who consented to be in the study are being contacted, starting in May 2014, and invited to answer a series of questions. This second round of the confidential survey is being conducted by a national survey firm, Decision Information Resources (DIR). The survey results will build on the first round survey to help government agencies and community organizations design better financial programs and services for communities throughout the U.S. If you are a SaveUSA study participant and you are contacted by DIR about the survey, CEO appreciates your responsiveness.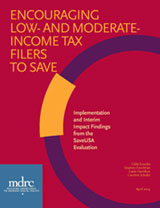 SaveUSA Increases Savings

Since 2011, SaveUSA, a tax-time savings incentive program, has provided the opportunity for low-income families in four cities to set aside part of their tax refund to save more in short-term, non-retirement savings. An MDRC report on this program, released today, demonstrates that low-income families can, in fact, save and that this program helps turn low-income non-savers into savers. MDRC is using a randomized control trial (RCT), the gold standard in evaluation, to determine the impacts of SaveUSA. Their report, "Encouraging Low- and Moderate-Income Tax Filers to Save: Implementation and Interim Impact Findings from the SaveUSA Evaluation," shares impact findings on participants 18 months after they enrolled in the program in 2011.

MDRC found that after 18 months:
79 percent of SaveUSA participants had non-retirement savings, eight percent more than regular tax filers.
SaveUSA participants had an average of $512 more in savings than regular tax filers.
SaveUSA participants also have more positive attitudes toward savings, with over 85% viewing savings as "very important."
The average household income of SaveUSA participants is under $18,000, and about 74 percent of account holders maintained their savings for about a year, receiving a 50 percent match, up to $500. MDRC did not find any impact on overall financial well-being 18 months after enrollment – SaveUSA participants were able to save without incurring more debt, but their financial picture was not improved by the program. MDRC will continue to study the effects of SaveUSA through 36- to 42-months after program enrollment. The final report, scheduled for late 2015, may shed light on possible impacts to participants' overall financial health.

Read more about the effects SaveUSA has on participants in MDRC's new report.

Reconnecting Disconnected Young People: The Early Experience of Project Rise

MDRC released its first publication about CEO's Social Innovation Fund Project Rise program this past fall. The report "Reconnecting Disconnected Young Adults: The Early Experience of Project Rise," outlines the challenges facing disconnected youth, the Project Rise program and evaluation, and the participants' demographic profile. We continue to be very pleased with the progress of the program and are looking forward to using MDRC's Brief to spread the word to key policymakers and others.

Read more about how Project Rise is serving disconnected youth

About the Social Innovation Fund

CEO and the Mayor's Fund to Advance NYC received a $5.7 million Social Innovation Fund (SIF) annual grant from Corporation for National and Community Service (CNCS). The grant supports replication and evaluation of five of CEO's most promising anti-poverty programs in New York City and seven other urban areas around the country. Learn More: