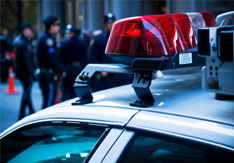 Historically, when the board substantiated a complaint and found that an officer committed misconduct, it forwarded the case to the New York City Police Department (NYPD), in most cases with a disciplinary recommendation.
While the CCRB has the authority to investigate complaints and to determine if misconduct occurred, under the law only the police commissioner has the authority to impose discipline and decide the appropriate penalty.
However, on April 2, 2012, the NYPD and the CCRB signed a Memorandum of Understanding (MOU) which conferred on the CCRB the power to prosecute substantiated cases where the board recommended "charges and specifications," the most serious discipline.
As a result, the CCRB's Administrative Prosecution Unit (APU) now prosecutes nearly all these cases, with limited exceptions. The trials are held at the police department, before an administrative law judge, known as a deputy commissioner for trials. If an officer is found guilty, punishment can be: a warning and admonishment, loss of vacation days, suspension without pay, a dismissal probation, or termination from the NYPD. The police commissioner retains the authority to decide the level of punishment.

View calendar of trials


Read the latest APU quarterly report to the police commissioner

The APU grew out of a pilot project, created in February 2010, in which a CCRB attorney served as lead prosecutor for a small portion of the substantiated cases that went to disciplinary trials at the police department. Initially staffed with one attorney and one investigator, the pilot program was given permanent status and funding in November 2011 and then subsequently expanded with the signing of the MOU. This is the first time a civilian oversight agency has had prosecutorial power.
That initial pilot project was conceived after a successful second-seat program, started in the fall of 2008, in which a CCRB attorney assisted the Police Department Advocate's Office (DAO) with prosecutions. Prior to 2008, the CCRB had no role in the discipline process.



Read the MOU


Read the MOU announcement


Learn about earlier litigation over the APU
Types of Discipline other than administrative charges, that are imposed by the police commissioner:
Instructions are the mildest form of discipline. As the name implies, instructions are retraining on the procedures the officer should have followed during the encounter. Instructions are usually handled by an officer's commanding officer, though sometimes the officer is sent to the Police Academy for retraining.

Command Discipline is more serious than instructions. A Command Discipline "A" is the loss of up to 5 vacation days. A Command Discipline "B" is the loss of up to 10 vacation days. The decision is based on the officer's disciplinary history and CCRB history, performance evaluations and the seriousness of the misconduct.
CCRB complaints and discipline are recorded in officers' personnel records and can affect assignments and promotions.
Learn more about police department discipline in CCRB cases in our monthly statistical and bi-annual reports.

View APU Quarterly Reports on our News page


View monthly statistics


View bi-annual reports