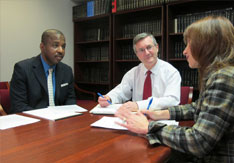 After you file a complaint, your case is assigned to a CCRB investigator. The investigator will offer you the chance to participate in mediation. Mediation lets you resolve a complaint by talking with the officer face-to-face, rather than seeking an investigation. It is a process that does not lead to discipline for the officer, but can often result in mutual understanding between the civilian and the officer. Over 90% of mediation sessions are successful. Participation in mediation is voluntary and the mediation session is confidential.

What It Is
In a mediation, you and the officer sit down as equals, in a comfortable, quiet, and private space to talk about what happened. You are not alone; the discussion is guided by a trained, experienced, and independent mediator. The goal of the mediation session is to come to an understanding. The mediator helps you and the officer to speak openly and respectfully, and to listen to each other. A mediation is successful when you and the officer agree that the issues raised by the incident and the complaint have been resolved.

Learn more about what happens during a mediation
Benefits
Mediation gives you control over the resolution of your complaint. It gives you the satisfaction of telling the officer how his or her actions or words affected you. This often educates officers and helps them see the incident from your point of view. Plus, you get to ask the officer questions which can help you understand his or her perspective. If you have recurring problems with one particular officer, mediation allows you to discuss all the issues, not just the one incident that led you to file a complaint. Studies have shown that people who mediate their complaints are more satisfied with the results than those whose complaints are investigated.
Not All Complaints Can Be Mediated
Under guidelines set by the board, not everyone who files a complaint will be offered mediation. For example: if you have an open criminal case stemming from the incident; have filed or plan to file a lawsuit; or if the incident involved physical injury or property damage, then your complaint will not be mediated. If you want the police department to discipline the officer, then mediation is not for you. Be aware that an investigation does not guarantee punishment.
Where and When Mediations Take Place
All mediations take place at the CCRB's office at 100 Church Street, in lower Manhattan. The agency provides a safe, private space for you to meet with the officer. Mediations are scheduled from Monday through Friday, at times that are convenient for you.

Download the CCRB's Guide to Mediation (in PDF)