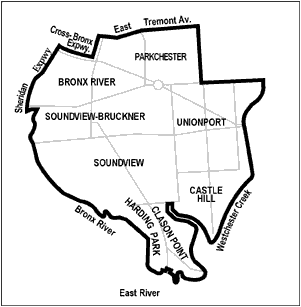 Bronx Community Board 9 borders from Bronx River Avenue to Commerce Avenue, and from East Tremont to The Bronx River itself. We serve the communities of Bronx River, Castle Hill, Clason Point, Harding Park, Parkchester, Park Stratton, Soundview/Bruckner, & Unionport. Census information has placed our population at 172,000 people, which makes us at present, the largest community board in the Bronx.
Community Board 9's greatest achievements have been to develop new housing, fight towards improving the quality of life, building out and improving our parks and creating family friendly neighbors. Most recently, we have been noticing a return of both native New Yorkers who had left the City, and immigrants to our community. The Shorehaven community has provided new housing and our Asian community is growing daily.
The District Office is located:

1967 Turnbull Avenue, Room 7
Bronx, NY 10473
Telephone: 718 823 3034
Fax: 718 823 6461
E-mail: bx09@cb.nyc.gov
Facebook
Hours: Monday through Friday, 9:00 am to 5:00 pm
If you have any concerns, please contact us.
Please notice that the scheduling of all our General Community Board Meetings and Committee Meetings are subject to change, particularly during holidays. We suggest you always contact our office to confirm our scheduled meetings.