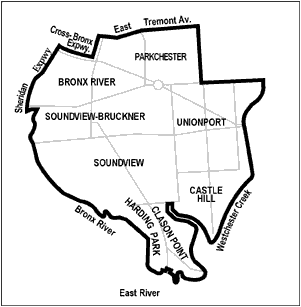 Bronx Community Board 9 serves the communities of Bronx River, Castle Hill, Clason Point, Harding Park, Parkchester, Park Stratton, Soundview / Bruckner, & Unionport. Our boarders include Bronx River Avenue to Commerce Avenue and from East Tremont to the Bronx River. Census information calculates our population to well over 172,000 making us the largest community board in the Bronx.
Bronx Community Board 9's mission is to create family friendly neighborhoods for all, upgrade our education system, re-design our parks and recreation, and encourage youth development. Bronx Community Board 9 acts as the liaison for senior services, disability, veterans and housing concerns throughout the district and creates policy and recommendations in regards to building new affordable housing units. We service NYS liquor license application recommendations, street activity permit applications, street re-naming applications, and promote public safety throughout our community.
The District Office is located:

1967 Turnbull Avenue, Room 7
Bronx, NY 10473
Telephone: 718 823 3034
Fax: 718 823 6461
E-mail: bx09@cb.nyc.gov
Facebook
Hours: Monday through Friday, 9:00 am to 5:00 pm
If you have any concerns, please contact us.
Please notice that the scheduling of all our General Community Board Meetings and Committee Meetings are subject to change, particularly during holidays. We suggest you always contact our office to confirm our scheduled meetings.