Food wholesalers and businesses located or operating within a designated public wholesale market must be registered with BIC. At present there are hundreds of wholesalers and market businesses operating in five designated public wholesale markets, as well as, the Hunts Point Adjacent Area.
These are the New York City Terminal Market (Hunts Point Produce Market); the Hunts Point Cooperative Market, Inc. (Hunts Point Meat Market); New Fulton Fish Market at Hunts Point; the Hunts Point Adjacent Area; the Gansevoort Meat Market and the Brooklyn Wholesale Meat Market. BIC may designate other public wholesale markets as subject to the registration requirement at later dates.
In addition, other types of businesses that provide services inside public wholesale markets must obtain registrations from BIC. The owners and employees of wholesalers and businesses are required to have photo identification cards issued by BIC or BIC's designee.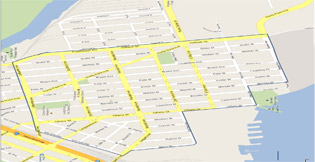 I am looking for: