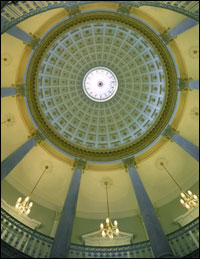 Constructed from 1803 to 1812, New York's City Hall is one of the oldest continuously used city halls in the nation and one of the finest architectural achievements of its period. As New York City's third city hall, it was built to accommodate a growing municipal government.

City Hall's design was the result of a competition held in 1802. The winning team of Joseph François Mangin (fl. 1794-1818), a French émigré, and John McComb, Jr. (1763-1853), a New Yorker, designed the building in the Federal style with French influences, such as the five large arched windows and delicate ornamental swags.

City Hall's exterior is a designated New York City landmark, and its soaring rotunda, topped by a coffered dome and encircled by a keystone-cantilevered staircase, is an interior landmark.

In 2010, the City launched a rehabilitation project to correct structural issues and preserve the historic building. The project included the installation of a new fire safety system, an energy efficient heating and cooling system, and new electrical service in order to bring the building up to 21st-century standards. Through the support of private donors, the building's murals, decorative elements, and historic finishes were also conserved.

Restored in 2011 as part of the rehabilitation project, the City Council Chamber is used for public meetings and ceremonial events. Originally two courtrooms, the chamber was reconfigured in 1897 under the direction of architect John H. Duncan, who also installed the mahogany paneling, horseshoe-shaped gallery, decorative plaster ceiling, and bas-reliefs by John Massey Rhind. In 1903, the ceiling was completed with a mural series by Taber Sears.

The City Hall portrait collection is an integral and historically important component of City Hall. It includes more than 100 paintings of United States presidents, New York State governors, New York City mayors, foreign dignitaries, military and naval heroes, and political leaders who worked in City Hall or visited New York City.

Represented in the collection are some of the leading late-18th- to mid-19th-century American artists, such as Thomas Sully, John Trumbull, John Vanderlyn, and Samuel Finley Breese Morse. In 2006, the portrait collection was conserved with private funds.

Many of City Hall's most significant portraits are displayed in the Governor's Room, a museum space and reception room that features historic furnishings and notable objects, including original pieces by Charles Christian and Honoré Lannuier as well as George Washington's writing desk.

A number of distinguished guests have visited the Governor's Room, including the Marquis de Lafayette, Abraham Lincoln, Albert Einstein, and Dr. Martin Luther King, Jr. In 2001-2002 the room was restored with new draperies, a custom temperature and humidity control system, and a color palette inspired by historic research.

The largest room in City Hall, the Bullpen has served as a courtroom, a space for large celebrations, and a meeting room for both the Board of Aldermen (now known as the City Council) and the Board of Estimate. In 2002, it became an open-plan work space.

Find out more about City Hall.

Teachers, prepare for your visit with the Pre-visit Guide.

Directions to City Hall.