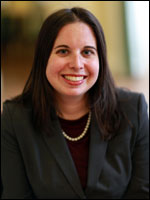 Welcome to the Mayor's Office of Adult Education!
Every year, tens of thousands of adult New Yorkers enroll in classes at one of our City's four major adult education providers: the New York City Department of Education, the City University of New York, community-based organizations, and the public libraries. Each of these New Yorkers takes that step for a different reason. It may be to obtain their GED, improve their English proficiency, gain training in a field to get a better job, or serve as a role model for their children.
The journey to reach their goals won't be easy, or quick, but the payoffs are undeniable - not only for the adult learners, but also for their families, their communities, and the City as a whole. But in order to get there, we must have a first-rate adult education system that is innovative, collaborative and dynamic, and helps our learners achieve their dreams.
These New Yorkers are parents, workers, and community members. They are our friends, neighbors and leaders. To put it simply, they ARE New York. Please join us in supporting them on their journey by volunteering, making a financial contribution, or considering a career in adult education.
Thank you again for visiting our website. Please visit the Contact page and let us know what you think - and what more we should be doing! We'd love to hear from you.
Tara Colton
Executive Director