Resident's Information
Since the young people in the custody of DYFJ are juveniles, most information is held confidential, except with regard to their legal parent or guardian. The Agency is generally not permitted to release specific information about any youth except by court order.
Resident visits, held four times a week, are limited to approved-family members over the age of 18.

Secure Detention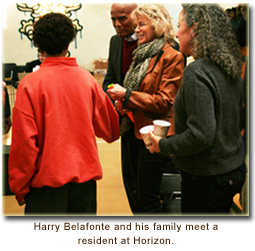 ACS provides secure detention for alleged Juvenile Delinquents (JDs) and Juvenile Offenders (JOs), ages 10 to 15 who are awaiting resolution of their court cases. Custody and care are provided in a safe, secure and service-oriented program in DYFJ secure detention facilities.

ACS operates two secure detention facilities: Horizon Juvenile Center, located in the Mott Haven section of the Bronx, and Crossroads Juvenile Center, located in Brownsville, Brooklyn.

Non-secure Detention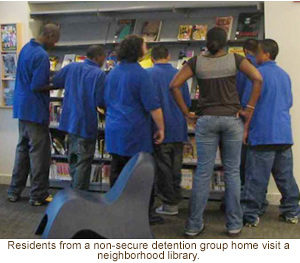 The non-secure detention (NSD) program offers an alternative to secure detention for some of the young people remanded to ACS custody. NSD provides structured residential care for alleged Juvenile Delinquents (JDs) in a less restrictive setting while awaiting disposition of their cases in Family Court.

ACS oversees a network of NSD group homes located in Queens, Manhattan, Brooklyn and the Bronx. The agency directly operates two NSD facilities and 13 through contracts with private social service organizations. In accordance with statutory requirements, NSD facilities are characterized by the absence of physically restrictive hardware, construction and procedures. NSD offers juveniles a supportive, family-like environment and close supervision during their time in detention.
Back to Youth and Family Justice main page