ACS Honors Adoptive Families on National Adoption Day

ACS Hosts Adoptive Parents and Children at Family Fun Event

NEW YORK (November 20, 2010) - The New York City Administration for Children's Services (ACS) celebrated National Adoption Day today with 250 children and their families at a fun-filled event of family activities at Harlem Lanes in Manhattan. This special event honored adoptive parents who have made the commitment to become forever families for children who have been in foster care.

"We want to show our appreciation for the families here today and hundreds more like them who have shown their commitment to our children by opening their homes and hearts to create forever families.  We hope this time today will be a cherished family memory that will strengthen family ties and create positive memories for children and families, said Lorraine Stephens, Deputy Commissioner of the Division of Family Permanency Services, which oversees adoptions of children in foster care.
There are approximately 16,000 children in foster care, close to 700 of whom are awaiting adoption.  In fiscal year 2010, 1,156 adoptions were completed and 1,780 children were awaiting adoption. The majority of these children have been placed in pre-adoptive homes. Although most of the children who are adopted continue to be under 9 years old, the percentage of adolescents and youths adopted has increased.
One of the many families at the event was Charmane Wong her husband Paul Dunn and their adopted son, three-year-old Jacob.  While Jacob took a turn at bowling with Paul, Charmane, a Vice President of Early Childhood Services at Graham Windham, explained that Jacob is the joy of their lives.  When he was adopted they believed Jacob was an only child, but through the Family Courts they discovered that he had two older brothers.  The children are now in touch with each other and Jacob has ready made playmates, while Charmane and Paul have built-in support as adoptive parents.
Media Coverage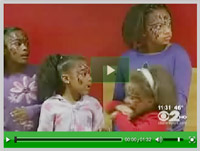 Marta Rosario attended the event with five of her six adopted daughters all of whom are adolescents.  Over the years she has adopted many older children and most are now grown and out of the house. In the last several years, ACS has undertaken a major effort to recruit more foster parents like Marta who are willing to open their homes to older children and sibling groups.  Through the Community Partnerships program operating in 11 neighborhoods throughout the City, community groups, churches and non-profit organizations are actively engaged in recruiting and supporting foster and adoptive families for harder to place children. 
For information on how to become a foster or adoptive parent, in NYC, dial 311 or call the ACS Parent Recruitment hotline at 212-676-WISH (9474). To read about the rewarding experiences of families who have opened their homes to some of the hundreds of children awaiting adoption,
visit the Children's Services Web site at: http://www.nyc.gov/html/acs/html/become_parent/become_parent.shtml.
Contact:  Elysia Carnevale Murphy
Dep. Director of Communications
Tel: 212.341.0999