ACS Honors 51 Foster Parents as "New York's Kindest, Going Above and Beyond"
On Thursday, May 26, the Administration for Children's Services (ACS) honored 51 foster and adoptive parents who have demonstrated their dedication and commitment to the children of New York City by opening their hearts and homes to children and youth in care, especially teens, including pregnant and parenting mothers, Lesbian, Gay, Bisexual, Transgender and Questioning (LGBTQ) youth and children with special needs.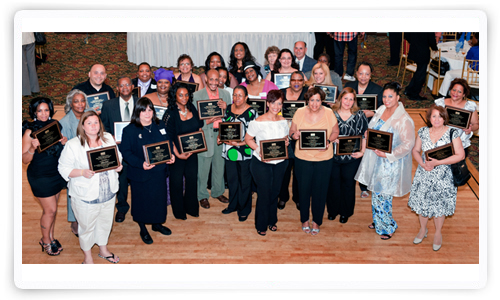 Some of the 51 foster Parents honored.
The occasion was the Foster Parent Recognition Ceremony hosted annually by ACS during May, National Foster Care month, which this year was held at the Alhambra Ballroom in Harlem, New York City with the theme "New York's Kindest, Going Above and Beyond." The foster parents honored were drawn from approximately 26 foster care agencies that provide foster care and adoption services to children in ACS care. Currently, there are approximately 11,000 active foster parents and ACS is in the midst of a foster parent recruitment campaign to ensure that more homes are readily available to children and young people with special needs or who are hard to place.
Addressing the gathering, ACS Commissioner John Mattingly said, "Without a strong group of committed and qualified foster parents, our goals for permanency would not be possible. Our teens and children need strong foster parents to stand by them and let them know everyday that they are loved and cared for. On behalf of all of us at ACS and the City, I want to express our gratitude to our foster and adoptive parents for being there for our children."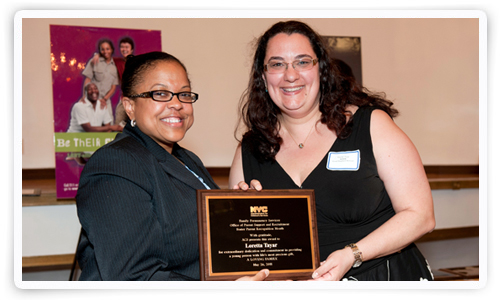 Foster parent Loretta Taylor receives her award from ACS Deputy Commissioner Lorraine Stephens.
ACS Deputy Commissioner for Family Permanency Services, Lorraine Stephens thanked the honorees for their commitment to children, adding that "We hope that being here tonight has energized you to continue doing the extraordinary work that you're already doing." Stephens presented the awards to the foster parents which commended them for "extraordinary dedication and commitment in providing a young person with life's most precious gift, A LOVING FAMILY."
Reverend Alfonso Wyatt, Vice President for the Fund for the City of New York was the special guest speaker. Other featured speakers were foster parent Denise Royal and former foster child and member of the ACS Youth Speakers Bureau, Miguel Oliveras. Funding for the event was provided in part by Casey Family Programs.
The following foster parents were honored:
| | |
| --- | --- |
| Flor Barris | Leah Hart |
| Cynthia Bland | Allison Jones |
| Jimmy Brown | Rhonda Leysath |
| James Bussell | Alejandra Matos |
| Shirley Bennett | Martha Medina |
| Jacqueline Brown | Suzanne Harris |
| Carolyn Bussell | Tracy Johnson |
| Noreen Colon | Robbie Leysath |
| Lucia Cruz | Maria Martine |
| Theresa Dean | Tywana McKnight |
| Jose DeJesus Otero | Carole Moiseau |
| Lessie Donaldson | Sherrie Moody |
| Paul Donaldson | Sandra Phillip |
| Maribel Felie | Belkis Rivas |
| Aja Ellington | Evelisse Rojas |
| Claire Ficara | Mattie Simms |
| Joseph Ficara | Arnaldo Moody |
| Luisa Forte | Shelia Phillips |
| Provodencia Font | Danielle Rogers |
| Danneri Franciso | Beverly Scarbrough |
| Manuel Garcia | Rosa Smith |
| Mamie Green | Stephanie Smith |
| Esther Gurwit | Loretta Tayar |
| Alexander Gurwit | Gloria Soom |
| Jean Harrington | Dominga Tejada |
| | Thelma Williams |
_______
Contact:
ACS Press Office: 212-341-0999