Children's Services Honors Port Authority Police Officers for Assistance Ensuring the Safety of Two Children Recently Abandoned at Bus Terminal
-- ACS Child Protective Specialist also recognized for exemplary efforts to reunite children with their siblings --
New York, NY – Administration for Children's Services (ACS) Commissioner John B. Mattingly hosted a special Child Advocacy Award ceremony this morning at ACS headquarters in Manhattan to honor the two Port Authority police officers, as well as an ACS Child Protective Specialist, for their exemplary work involving the children found abandoned recently at the Port Authority Bus Terminal.
"ACS child protective staff work day and night in partnership with the police, medical providers, school staff and many other professionals to accomplish our mission of keeping children safe," said ACS Commissioner John B. Mattingly.  "I am extremely pleased to recognize Officers Collins and Romig, along with Child Protective Specialist McRae, for their exemplary work in this case.  They clearly went above and beyond, not only to protect these young children but to minimize the impact of what must have been a very scary experience."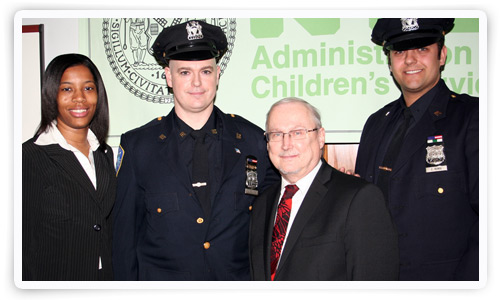 Child Protective Specialist Patrice McRae, Port Authority Police Officers John Collins and Christopher Romig with Commissioner John Mattingly at the awards presentation.
Port Authority of New York and New Jersey Police Officers John F. Collins and Christopher K. Roming of the Bus Terminal Command, as well as Child Protective Specialist Patrice McRae from the Manhattan Borough Office, were presented with a Child Advocacy Award for their collaborative work with ACS on this case.  Also in attendance at this ceremony was staff from the Port Authority, ACS administration, and the entire team of professionals from the Child Protective unit involved in this case.
In the early morning of May 13, Police Officers Collins and Romig were first on the scene when a 10-month old girl and a 2-year old boy were discovered alone at the Bus Terminal.  The officers attempted to find the parents of the children, with no success.  After asking questions and reviewing security video, Officers Collins and Romig determined that the children had been abandoned by a man who had boarded a bus leaving the station.  They worked to keep the children calm, brought them to Bellevue Hospital for medical clearance, and then on to the ACS Children's Center.  All the while, the two officers made sure that the two children remained together and were not further traumatized by an already harrowing experience.
With the help of Officers Collins and Romig, along with ACS Emergency Children's Services and Child Protection Services staff in Manhattan Zone C located in Harlem, the Agency began its investigation to determine who the parents were and to ensure the safety of the children.  As the investigation progressed, ACS found that two older children were still missing.  The Port Authority Police, NYPD and ACS Investigative Consultants continued to work with Child Protective staff in an attempt to locate the two other children.
The Child Protective Specialist assigned to the case, Patrice McRae, was able to interview the man who the police officers identified as the father of one of the older children, as well as the mother.  When conflicting information was reported by the two caretakers that the other two children were no longer in New York, Patrice McRae had a suspicion that there was more to this story and continued searching for the children.  McRae used HHS Connect to identify other possible leads which could help ACS find the children.  She located a cousin's address and with the assistance of the NYPD, went to this home and found the remaining children.  All four children are now reunited with their other siblings in a safe foster home.
Officer Collins, who is from Manhattan, entered the Port Authority Police Academy in August of 2000.  Just this month, he graduated from New York Law School. Officer Christopher K. Romig, originally from Brooklyn, joined the Coast Guard at 17 years old, serving six years. After serving in Iraq, he joined the Port Authority Police Department in October of 2008. CPS McRae, from Manhattan, has been with ACS since 2007.
The New York City Administration for Children's Services is the City's child welfare agency which works to meet its mission of protecting children by conducting quality investigations of child abuse and neglect.  The agency honors staff and external partners with Child Advocacy Awards to recognize outstanding contributions in the agency's efforts to keep children safe.
_______
Contact:
Elysia Murphy / Michael Fagan: 212-341-0999