ACS Honors Parents During National Adoption Month
Mayor Hosts Foster/Adoptive Parents at Gracie Mansion Reception
New York City celebrates November as National Adoption Month with several events, culminating in a reception for foster and adoptive parents hosted by Mayor Bloomberg and the observation of National Adoption Week.  During Adoption Week November 16-20, each of the city's Family Courts will hold celebrations marking adoption finalizations.  On November 23rd, Mayor Bloomberg and ACS will host 250 foster and adoptive parents at Gracie Mansion for a reception to honor their dedication in providing homes for the city's most vulnerable children.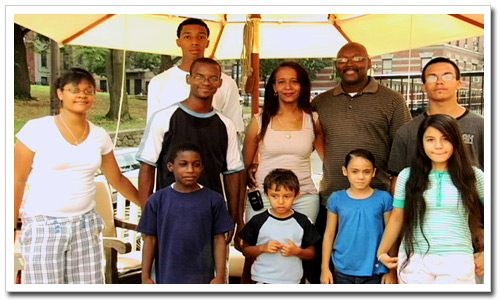 The Fair Family (Lee and Elaine, back row 2nd and 3rd from right) with their children, some of whom were adopted while in foster care.

"Foster and adoptive parents of New York City have opened their hearts to children who need homes, and ACS continues to encourage more families to join this very generous group of people who provide loving homes for our children.  We need families for children of all ages from infants to teens; every child deserves a family," said Lorraine Stephens, Deputy Commissioner of the Division of Family Permanency Services, which oversees adoptions of children in foster care.

In fiscal year 2009, a total of 1,326 adoptions were successfully completed, while 1,783 children are waiting adoption. The majority of these children, more than 1,324, have been placed in pre-adoptive homes. Although most of the children who are adopted continue to be under 9 years old, the percentage of adolescents and youths adopted has increased.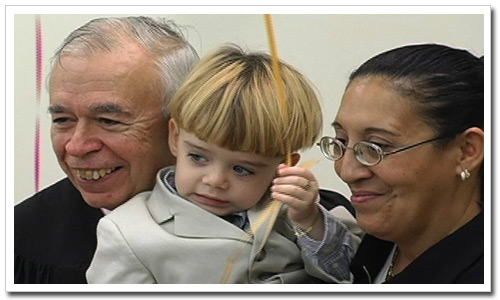 The newest member of the Ascencio Family, Tyler, poses with his mom Lourdes and Family Court Judge Guy de Phillips at their adoption formalization ceremony in Queens last November. 

Children's Services works closely with foster care provider agencies to recruit and train foster parents.  In the last two years, a major effort in this area has been undertaken through the Community Partnerships Initiative (CPI), operating in 11 neighborhoods throughout the City.  This effort is the result of a collaboration among community groups, churches and non-profit organizations serving these neighborhoods to find foster and adoptive families for children in their own neighborhoods, helping to reduce trauma and promoting a better foster care outcomes.  Later this year, Children's Services is set to launch an Internet-based campaign featuring radio and print ads aimed at recruiting new foster and adoptive parents.

Mattie Irving is one of thousands of New Yorkers who have opened their homes to children in need of a family.  A single parent, she adopted a 17-year old, who was placed in her home at age 3, and is currently a foster mom to another 17-year old. Irving has 4 biological children and also has been foster mom to several other youth and is considered "unofficial" foster mom to many more who are no longer in her care.  As for being a foster/adoptive mom, she encourages others to follow her path, but adds "you have to do this from the heart."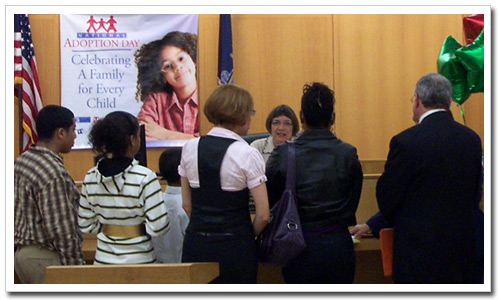 Children's Services is working with Heart Gallery, New York City, Inc. to bring attention to the need for adoptive parents year round and a series of events planned during National Adoption Month include:
A public service announcement (PSA) on the Times Square Spectacolor billboard that will run for 30 seconds every hour the entire month of November. The PSA announces National Adoption Month and the upcoming Heart Gallery exhibits in Penn Station and the statewide exhibit in the Albany-Rensselaer Rail Station.
Penn Station HeartGallery NYC Exhibit, November 16-23;
Mini Heart Gallery NYC exhibits throughout Harlem and the Bronx at churches and local businesses such as Harlem Lanes;
Heart Gallery NYC outreach in local schools through distribution fliers to parent coordinators;
New York Statewide Heart gallery Exhibit opens in Albany-Rensselaer Rail Station the week of November 16th.
Heart Gallery NYC Inc. is a not-for-profit organization dedicated to raising awareness about children who are living in foster care and encouraging New Yorkers to open their hearts and homes through adoption. Professional photographers involved in the Heart Gallery project volunteer their talents by taking portraits that help capture the individuality and spirit of each child in foster care. For more on the Heart Gallery NYC, please visit www.heartgallerynyc.org
For information on how to become a foster or adoptive parent, in NYC, dial 311 or call the ACS Parent Recruitment hotline at 212-676-WISH (9474). To read about the rewarding experiences of families who have opened their homes to some of the hundreds of children awaiting adoption, visit the Children's Services Web site
___________
Contact:

ACS Press Office: (212) 341-0999