Urging New Yorkers to Report If They Suspect a Child is Being Abused or Neglected
April is National Child Abuse Prevention Month and New York City joins the nation in stressing that reporting child abuse at the first sign of potential trouble is the best way to keep children from being harmed. Children's Services urges all adults who suspect abuse or neglect to call 311, including parents, relatives, caregivers, neighbors, physicians, nurses, social workers and any adults who come into contact with children. This is particularly true for professionals such as educators, medical professionals, child care workers and law enforcement personnel who are mandated reporters and are required by law to report abuse if they encounter it in the course of doing their job. This month is also an opportunity to remind parents and caregivers of important safety tips and resources available to help keep children safe.
"No child should be left to struggle alone with abuse or neglect," said Commissioner John B. Mattingly. "We can work to prevent a child from being hurt if we know about a potentially dangerous situation as soon as possible. We urge all New Yorkers to help us help the City's children by calling 311 as soon as you have a concern about a child." Each year, Children's Services investigates more than 60,000 reports of alleged abuse and neglect involving more than 90,000 children.
Commissioner Mattingly pointed out that an investigation by ACS child protective staff does not automatically mean that a child will be removed from his or her family and placed in foster care. That step is taken only when a child is in imminent danger. Many times, he said, ACS is able to provide support and preventive services to help a family care for their children safely.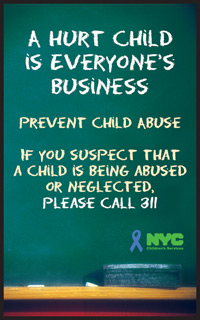 Children's Services has designed the slogan, "A Hurt Child is Everyone's Business" to commemorate Child Abuse Prevention Month. ACS is distributing free posters about the importance of reporting abuse. Please call 212-341-0999 to request a poster if you can display it in a public place at your job or in your community.
ACS also reminds mandated reporters (such as teachers, doctors, social workers, etc.) that the ACS Office of Safety First is available to handle their inquiries about an open child protective investigation. The Safety First phone number for mandated reporters is 718-KID-SAFE (543-7233).
While mandated reporters are required by law to report abuse and neglect, all adults have a responsibility to call the hotline if they believe a child is experiencing abuse or neglect. "Don't assume that someone else will call," Commissioner Mattingly said. "It is only by making the call yourself that you can ensure the situation will be investigated."
Parents who are unable to care for their newborn infants may anonymously and legally leave their infant at a safe place such as a hospital, under New York State's Abandoned Infant Protection Act. The infant must be a newborn, five days old or younger. Enacted in 2000, the law is designed to prevent the tragedies that occur when infants are abandoned by parents. Safe locations include firehouses, hospitals, crisis nurseries or schools. Parents must promptly notify an appropriate person of the child's location and act with the intent that the child be safe from physical injury. For more information regarding the Abandoned Infant Protection law about when and where a person may responsibly leave an infant, please call this hotline number: 866-505-SAFE (7233).
New or expectant parents who are struggling with a decision of whether they want to keep their child also should know that they have options. Through community-based preventive services, ACS can help parents identify appropriate pre- and post-delivery counseling. Parents may also contact a private adoption agency in New York City to discuss placing their baby for adoption.
NYC Children's Services and the New York State Office of Children and Family Services urge parents and caretakers not to co-sleep with infants. Sleeping with your baby can be dangerous, especially if you drink, use drugs, are overweight or are sleeping in a small bed or couch. Babies should sleep in a crib, on their back. The crib should be free of pillows, fluffy blankets, or stuffed toys. A safe way to keep babies close is to move the crib or bassinet near your bed. Children's Services also has posters available on safe sleeping, and invite the public to request these posters if they can be displayed in a public place.
Copies of child safety brochures and DVDs for the general public are available by calling the Children's Services Office of Communications at 212-341-0999.
Reports of child abuse or neglect can be reported by calling:
311 for NYC residents; ask to be connected to the State Central Registry;

800-342-3720, the general public's direct number for the State Central Registry;

800-635-1522, the mandated reporters' hotline for reporting child abuse or neglect.
For more information on ACS, mandated reporters, and other child welfare and safety topics, please go to the ACS Website at: www.nyc.gov/acs. For more information regarding preventive services available in your neighborhood, parents can call 311 and ask for ACS's Prevention and Parent Helpline.
***
Contact:
Press Office: 212-341-0999