Children's Services Graduates 340 New Child Protective Specialists and 39 Investigative Consultants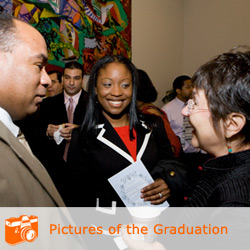 The Administration for Children's Services today graduated more 340 new Child Protective Specialists (CPS) and 39 Investigative Consultants (IC) at a special ceremony at John Jay College of Criminal Justice Gerald W. Lynch Theatre. The new crop of CPS workers is the first graduation class since ACS launched its new recruitment campaign in March of this year. Their hiring represents the first results of the campaign, which include new hiring procedures that have resulted in candidates who have a better understanding of what the job entails during the interview and hiring process. The graduating ICs are among the second wave of former NYPD personnel added to Children's Service to strengthen the agency's investigative capacity. All graduates have successfully completed a rigorous 6-week program which trained them to protect children from abuse and neglect through comprehensive investigations and child welfare assessments. The training took place at Children's Services' James Satterwhite Academy.
"In the coming months you will be faced with complex and difficult situations," said ACS Commissioner John B. Mattingly in his address to the graduates. "I feel confident that with the training that you have received, the supports that are in place and with your extraordinary commitment to the children and families you will come in contact with, you will be strong enough, brave enough, cool enough, and more than equal to the task."
Dominic Carter, host of NY1's "Inside City Hall," political reporter and author, was the keynote speaker. Carter, who spent time in foster care as a child, has written an autobiography, "No Momma's Boy," which chronicles his struggle to overcome his mother's mental illness while growing up in a Bronx housing project. Carter praised the graduates for the difference that they can make in the lives of children. "You are not powerless- you have the power to change a child's life. You are the true heroes of this City. Don't listen to the naysayers who love to second-guess you. Just know that without you and people like you, I would not be standing here before you today," he told the packed audience of graduates and family members.
The CPS workers and Investigative Consultants have been deployed to ACS's 14 field offices throughout the five boroughs. CPS assignments were determined by staffing levels and caseloads in each office. In the first eight months of this year, ACS child protective caseworkers investigated 43,338 reports of abuse and neglect, a slight increase compared to the same period last year.
The new graduating class comprises CPS and ICs who joined the agency between January and August 2008. This graduating class reflects others in that it is predominantly female and very diverse. Included among the graduates are New Yorkers with roots in the Caribbean, Africa, Central and South America, Europe and the rest of the United States. They run the gamut from a mother with more than 20 years experience in social services, and who is an active pastor, to an entrepreneur, to recent college graduates. All express a passion for helping to keep New York City children safe.
The Investigative Consultants are retired law enforcement officers with previous experience in conducting criminal investigations in child abuse, domestic violence, special victims, homicide, missing persons, and other closely related cases. The ICs all have spent many years in public service and have become expert investigators during their twenty plus years of policing. Many view their new assignment with ACS as an opportunity which will allow them to use those investigative skills for the entirely worthy cause of helping keep children safe.
"We are thrilled welcoming yet another group of professionals who are committed to working everyday to make sure that we do everything in our power to keep children and families safe," said Jan Flory, Deputy Commissioner for the Division of Child Protection.
"In college I changed my major from pre-med after seeing the effects of violence and abuse on bodies that I had to study," said Tamoya Buckley, a graduating CPS worker who was one of the graduation speakers. "I knew that I wanted to work with children and families who experience abuse while they are still alive. I am very dedicated to this work and I plan to retire from ACS."
New Investigative Consultant Thoywell "J.R." Thompson, who spent 20 years with the NYPD, including 15 years as a detective, also was one of the graduate speakers. "Before coming to ACS my involvement with child abuse was very limited," said Thompson. "It was mostly during my time in Crime Scene and it was at the wrong end, when there was already serious physical injuries, or worse, a fatality. My thoughts in taking this job were that I could get on the other end and help to prevent the injuries or help stop the abuse from getting worse for a child."
The audience was treated to very well received rendition of Mariah Carey's "Hero" by Sandra Graydon-Long, Child Protective Manager in the Staten Island Borough Office.

The graduates received training in child welfare practice, law and theories. Specifically, CPS received training to:
Conduct safety and risk assessments;
Investigate abuse and neglect allegations;
Work and communicate effectively with families;
Operate Children's Services' computer databases;
Make judgments on whether a placement is necessary; and
Reduce trauma to children and families
Once their classroom training ends, CPS workers begin their work in ACS field offices, and deepen their learning by taking on one case each week under close supervision and guidance. Their caseload gradually increases in number and difficulty. The current group of CPS workers with ACS number about 1,300; the Investigative Consultants total is 60.
Children's Services' James Satterwhite Academy was founded in 1984 and is based at the ACS Children's Center in Manhattan, with classes also in the Jamaica section of Queens. The Satterwhite Academy has become a national role model for training highly skilled, professionalized corps of child protective workers. Its mission is to promote child welfare as a profession, educate staff with broad knowledge about the field and provide aspiring caseworkers with the ability to think critically.

Contact:
ACS Press Office: (212) 341-0999