NYC Children's Services Celebrates National Foster Care Month
New Yorkers Encouraged to Make a Difference in the Life of a Child Living in Foster Care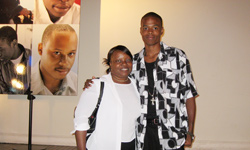 New York City's Administration for Children's Services (ACS) marked the beginning of May's National Foster Care Month by focusing on finding families for adolescents and youths who come into care. The commemoration is intended to raise New Yorkers' awareness about foster care, celebrate the many generous New Yorkers who have opened their hearts and homes to children as foster and adoptive parents, recruit new foster and adoptive parents for children who are in need of a home and bring attention to the nearly 17,000 children living in foster care in New York City. Additionally, this is a great opportunity to show appreciation for the dedication of the foster families and social workers who care for children and youth in foster care and encourage New Yorkers to become involved as foster parents, volunteers, mentors or employers.
"I want to thank our very dedicated cadre of over 10,000 foster parents for taking care of our children and I encourage all New Yorkers this month to show support for the entire foster care community," says Children's Services Commissioner John B. Mattingly. "Like all kids, youth in foster care deserve and benefit from enduring, positive relationships with caring adults. We believe that living with a stable, loving family provides young people with the best opportunity to become successful adults."
To help children and families engaged with ACS and recruit foster parents, the agency is currently involved in the following initiatives:
Partnering with community organizations under the Community Partnerships Initiative (CPI), to implement a foster parent recruitment drive aimed at adding at least 1,400 foster parents over the next year. ACS hopes that many of these new foster parents will be able to care for older children and teenagers. The drive is being conducted in neighborhoods across the City in collaboration with faith-based organizations, hospitals and other City agencies. Recruitment activities are now well underway in every borough; In the Bronx, the effort is taking place under the leadership of the Highbridge CPI and in Queens, the event is being spearheaded by the Jamaica CPI along with the Greater Allen AME church.
An $11.5 million initiative, which began in 2006, to strengthen New York City's foster family network and increase the number of families available to care for older children and teens. The effort continues to enable our foster care provider agencies to hire and train foster parent advocates, receive training on boosting recruitment and retention of foster parents, provide crisis intervention teams to support foster parents and provide enhanced training and support for foster parents caring for high risk children.
"Teens in care need a support system that will help them transition into being a productive adult when they leave foster care," said Maria Figueroa, a foster parent to teens and a parent advocate. "I was a teenaged mom when I entered foster care and I understand what these kids are going through. After all the struggles in their life, these kids just need someone to show them love and joy and give them the affirmation that someone thinks they are good and important enough."
During National Foster Care Month, Children's Services, will host celebrations Citywide honoring foster parents. These celebrations will be co-hosted by the Circle of Support - a network of groups of foster, kinship and adoptive and resource parents operating in the five boroughs- and by Children's Services foster care providers. For more information on these activities, please visit our website at http://www.nyc.gov/acs.
Contact:
ACS Press Office: (212) 341-0999