New York City Celebrates National Adoption Month
Adoptions will be finalized for approximately 1,300 children who are currently in foster care in New York City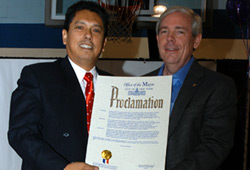 ACS Adoption Unit Director Jorge Pastor presents Mayor Michael Bloomberg's Adoption Proclamation to Tom Atwood, President and CEO of the National Council for Adoption, at the Kids at Heart celebration.

View more photos from
Kids at Heart event

In celebration of National Adoption Month, Children's Services, the New York State Office of Children and Family Services (OCFS), and New York City Family Courts will be hosting a series of events in recognition of New York City adoptive families and the hundreds of youth in foster care that remain freed for adoption with the hopes of obtaining permanent families. This effort along with similar celebrations around the country will offer children the chance to live with stable and loving families and encourage other dedicated individuals to make a powerful difference in the lives of a child through adoption.

Adoptions this year will be finalized for approximately 1,300 children who are currently in foster care in New York City. Nationally, more than 126,000 children in foster care are awaiting adoptive homes. Approximately 600 children who are in foster care in New York City need adoptive homes. Annually, about 1,200-1,500 adoptions are finalized for children in foster care in New York City.

"The series of events for National Adoption month include part of our ongoing efforts to find permanent, nurturing homes for children in foster care," said Children's Services Commissioner John B. Mattingly. "Helping the children who come into our care to achieve permanency is one of the most important things we do at Children's Services. We want to see children settled with the adults who are committed to being there forever. We believe there is a strong, loving family out there for every one of our young people who need a home – and that families are what children most need to grow up and reach their full potential."

A list of some of the events throughout the city in honor of National Adoption Month include:
On Saturday, November 17th from 9:30 am to 3:30 pm, Children's Services will host a day of fun for new adoptive families and extended families at Kings County Family Court at 330 Jay Street in Brooklyn. ACS and Family Court expect to finalize approximately 125 adoptions as part of National Adoption Month. Children's Services Parent Recruitment and Retention Office will have a table with resource information available. There will be face-painting, picture-taking, a magician and cartoon characters entertaining the children.
On Sunday, November 18th from 1:00 pm to 4:00 pm, the National Council for Adoption joined by Children's Services will host the Kids at Heart family celebration at Chelsea Piers Field House Pier 62, located at 23rd Street and the Hudson River in lower Manhattan. Hundreds of adoptive families will enjoy basketball, soccer, rock climbing, gymnastics, batting cages and a circus presentation. Entrance for families is by invitation only.
One of Children's Services ongoing efforts to find permanent homes for our youth in foster care is through the Heart Gallery, New York City, Inc., a not-for-profit organization dedicated to raising awareness about children who are living in foster care and encouraging New Yorkers to open their hearts and homes through adoption. Through the Heart Gallery NYC, a photo exhibit of New York City children in foster care who are freed for adoption was on display this month at the Brooklyn Public Library at 280 Cadman Plaza West in Brooklyn, Brooklyn Borough Hall, Penn Station, and Grand Central Station. The Heart Gallery is also on display at the Children's Services' lobby at 150 William Street in lower Manhattan. It will be on display at the Community Room in the Brooklyn Borough Office throughout the remainder of 2007. The photos are taken by renowned photographers involved in the Heart Gallery project, who volunteer their talents by taking portraits that help capture the individuality and spirit of each child in foster care. The photographs are then displayed in traveling gallery exhibits and on the Internet. During the next few months, ACS will be working with the Heart Gallery to exhibit the photos throughout the five boroughs. For more on the Heart Gallery NYC, please visit www.heartgallerynyc.org or contact the Parent Recruitment hotline at (212) 676-WISH (9474).
November is National Adoption Month, but at Children's Services, we're committed to making adoptions happen 365 days a year. If you are interested in learning more about becoming an adoptive parent, please contact the Parent Recruitment Hotline at 212-676-WISH (toll-free outside of NYC 877-676-WISH), or New Yorkers can just dial 3-1-1. ACS can mail you a packet of information, or you can get the packet by going to the ACS Web site at www.nyc.gov/acs.
Contact:
ACS Press Office: (212) 341-0999