New York City Celebrates Sixth Annual Day of the Child
Children's Services and Children Uniting Nations Host NYC's Annual Mentor Recruitment Event for Youth in Foster Care, Featuring Performances by Hip-Hop Legend Doug E. Fresh, Music Stars CeCe Peniston and R & B Singer Shanice; Celebrity Appearances, including ESPN's Teddy Atlas and New York Giants Cornerback Geoff Pope
New York City celebrated its Sixth Annual Day of the Child today at the Armory Track and Field Center in Upper Manhattan where approximately 600 children and 300 adults came together to enjoy games and interactive activities for the event. The daylong celebration is designed to inspire New Yorkers to volunteer their time at this special event, with the potential to become a mentor on an ongoing basis to a young person who is either in foster care or on waiting lists citywide for a mentor. The event also aims to raise awareness overall about the ACS role as the City's child welfare agency charged with protecting children and strengthening families.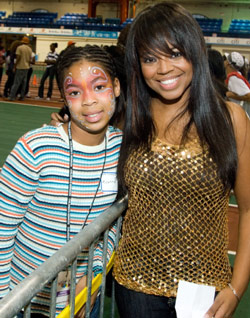 "This event celebrates and emphasizes the importance of mentors for our youth. Children's Services works every day to find support for the young people in our care. Every child deserves a mentor, someone who's in his or her corner who can be a friend, an advisor, a shoulder to lean on, an open ear, and an inspiration. Our young people need real life role models and should be afforded an older person they can turn to for guidance and support in making life decisions or just have someone to embrace them. We all know that mentors make a huge difference in the present and the future of young people who might otherwise be at risk. We urge New Yorkers to consider becoming a mentor for our youth and make a positive impact on a child's life," said ACS Commissioner John B. Mattingly.
The Day of the Child brought more than 300 caring New Yorkers together with children ages 7 to 18 who are served by the Administration for Children's Services' (ACS). Adult volunteers learned more about how they can potentially make a difference in the life of a child through mentoring by enjoying a day of fun with small groups of youth participants. The volunteers and young people enjoyed games and interactive activities, as well as performances by world famous music stars including Recycling Inspiration Ambassador of Entertainment hip-hop legend Doug E. Fresh, chart toppers Ce Ce Peniston and Shanice, new hip-hop artist Kaleber and local New York City performers Daily News Casym Steel Band and DDT (Doing Damage Together).
The first Day of the Child celebration was held by Children Uniting Nations in Los Angeles nine years ago. This event is designed to bring awareness and support to the needs of children who by no fault of their own are living in out-of-home care. In 2002, the nonprofit organization brought the event to New York City to expand mentoring opportunities for youth in foster care and raise awareness about the challenges faced by these young people.
"Every child deserves a caring adult in his or her life who is there as a guide for a long time," said Daphna Edwards Ziman, founder and chair of Children Uniting Nations.
CW-11 weatherman Mr. G served as master of ceremonies for the event, introducing the day's musical performers and special guests, including Children's Services Deputy Commissioner of Government and Community Affairs Anne Williams-Isom, New York City Commissioner of Sports Kenneth Podziba, ESPN Fight Night commentator Teddy Atlas, New York Giants Cornerback Geoff Pope and Casey Family Programs Managing Director Strategic Consulting Zeinab Chahine. Commissioner Podziba read a proclamation from Mayor Michael Bloomberg, declaring today as "Day of the Child" in New York City.
Entertainment stars were on hand as well. The event also offered resource materials providing information on mentoring to parents, staff and other adults involved with Children's Services; onsite mentoring experts; the opportunity to sign up to become a mentor to an NYC young person; and more.
The New York Daily News has been a proud sponsor of Day of the Child since its inception in 2002. Sponsors for the 2007 New York City Day of the Child celebration include the NYC Administration for Children's Services, Casey Family Programs, Jockey International TM, CW-11 Network, McDonald's Metro, NYC Sports Commission, Citibank, The Armory Track & Field Foundation, the New York Mets, New York Yankees and Everlast. Collaborating partners include Mentoring Partnership of New York, Mentoring USA and Big Brothers Big Sisters New York City.
Children's Services' Central Mentoring Office will follow up with volunteers to introduce them to future mentoring opportunities. The Central Mentoring Office works with partners in the NYC mentoring community to match youth living in foster care with mentors by acting as a clearinghouse for referrals, disseminating best practice on mentoring programs and raising public awareness.
Research has shown that young people with mentors are more likely to have greater self-esteem and feel hopeful about their future than their peers who do not have mentors. As a result, these children are less likely to use illegal drugs and alcohol or skip school, and are more likely to enroll in college and give back to the community by getting involved in community service.
To learn more about mentoring a child in foster care in New York City, visit www.nyc.gov/acs or call 311.
Contact:
ACS Press Office: (212) 341-0999