ACS Kicks Off Week of the Young Child 2010
Children's Services kicked off the Week of the Young Child, April 11-17, with help from children from Hamilton Madison Head Start Center, who gave a spirited performance of "If All the Raindrops," "Twinkle Twinkle Little Star," and "I am Special" before a delighted audience of staff from the Division of Child Care and Head Start on Friday, April 9.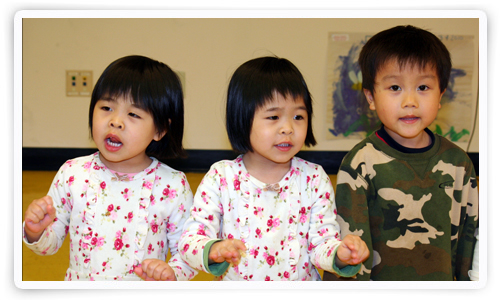 Children from Hamilton Madison Head Start performing "I am Special."
The Week of the Young Child is held across the U.S. each year to honor young children and their teachers and all those who make a difference in young children's lives. The theme for WOYC 2010 is "Early Years are Learning Years." The annual celebration, first established in 1971, is sponsored by the National Association for the Education of Young Children (NAEYC) to focus public attention on the needs of young children and their families and to recognize the early childhood programs and services that meet those needs.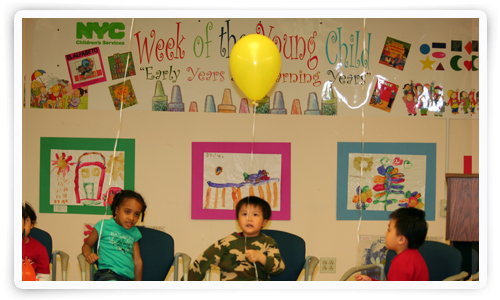 Balloons for everyone at the launch of the Week of the Child
Miranda Harrison, ACS Assistant Director of Program Development and Support Services, welcomed the children and their teachers, and commended them for taking on "learning new things everyday." The Hamilton Madison Head Start program, located in lower Manhattan, serves a diverse community of immigrants and their children. Hamilton Madison Associate Executive Director Thea Goodman, and teachers Meghan Loughman, Aruna Tulsi, Trang Han Hua and Holly Eberth, accompanied the children to the ACS office for the launch. Children's book author Vernice Cole read her book "Grandma's Juice" to the children. The book describes the relationship between Cole's son Jacob, and her mother Bernice K. Cole, who worked with young children throughout her career as an educator and community activist.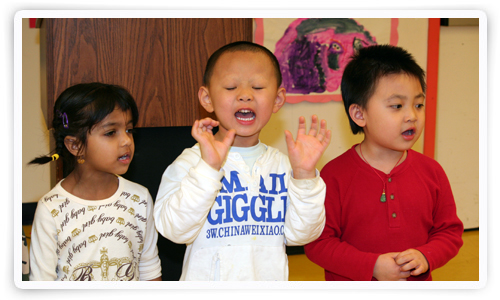 Children put their all into their performance.
Other activities for the week are planned at other child care and Head Start locations city-wide. They include a community parade and variety show at the Highbridge Advisory Council Family Services, Inc. Head Start, and a parent child activity day at La Peninsula Head Start in the Bronx.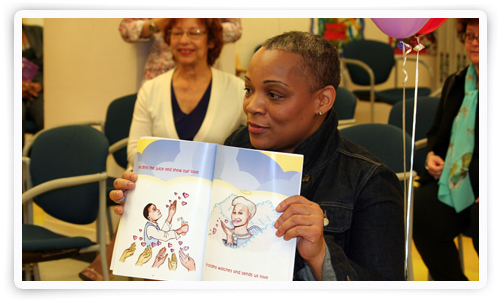 Children's book author Vernice Cole reading to the children.
The ACS early childhood education team involved with the launch included Early Childhood Specialists Rosalyn Brown, Martha Lewis, Mary Richards-Dudley, Patricia Hussey, Eugenia Vieira, Director of Quality Assurance & Training, Sherone Sanchez and Deputy Director, Jacqueline Hayes.
_____________
Related Pages: