'Divine Intervention' -  Program Transforms Parents into Advocates
Through her tears, Parent Advocate Shanene Bryant recalled her feelings during and after her experience with the child welfare system. "After reflection, I saw the activities of ACS to be divine intervention," she said.  "I looked into myself and I made the changes that I needed to make."
Bryant was one of nine women who graduated recently from the Child Welfare Organizing Project training program as part of the Parent Advocate Initiative (PAI). All of the graduates of the parent leadership program were once involved with Children's Services, either as subjects of a child abuse investigation, participants in court-ordered preventive services, or as parents who have been in foster care, and are now able to help other parents navigate the child welfare system. The graduation took place on Friday, March 5, at Philanthropy New York, 79 Fifth Avenue, Manhattan.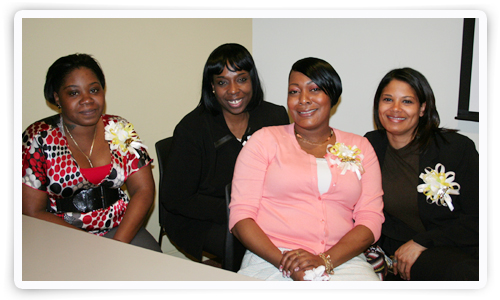 Graduates from left, Lizzie Baugh, Felicia Alleyne, Shanene Bryant and Peggy Mansanet.
Graduation speakers included David Tobis and Anita Gundanna, Executive and Deputy Executive Directors of the Fund for Social Change, a primary funder and coordinator of the Parent Advocate Initiative; CWOP Executive Director and PAI steering committee member, Mike Arsham; and Parent Organizers Sabra Jackson and Teresa Bachiller. "It is great that so many people are working together to change the balance of power in this system," Tobis said.  
Receiving their certifications of completion were: Felicia Alleyne, Lizzie Baugh, Shanene Bryant, Alice Fleetwood, Dinah Clemmons-Gibson, Teyora Graves, Ebonie King, Peggy Mansanet and Tawana Wright. The women completed a 6-month intensive curriculum developed by parents, for parents. The course focused on the history of the child welfare system, how to navigate the Family Court and the child welfare system, community organizing basics and communication skills.  In addition, the graduates participated in child welfare forums, conferences and focus groups, and they made presentations to students at New York City schools of social work and law.  Most of the graduates are employed as parent advocates at foster care agencies such as New York Foundling, Forestdale Inc. and New Alternatives for Children.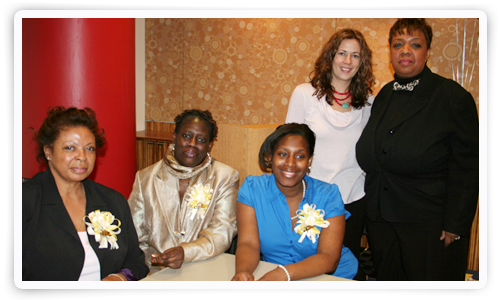 Graduates seated from left Alice Fleetwood, Tawana Wright, and Teyora Graves.  Standing are Dana Guyet, left, and Sabra Jackson.
To a person, each graduate spoke about the value of the training. Felicia Alleyne, a New Alternatives for Children parent advocate: "The training helped me to empower myself, and now I can help others." Said Lizzie Baugh, another graduate: "I am proud of myself because I can say 'I did it.' " 
The PAI is an 18-month comprehensive and innovative pilot program which began in July 2009 to promote the role of parent advocates in the child welfare system. The initiative provided grants to train, hire, and support parent advocates in foster care agencies in New York City. The initiative is supported by the Fund for Social Change, in partnership with New York City's Administration for Children's Services, New York State's Office of Children and Family Services (OCFS), the Council of Family and Child Caring Agencies (COFCCA), CWOP and six foundations. In addition, PAI will support the creation of a Parent Advocate Support Network, provide technical assistance to agency administrators to support parent advocates in their organizations and coordinate an evaluation of the initiative by the Chapin Hall Center for Children.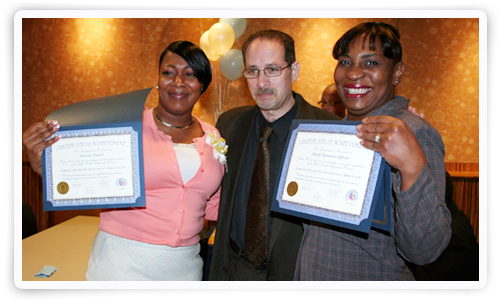 Graduates Shanene Bryant, left, and Dinah Clemmons-Gibson celebrate with Mike Arsham.
Many of the former and current graduates of the CWOP training programs are active in the ACS Parent Advisory Work Group. Dana Guyet, Director of ACS Office of Advocacy which facilitates the Work Group, said of the initiative: "The women here today have all shown that they are stronger because they know how to advocate for themselves and can help other parents with the same experiences."
CWOP is a parent/professional partnership dedicated to public child welfare reform in New York City through increased parent involvement in service and policy planning.  It is supported by several private foundations as well as a grant from the New York State Office of Children and Families.
_____________
Related Pages: