Children's Services Honors Two NYPD Officers
Staten Island Team Offer Great Assist to CPS Workers
At the December 4, 2008 Childstat meeting, Children's Services honored two officers of the NYPD for their able assistance and quick-thinking on a child abuse investigation earlier this year. Commissioner John Mattingly presented 15-year veteran Detective LeEric Hampton and 18-year veteran Officer Victor Wilson of the 120 Precinct on Staten Island with the agency's Child Advocacy award.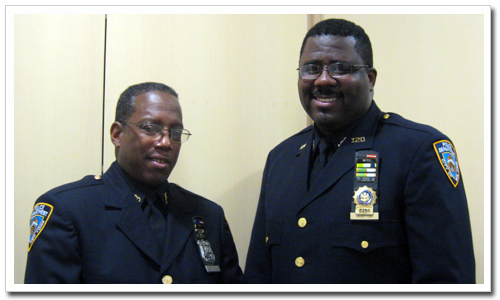 On the morning of July 30 this past summer, Officers Hampton and Marke responded to a call from two of our Child Protective Specialists, Leah Cuthbertson and Luiza Marke. While making an unannounced visit as part of an ongoing investigation of a mom who allegedly was exposing her two small children to unsafe situations, Ms. Cuthbertson and Ms. Marke knocked repeatedly on the door, but there was no answer. It appeared, however, that the small children, ages 2-years and 9-months old were home - alone. The caseworkers promptly called 911. "All we knew is that we couldn't get in…and we needed help," said Ms. Marke.
Officers Hampton and Wilson responded to the call and quickly arrived on the scene. They sought the cooperation of a neighbor, who let them use her terrace to climb through the window of the children's fifth-floor apartment.
The Officers found the children watching TV, a bottle nearby, apparently for the 2-year old to give to the 9-month old. No adult was home. "I have been involved in child removals before, but nothing like this-climbing through a window," said Detective Hampton. "You see two small kids not able to do anything for themselves, and it touches you."

After the CPS entered the now open door to the apartment, they and the Officers gathered up the children to remove them to safety. Detective Hampton even took the time to change the infant out of a soiled diaper.
As all four left the apartment, the CPS workers recognized the father of the children as he passed them on the street. The officers promptly arrested him and charged him with endangering the welfare of a child. The mother of the children later was arrested at the ACS borough office. The Officers made it clear that they weren't just acting as police in this case. "It's all instinct…we're parents, too, and I'm also a grandfather," said Officer Marke.
"We honor Detective LeEric Hampton and Officer Victor Wilson for their dedication and commitment to protecting New Yorkers-including the most vulnerable among us-our children," said Commissioner Mattingly.
Added Ms. Marke: "I want to thank [the two officers] for being there and going through the window and helping the kids." And the feeling was mutual, as expressed by Detective Hampton: "I want to thank ACS for being out there and for doing what you do."
ACS previously has honored caseworker Leah Cuthbertson for her efforts and dedication in child protective services. The two teams combined in a effort that did both their agencies proud.