Ready, Set, College
Why go to college? What are some of the hurdles you faced getting into college? How did you choose a college? How can I afford college?  These were just a few of  the questions posed by youth in foster care to their peers currently attending college. The question and answer period was the highlight of the New Yorkers for Children  (NYFC) 'Yes You Can' college forum held on April 1st  at John Jay College for Criminal Justice.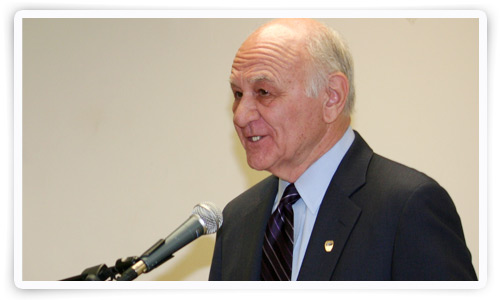 NYFC President Nicholas Scoppetta addressing the large gathering of foster care youth.
The keynote speaker was NYFC President Nicholas Scoppetta, a former Commissioner of Children's Services, who encouraged the young people go to college. Alluding to his own background in foster care and the education afforded him as a result of publicly-funded programs such as the GI bill, Scoppetta said: "Get an education; it makes all the difference in the world."  Scoppetta was introduced by NYFC Executive Director Susan Magazine.
Also addressing the 80 young people was Lorraine Stephens, ACS Deputy Commissioner for Family Permanency Services. Stephens described a very successful youth in foster care who had completed his bachelors and masters degrees all by the age of 21.  "I want you all to know that you can do anything if you aim high," she said.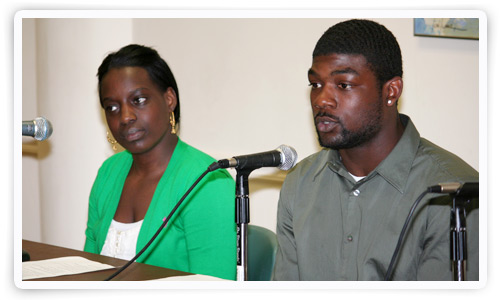 Panelists Kadidjia and Ralphy answer questions about the college experience.
The panel of foster care youths also shared their experiences in college. Kadidjia, Ralphy, Al, Daniel and Martin, who are currently attending college at the Borough of Manhattan and LaGuardia Community Colleges, John Jay, Mercy College and Dean University, agreed that getting an education is key to achieving their goals. Daniel explained that his goal is to become a social worker so that he can help other young people like himself.  Kadidjia, who plans to become a gynecologist, said she sets and meets her academic goals by working hard, attending classes and getting help when she needs it. Ralphy encouraged everyone to be open-minded to everything while looking into different colleges, and to gather as much information as possible when choosing a school.   
Anne Williams-Isom, the forum moderator and Chief Operating Officer of the Harlem Children's Zone, offered the youth this advice: "Being in foster care, you have already proven that you are resilient - college is about the next phase of your life. Going to college is about what you are willing to commit to for yourselves.  Failure is not an option." 
In addition, youths participated in workshops on the college applications process, financial aid, and the Youth Financial Empowerment, a financial education and savings program for youth in foster care. The workshops were presented by representatives the from City and State University of New York systems, Goddard Riverside Center, New York State Higher Education Services Corporation and the Orphan Foundation.  The forum is presented annually by NYFC, which was founded in 1996 by Scoppetta as the non-profit partner to Children's Services, primarily to offer enhanced programs for young people in foster care including college scholarships, tutoring programs, job training, and networking opportunities.
_____________
Related Pages: