"Kids At Heart" Brings Cheer to Youth in Care
Mayor Proclaims "Parent Recruitment Week" at the Event
November 23, 2008 - About 300 children in New York City foster care gathered at the Chelsea Piers Field House for Kids At Heart, a free, fun-filled, circus-themed event hosted by the National Council For Adoption (NCFA) along with the Administration for Children's Services (ACS). NCFA has hosted Kids at Heart since 1992 to honor children in foster care who are waiting to be adopted and to raise awareness for the need for parent recruitment. Kids At Heart is part of NCFA's Families For All program that encourages Americans to consider what they can do to help children in foster care.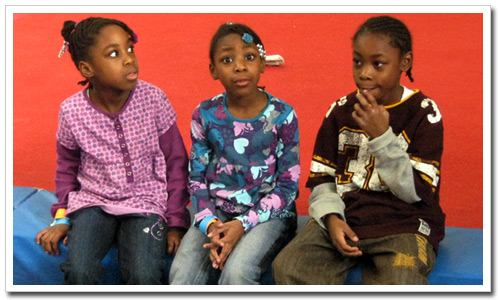 (l-r) Margey, Brandy and Richard Dowleyne enjoy a day at Chelsea Piers' during the Kids At Heart event. View more photos
"Kids At Heart is intended to give children in New York City foster care a day to forget about their problems," said Lorraine Stephens, Deputy Commissioner for ACS' Division of Family Permanency. "It's a day for them to have fun and remember that they're kids!"
Among the youth in attendance were Richard, 8, Margey, 7 and Brandy, 6—siblings who were adopted two years ago by Leslie Dowleyn of Brooklyn. "I like flipping the most," said Richard, who made the most of his time in the gymnastic area of Chelsea Piers. Their mom Ms. Dowleyn never hesitated in adopting the three children. "They are each a joy in my life," she said.
Julia Charles, who was formerly in foster care, served as guest speaker and autographed copies of her newly published book "Surviving The Storm: The Life of a Child in Foster Care" – a personal account of her 10-year journey through the foster care system to her eventual adoption at the age of 23. Ms. Charles told the crowd of young people, "To be adopted is absolutely the best gift in the world. It was a family that chose me." Many of the youth in attendance are living in pre-adoptive homes, awaiting finalization.
The youth enjoyed the many activities at the Chelsea Piers Field House, including the batting cages, soccer fields, basketball court, arts and crafts, a gymnastics area and a toddler adventure center. Deputy Commissioner Stephens read a proclamation from Mayor Michael Bloomberg's office naming the week of November 23, 2008 as "Parent Recruitment Week" in New York City. Ringling Bros. and Barnum & Bailey clowns performed on stage and throughout the afternoon for the children.
Kids At Heart was sponsored, in part, by Amtrak, the MCJ Foundation and the Glickenhaus Foundation.