Bronx Borough President Proclaims Heart Gallery NYC Day
At a ceremony April 20th marking the opening of the Heart Gallery of New York City exhibit in the Bronx, Acting Borough President Earl Brown proclaimed April 20, 2009 as Heart Gallery NYC Day. The exhibit, which is part of the Bronx Recruitment Initiative to find permanent homes and mentors for more than 120 children in foster care, runs until June 15, 2009. Featuring photographs of more than 30 children waiting for a permanent, loving family, the Bronx Borough President's Office in the Bronx Family Court building is one of several locations in the borough where visitors can view the display. Viewers can see the Gallery also in the Bronx Concourse Mall and on the sides of the Bronx Tour Trolley buses, which run from the Courthouse Building to Bronx sites of interest, including art galleries and museums.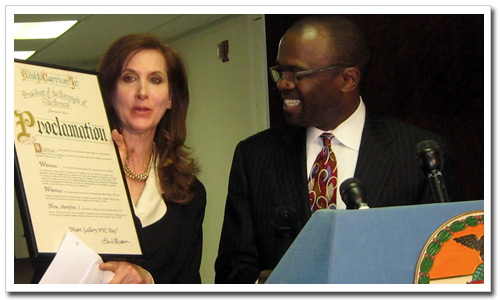 Heart Gallery NYC Executive Director, Laurie Sherman Graff receives the proclamation by Acting Bronx Borough President Earl Brown naming April 20, 2009 "Heart Gallery NYC Day.
In his proclamation, Acting Borough President Brown said: "In New York City and throughout the United States, many children live without the security and love of families. Over 16,000 young New Yorkers live in foster care. Hundreds of them are legally freed for adoption and waiting for permanent, loving homes. The collaboration between Bronx Borough Hall, Heart Gallery NYC and Catholic Guardian Society and Home Bureau will raise awareness about children living in foster care and encourage Bronx residents to make a difference in the life of a child."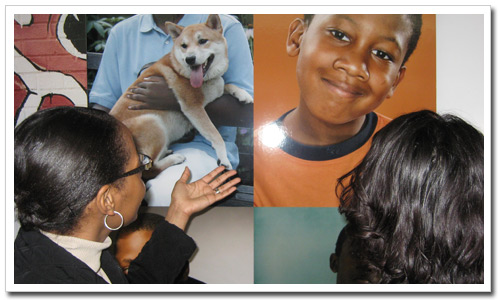 Visitors look at Heart Gallery portraits on exhibition at the Bronx Concourse Mall.
Heart Gallery NYC Founder and Executive Director Laurie Sherman Graff noted that recruitment initiatives have been held in every borough. The Heart Gallery's initiative has been embraced wholeheartedly by agencies in the Bronx, according to Children's Services Director of Adoptions, Jaron Ben Shalom, who praised Catholic Guardian Society for the excellent job it is doing in finding homes for children. He added that the Heart Gallery "affords us one extra opportunity to find homes that offer permanency for the children in our care."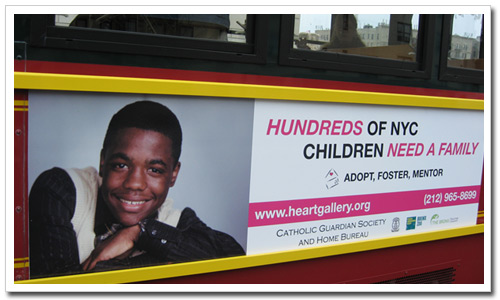 One of the Bronx Tour Trolleys displaying the Heart Gallery portraits.

Children featured in the exhibit attended the opening ceremony, including Aisha, an outgoing 19-year-old who has been in foster care since she was two years old. Aisha said she still hopes to be adopted. Through the Heart Gallery recruitment initiative several families have expressed an interest in making Aisha a part of their family. The children had the opportunity to meet with the Borough President and members of his staff. They were presented with gift bags and later treated to a day at the Bronx Zoo. Other children who are part of the recruitment initiative received tickets to Yankees' games.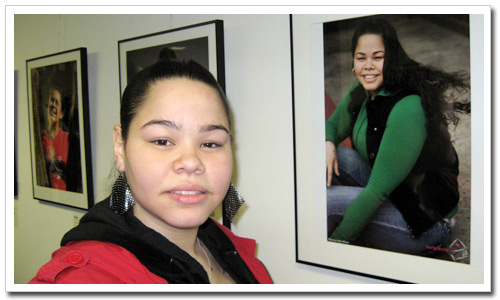 Aisha, one of the children waiting adoption, poses beside her Heart Gallery portrait.
Heart Gallery, New York City, Inc., is a not-for-profit organization dedicated to raising awareness about children who are living in foster care and encouraging New Yorkers to open their hearts and homes through adoption. Photographers involved in the Heart Gallery project volunteer their talents by taking portraits that help capture the individuality and spirit of each child waiting to be adopted. The photographs are then displayed in traveling gallery exhibits and on the Internet. ACS works with the Heart Gallery to exhibit these photos throughout the five boroughs. The first exhibit was held in June of 2007.