Fostering Success for Youth in Foster Care
Administration for Children's Services (ACS) Commissioner, John Mattingly pledged continued commitment to improving the experiences of children and young people in foster care. The occasion was the first conference on "Fostering Success for Children and Youth in Foster Care" held on Tuesday, June 22, at the ACS Children's Center in Manhattan.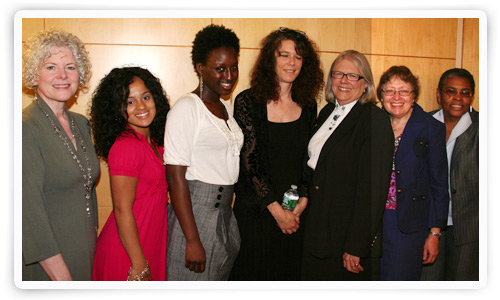 Panelists and presenters from left, Lauren Frey, Imani Brammer, Kimberly Cortorreal, Virginia Vitzthum, Anne Reinger, Dr. Katherine Teets Grimm, and Deborah Brooks.
The conference, which was sponsored by the New York Center for Children in association with Prevent Child Abuse America and ACS with funding from the Annie E. Casey Foundation, focused on best practice model programs and approaches that are successfully providing essential support to children in foster care. The conference chairs were Dr. Katherine Teets Grimm, Medical Director, New York Center for Children, and Anne Reiniger, Past Chair, Prevent Child Abuse America.
In his welcome to the participants, Commissioner Mattingly said, "the system has been moving forward, but we still have a long way to go. We are still trying to make sure that our frontline workers are committed, well trained and well supervised. The key to our work is good practice. This is too important a job, and we will stick with it. That is my commitment to the children and families of New York City."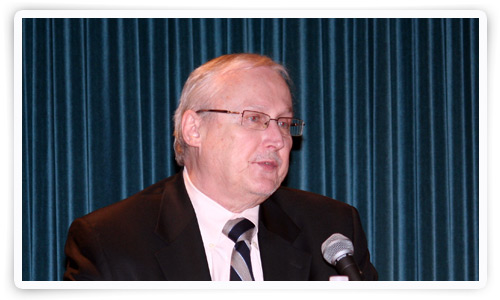 Commissioner Mattingly addressing the conference.
NYC Public Advocate Bill de Blasio also attended the conference and said the City must protect and fund preventive services, calling it the "single most important thing we can do to support the work of everyone in the child welfare community." He commended Commissioner Mattingly and Children's Services for improving the agency and for being a partner in working for children and families in New York City.
Keynote speaker, Richard R. Buery, Jr., President and Chief Executive Officer of the Children's Aid Society, supported de Blasio's call for more emphasis on preventive services. He said for the system to move forward, more resources should be put into helping families before ACS involvement and before the family is in crisis.
A panel discussion which followed the opening session focused on successful programs for youth in foster care and addressed issues such as placement stability, educational and mental health needs, youth engagement, creative outlets for children and youth in care, financial security, and preparation for transition to successful adulthood after care. The panelists were Lauren Frey, Project Director of Permanency Services, Casey Family Services; Meara Beirne, Therapist, the New York Center for Children; Deborah Brooks, Project Lead, ACS Youth Financial Empowerment program; Gwendy Fuentes, Support Services Coordinator, Mott Haven Academy Charter School; Jodi A. Saitowitz, Director, Bridges to Health, ACS; Virginia Vitzthum, Editor, Represent magazine; and foster care youth, Kimberly Cortorreal.
Participants included over 200 professionals, including foster care agency caseworkers and staff, preventive and child protective workers, doctors, nurses, social workers, teachers, guidance counselors, lawyers, child advocates, and child care professionals.
_____________
Related Pages: