Heart Gallery NYC
It was a special day at the Kings Plaza Shopping Center on July 22 with the latest display of the Heart Gallery NYC traveling exhibit of youth in foster care awaiting adoption. The exhibit, which is part of the Brooklyn Recruitment Initiative to find permanent homes for children in foster care, is on display until August 24. State Assemblyman Alan Maisel marked the opening with a citation of "Heart Gallery NYC Day." His citation hailed the "public, corporate and non-profit collaboration to bring awareness of the plight of foster children seeking adoption."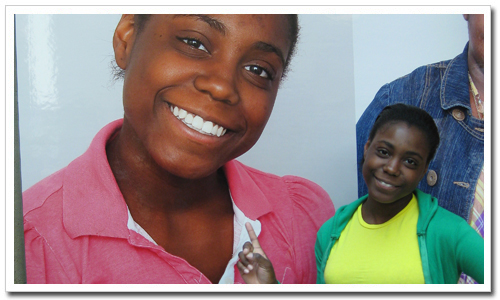 Angela with her own portrait
Photographers involved in the Heart Gallery project volunteer their talents by taking portraits of youth in foster care to help capture the individuality and spirit of each child waiting to be adopted. The photographs are then displayed in traveling gallery exhibits and on the Internet.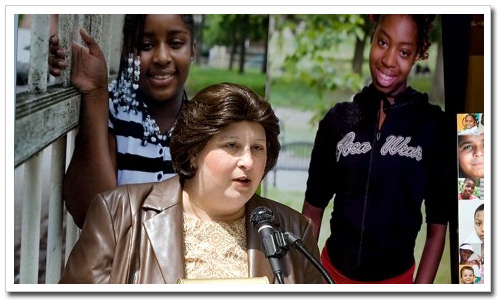 Iris Kaplan, Assistant Commissioner in the Division of Family Permanency Services
Iris Kaplan, ACS Assistant Commissioner in the Division of Family Permanency Services, cited the importance of the exhibit: "While our rate of adoption for children in foster care is close to the highest it has been in New York City in recent years, there are many more children waiting for permanent homes. We urge all New Yorkers who are considering adoption, to consider a youth-or youths!-in foster care. While about 1,300 children are adopted each year from foster care, there are hundreds more still waiting for a family." She urged the public to call either 212-676-WISH (9474) or 3-1-1 to find out more about adoption.
Five of the Heart Gallery youths who are with Little Flower Children & Family Services took part in an art workshop conducted by Madison Square Boys & Girls Club. Each of them, Angela, Damian, Dashawn, Dominique and Jewel, received a gift card courtesy of Kings Plaza Shopping Center for their own shopping spree at the mall.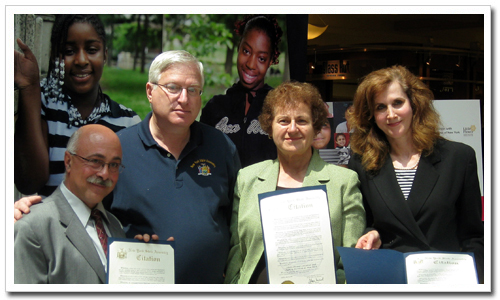 Team Photo: (l-r) John Scaturro, Marketing Director from Kings Plaza, Alan Maisel, State Assemblyman, Grace LoGrande, Executive Director of Little Flower Children and Family Services of New York and Laurie Sherman Graff, Executive Director of Heart Gallery NYC.
"This is the second time in a year that we have returned to the Kings Plaza Shopping Center and we received more than 100 inquiries last year," noted Heart Gallery NYC Executive Director Laurie Sherman Graff. "We hope to do even better this year because the exhibit will be on display during the back-to-school shopping period in August and that will bring more families to the mall. This is a diverse, well-trafficked location."
Heart Gallery, New York City, Inc. is a not-for-profit organization dedicated to raising awareness about children who are living in foster care and encouraging New Yorkers to open their hearts and homes through adoption. ACS works with the Heart Gallery to exhibit these photos throughout the five boroughs.
Related Pages: