Someone is hurting you or your child.
Call 911 in an emergency.
Call 311 for the Domestic Violence Hotline.
Or call direct 1-800-621-HOPE (1-800-621-4673)
TDD (Hearing Impaired): 1-866-604-5350.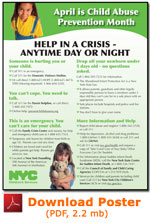 You can't cope. You need to talk.
This is an emergency. You can't care for your child.
Call the Family Crisis Center and Nursery for help and emergency child care at 1-888-435-7553.
Temporary safe haven for children from birth to age 10. Parents can visit any time.
Children are loved and cared for while parents get help. Parents get services, too.
Located at New York Foundling, 590 Avenue of the Americas (6th Avenue) in Manhattan.
Drop off your newborn under 5 days old - no questions asked.
The Abandoned Infant Protection Act is a New York State law; call 1-866-505-7233 for information.
It allows parents, guardians and other responsible persons to leave a newborn under 5 days old they can't care for in a safe place with an appropriate person.
Safe places include hospitals and police and fire stations.
You don't have to give your name.
More Information and Help