Many people fear that reporting child abuse or neglect will destroy a family. The truth, however, is that getting help can protect children from further harm and assist the family in facing and overcoming its problems. We can all help end child abuse by becoming aware of the signs and reporting suspected cases of child abuse and neglect. Some signs of child maltreatment include:
Recognizing & Reporting Child Abuse & Neglect - Questions Often Asked by Friends, Neighbors and Relatives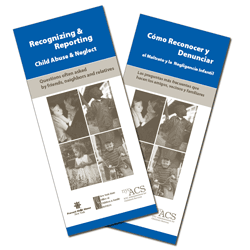 Download the pamphlet (PDF)
Call (212) 341-0999 for copies


1. Signs of Abuse
Physical
Bruises, welts, or swelling
Sprains or fractures
Burns
Lacerations or abrasions
Sexual
Difficulty in walking or sitting
Torn, stained, or bloody clothing
Pain or itching in the genital area; bruises or bleeding in the external genital area
Sexually transmitted diseases
Pregnancy
2. Signs of Neglect
Physical
Lack of adequate supervision, nutrition, or shelter
Poor hygiene
Inappropriate dress
Educational
Infrequent attendance in school
Medical
Unattended medical or dental needs
3. Emotional neglect or abuse
Speech disorders
Delayed physical development
Substance abuse
4. Behavioral signs of abuse or neglect
Uncomfortable with physical contact
Low self-esteem
Behavior extremes, such as appearing overly compliant and passive or very demanding and aggressive
Frequently at home with no caretaker
Lags in physical, emotional, or intellectual development.
Nationally, of the children for whom the allegations of maltreatment were proven, 56% were neglected, 25% were physically abused, 13% were sexually abused, 6% were emotionally abused, and 13% were classified as suffering from some other form of abuse. (Source: U.S. Department of Health and Human Services, Child Maltreatment 1997.)