Wednesday's Child is a part of the Dave Thomas Foundation's national campaign to increase adoptions of children in foster care. Each Wednesday (and again on Sunday mornings), a child in foster care who is waiting for a loving, adoptive home is profiled during the evening news on WNBC 4.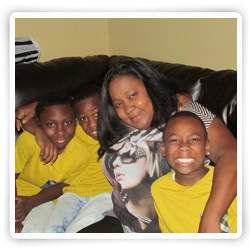 The Boney Family
"My heart was fluttering and I had this overwhelming feeling of joy the day their adoption was finalized," says adoptive mother Sandra Boney.
On May 22, 2014, the adoption of Tysean, Lamar and Nasir was made official. It all started in 2010, when the boys' biological mother asked Sandra to take care of Tysean and Lamar temporarily. In 2011, Nasir joined his brothers and Sandra. Recently Sandra has been fostering their 2-month-old brother. For Sandra, caring for all the brothers means that they can all grow up and share life together.
Although the boys enjoy dressing similarly, they each have their own unique personalities. Oldest brother Tysean, 9, likes to play basketball and his favorite subjects are math and reading. Although still young, he thinks about serving in the army. Lamar, 8, likes science and math and would like to become a police officer. Nasir, 6, enjoys playing dodgeball and dancing. He is really great at emulating Michael Jackson's dance moves. Nasir recently celebrated his birthday and enjoyed a trip to see "Motown, the Musical."
This family likes to be on the go and their jam-packed summer was filled with birthday parties, bowling, skating, and trips to a few theme parks. Sandra shares some advice for people who are on the fence about adopting:
"Do it because it is in your heart. If you're doing it for other reasons, it will not be fulfilling."
Watch the video on NBC Website (page will open in a new window)
Search our online database of waiting children
Sign up for our weekly adoption and foster care newsletter
Wednesday's Child TV Schedule
Wednesdays between 5:30-6:00 p.m.
Sundays between 6:00-7:00 a.m.
About Wednesday's Child
Wednesday's Child is hosted by NBC meteorologist Janice Huff, who encourages viewers to call the ACS Parent Recruitment Hotline at 212-676-WISH to learn more about the adoption process.
Wednesday's Child is an award-winning program began in the Washington, D.C. metropolitan area in 1992 which features children who are waiting in foster care to be adopted and success stories of families who have adopted from foster care. Because of its phenomenal success, the program was expanded to other cities around the country. In April 1999 Wednesday's Child started in New York City as a collaboration between WNBC 4 and Freddie Mac Foundation. Since January 1, 2014 the Dave Thomas Foundation has sponsored Wednesday's Child. For more information, visit the Dave Thomas Foundation website at www.davethomasfoundation.org