Wednesday's Child is a part of the Dave Thomas Foundation's national campaign to increase adoptions of children in foster care. Each Wednesday (and again on Sunday mornings), a child in foster care who is waiting for a loving, adoptive home is profiled during the evening news on WNBC 4.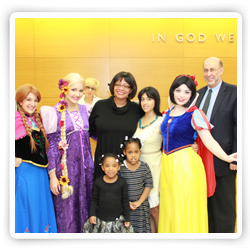 Turner Family
It was a day filled with Disney princesses, face painting and goody bags, but Alicia Turner was most excited when the Judge officially made her the mom of Desiree and Precious.
On November 20th, at the Kings County Family Court, over 60 adoptions were finalized and the Turner family was one of them.
"This morning I had an anxiety attack. This has been four-and-a-half years in the making," said Alicia.
Desiree, age 7, is a go-getter, adventurous and loves to take chances. Precious, age 5, is always willing to share a smile with someone and can to talk to anyone who will lend her an ear.
Typical days with the Turner family can be described as jam packed with activities. Both girls are out of the house by 7am for school and on weekends, the family is actively involved in church activities. They always find time for fun activities.
The girls enjoy trips to the zoo, Botanical Gardens and plane rides to visit family members.
Prior to leaving the court house and heading into a new chapter, Alicia left final words for people who are considering adoption.
"Think hard and long, but not too long. It's actually a rewarding feeling to change someone's life."
Watch the video on NBC Website (page will open in a new window)
Search our online database of waiting children
Sign up for our weekly adoption and foster care newsletter
Wednesday's Child TV Schedule
Wednesdays between 5:30-6:00 p.m.
Sundays between 6:00-7:00 a.m.
About Wednesday's Child

Wednesday's Child is hosted by NBC meteorologist Janice Huff, who encourages viewers to call the ACS Parent Recruitment Hotline at 212-676-WISH to learn more about the adoption process.
Wednesday's Child is an award-winning program began in the Washington, D.C. metropolitan area in 1992 which features children who are waiting in foster care to be adopted and success stories of families who have adopted from foster care. Because of its phenomenal success, the program was expanded to other cities around the country. In April 1999 Wednesday's Child started in New York City as a collaboration between WNBC 4 and Freddie Mac Foundation. Since January 1, 2014 the Dave Thomas Foundation has sponsored Wednesday's Child. For more information, visit the Dave Thomas Foundation website at www.davethomasfoundation.org