Wednesday's Child is a part of the Freddie Mac Foundation's national campaign to increase adoptions of children in foster care. Each Wednesday (and again on Sunday mornings), a child in foster care who is waiting for a loving, adoptive home is profiled during the evening news on WNBC 4.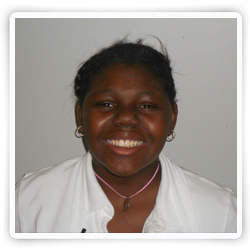 Keiajae is an outgoing, friendly girl with an ever-present smile. She is a social butterfly and often the life of the party in social settings. Keiajae has a wry sense of humor and loves to make others laugh. She does well with her peers but prefers the company of adults.
School has been a struggle for Keiajae but she continues to try her best and is willing to accept assistance. Although she loves school and is doing well in all of her classes, she will need continuing support and encouragement in this area. Outside of school, Keiajae enjoys cheerleading and basketball.  When she grows up, she would like to become a Chef.
Disappointments have not dampened Keiajae's hopes of having a family of her own. She says she wants her new family to know that she loves hugs and is a loveable girl.  All that Keiajae wants and deserves is a patient family that will love her for who she is. Any family considering Keiajae must be open to visits with her younger siblings who have been planned for separately.


Learn more and inquire about Keiajae (page will open in a new window)
Watch the video on NBC Website (page will open in a new window)
Search our online database of waiting children
Sign up for our weekly adoption and foster care newsletter
Wednesday's Child TV Schedule
Wednesdays between 5:30-6:00 p.m.
Sundays between 6:00-7:00 a.m.
About Wednesday's Child

Wednesday's Child is hosted by NBC meteorologist Janice Huff, who encourages viewers to call the ACS Parent Recruitment Hotline at 212-676-WISH to learn more about the adoption process.
In April 1999, the Freddie Mac Foundation teamed up with WNBC 4 and the Administration for Children's Services to bring Wednesday's Child to New York City. Wednesday's Child, an award-winning program with a proven track record of success, began in the Washington, D.C. metropolitan area in 1992. Its phenomenal success there encouraged the Freddie Mac Foundation to expand the program to other cities around the country. For more information, visit the Freddie Mac Foundation website at www.freddiemacfoundation.org