Wednesday's Child is a part of the Freddie Mac Foundation's national campaign to increase adoptions of children in foster care. Each Wednesday (and again on Sunday mornings), a child in foster care who is waiting for a loving, adoptive home is profiled during the evening news on WNBC 4.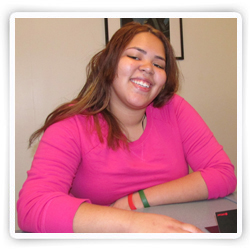 Luisa
Luisa is a brown-eyed, 15 year old, young lady who enjoys doing as many activities as possible in a day. She is an outgoing, friendly, and loving girl who is full of energy with a delightful sense of humor. A few of her favorite activities include playing basketball, dancing, singing, listening to music and most of all writing poems and songs. She is a gifted writer and can compose a song or a poem in a very short time. Luisa can be shy and prefers small crowds rather than big groups; however, she comes from a family of ten siblings. She hopes to maintain contact with them. Her caregiver said that she gets along well with other youth and that she has many good friends in school and in the neighborhood. This youth says that small things make her laugh and she is easily entertained. Luisa seeks self-improvement on a daily basis and that includes being conscientious about making healthy choices. Luisa is proud of her progress and is also working on improving her school grades on an on-going basis. She understands that school is important for her getting ahead in life and achieving a career in writing and singing. Luisa has many dreams is full of optimism and feels she can conquer the world.
Luisa benefits when people love and encourage her. She tries very hard to please others. She can become discouraged, but is easily motivated with support. She dreams of a family with a mother and father, but not siblings. She would like parents who will sit in an audience full of fans as she dedicates a song to them from her heart for their love and unconditional support. Luisa needs time to adjust to new situations; however, she responds well with plans, organization and structure.
Luisa is highly motivated by encouragement, redirection, and one-to-one attention. She is ready to belong to a loving family and believes her future is bright. She wishes to live in a place where she will always feel at home.
Learn more and inquire about Luisa (page will open in a new window)
Watch the video on NBC Website (page will open in a new window)
Search our online database of waiting children
Sign up for our weekly adoption and foster care newsletter
Wednesday's Child TV Schedule
Wednesdays between 5:30-6:00 p.m.
Sundays between 6:00-7:00 a.m.
About Wednesday's Child

Wednesday's Child is hosted by NBC meteorologist Janice Huff, who encourages viewers to call the ACS Parent Recruitment Hotline at 212-676-WISH to learn more about the adoption process.
In April 1999, the Freddie Mac Foundation teamed up with WNBC 4 and the Administration for Children's Services to bring Wednesday's Child to New York City. Wednesday's Child, an award-winning program with a proven track record of success, began in the Washington, D.C. metropolitan area in 1992. Its phenomenal success there encouraged the Freddie Mac Foundation to expand the program to other cities around the country. For more information, visit the Freddie Mac Foundation website at www.freddiemacfoundation.org