Wednesday's Child is a part of the Dave Thomas Foundation's national campaign to increase adoptions of children in foster care. Each Wednesday (and again on Sunday mornings), a child in foster care who is waiting for a loving, adoptive home is profiled during the evening news on WNBC 4.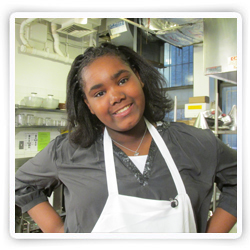 Lynisha
Lynisha is a compassionate and generous teen, with a tremendous heart who loves deeply all at thirteen years old. Her dark black glossy hair and dark large eyes complement her genuine smile. Lynisha is passionate about life and her future. She seeks a family who will be able to provide comfort and security. Trust is a quality that Lynisha finds very important in an adoptive parent. She enjoys a good sense of humor.
Lynisha has a wide range of interests and life goals: interactive play, cooking and sports including swimming and basketball are some of her interests; she is a Knick's fan. When she watches television her favorite show is Meet the Browns. She also loves Hip-Hop music with favorite artists Mary J. Blige and Beyoncé. Lynisha is an avid reader and her favorite book is the Chronicles of Narnia. In school her favorite subjects are reading and arts. She finds mathematics and writing to be challenging and admits to needing help in these subjects. Due to her nature, she is personable and interacts well with classmates and teachers. Her biggest dream is to attend Pace University and become a veterinarian. She would like to be able to work with animals, especially monkeys! When she grows up she wants to have an organized adult life consisting of having a job, kids and lots of pets. This beautiful young lady loves to cook Jamaican food (oxtail, rice, peas, chicken, cod fish and string beans). Dessert has to be chocolate cake.
Lynisha prefers a Caucasian family. Any family unit with toddlers and infants are a plus since she loves to help and take care of babies. At this time it is very important for this young woman to be with a family who is affectionate, and loving with open communication. The ideal family should have a mom, dog, baby, and siblings, preferably younger siblings. But most importantly a family that hugs, doesn't keep secrets and would love her forever.
Learn more and inquire about Lynisha (page will open in a new window)
Watch the video on NBC Website (page will open in a new window)
Search our online database of waiting children
Sign up for our weekly adoption and foster care newsletter
Wednesday's Child TV Schedule
Wednesdays between 5:30-6:00 p.m.
Sundays between 6:00-7:00 a.m.
About Wednesday's Child

Wednesday's Child is hosted by NBC meteorologist Janice Huff, who encourages viewers to call the ACS Parent Recruitment Hotline at 212-676-WISH to learn more about the adoption process.
Wednesday's Child is an award-winning program began in the Washington, D.C. metropolitan area in 1992 which features children who are waiting in foster care to be adopted and success stories of families who have adopted from foster care. Because of its phenomenal success, the program was expanded to other cities around the country. In April 1999 Wednesday's Child started in New York City as a collaboration between WNBC 4 and Freddie Mac Foundation. Since January 1, 2014 the Dave Thomas Foundation has sponsored Wednesday's Child. For more information, visit the Dave Thomas Foundation website at www.davethomasfoundation.org