Wednesday's Child is a part of the Dave Thomas Foundation's national campaign to increase adoptions of children in foster care. Each Wednesday (and again on Sunday mornings), a child in foster care who is waiting for a loving, adoptive home is profiled during the evening news on WNBC 4.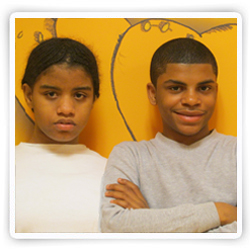 Terrell and Michelle
Terrell and Michelle are two siblings who enjoy taking care of each other. Their dreams are to one day have a family that will take care of both of them.
Michelle, 12, enjoys drawing, and playing the piano. She has plans of one day becoming an actress. She also loves to sing and performed a beautiful song with Wednesday's Child host Janice Huff during the film shoot.
The opposite of his sister, Terrell, 14, is quiet and reserved when he meets new people. This 7th grader's favorite subjects are math and history. Currently on a football team, Terrell is an outside linebacker. When he is not playing football or video games, Terrell enjoys spending time with his sister. His dream is to one day become a basketball player.
The ideal family for these siblings is one that is patient and will keep them involved in activities and give them lots of love.
Learn more and inquire about Terrell (page will open in a new window)
Learn more and inquire about Michelle (page will open in a new window)
Watch the video on NBC Website (page will open in a new window)
Search our online database of waiting children
Sign up for our weekly adoption and foster care newsletter
Wednesday's Child TV Schedule
Wednesdays between 5:30-6:00 p.m.
Sundays between 6:00-7:00 a.m.
About Wednesday's Child
Wednesday's Child is hosted by NBC meteorologist Janice Huff, who encourages viewers to call the ACS Parent Recruitment Hotline at 212-676-WISH to learn more about the adoption process.
Wednesday's Child is an award-winning program began in the Washington, D.C. metropolitan area in 1992 which features children who are waiting in foster care to be adopted and success stories of families who have adopted from foster care. Because of its phenomenal success, the program was expanded to other cities around the country. In April 1999 Wednesday's Child started in New York City as a collaboration between WNBC 4 and Freddie Mac Foundation. Since January 1, 2014 the Dave Thomas Foundation has sponsored Wednesday's Child. For more information, visit the Dave Thomas Foundation website at www.davethomasfoundation.org