Wednesday's Child is a part of the Dave Thomas Foundation's national campaign to increase adoptions of children in foster care. Each Wednesday (and again on Sunday mornings), a child in foster care who is waiting for a loving, adoptive home is profiled during the evening news on WNBC 4.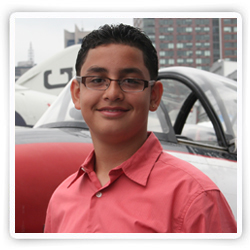 Shawn
Shawn has huge dreams of one day becoming an Air Force pilot, so for his Wednesday's Child segment he spent the day at the Intrepid Sea, Air and Space Museum where he received some one-on-one mentoring from Lt. Col. Tim Monroe.
Although this 7th grader has quite a ways to go before becoming a pilot, Shawn is on the right track to success as an honors class student. His favorite subject is social studies.
Outside of school, Shawn enjoys meeting new people, learning about planes, going to the movies and playing basketball. He is also pretty good in the kitchen as he knows how to whip up a meal of chicken and rice.
Shawn would like a family that can continue to support his high-flying dreams and provide him with a sharing and loving environment.
Learn more and inquire about Shawn (page will open in a new window)
Watch the video on NBC Website (page will open in a new window)
Search our online database of waiting children
Sign up for our weekly adoption and foster care newsletter
Wednesday's Child TV Schedule
Wednesdays between 5:30-6:00 p.m.
Sundays between 6:00-7:00 a.m.
About Wednesday's Child
Wednesday's Child is hosted by NBC meteorologist Janice Huff, who encourages viewers to call the ACS Parent Recruitment Hotline at 212-676-WISH to learn more about the adoption process.
Wednesday's Child is an award-winning program began in the Washington, D.C. metropolitan area in 1992 which features children who are waiting in foster care to be adopted and success stories of families who have adopted from foster care. Because of its phenomenal success, the program was expanded to other cities around the country. In April 1999 Wednesday's Child started in New York City as a collaboration between WNBC 4 and Freddie Mac Foundation. Since January 1, 2014 the Dave Thomas Foundation has sponsored Wednesday's Child. For more information, visit the Dave Thomas Foundation website at www.davethomasfoundation.org