Wednesday's Child is a part of the Dave Thomas Foundation's national campaign to increase adoptions of children in foster care. Each Wednesday (and again on Sunday mornings), a child in foster care who is waiting for a loving, adoptive home is profiled during the evening news on WNBC 4.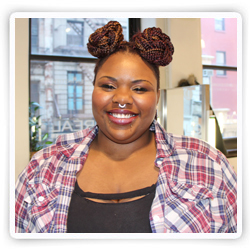 Jasmine
Two of Jasmine's greatest strengths are her outgoing personality and being able to step out of her comfort zone. And she did just that while at her film shoot for Wednesday's Child at the Carsten Institute of Cosmetology.
As soon as Jasmine walked through the doors, she was eager to learn about experiences of the cosmetology students.
"I received encouragement from all of the students," Jasmine said.
In her last year of high school, Jasmine stays up all night studying and doing homework in order to maintain good grades. With an eye on her future, Jasmine would like to head to college or cosmetology school. Besides becoming a cosmetologist, she also has an interest in forensic science.
Jasmine says she wants to be a cosmetologist because she enjoys making others feel good about themselves.
However, as Jasmine begins a new chapter into adulthood, she needs a family to encourage and guide her. When Jasmine thinks of family, she hopes to be surrounded by positive vibes and a supportive environment. With many more milestones, holidays, and life experiences, the only thing that's missing is a family she can share it with.
"This is officially where I am starting my life. The best thing a mom and dad can do is to just be there for me," said Jasmine.
Learn more and inquire about Jasmine (page will open in a new window)
Watch the video on NBC Website (page will open in a new window)
Search our online database of waiting children
Sign up for our weekly adoption and foster care newsletter
Wednesday's Child TV Schedule
Wednesdays between 5:30-6:00 p.m.
Sundays between 6:00-7:00 a.m.
About Wednesday's Child
Wednesday's Child is hosted by NBC meteorologist Janice Huff, who encourages viewers to call the ACS Parent Recruitment Hotline at 212-676-WISH to learn more about the adoption process.
Wednesday's Child is an award-winning program began in the Washington, D.C. metropolitan area in 1992 which features children who are waiting in foster care to be adopted and success stories of families who have adopted from foster care. Because of its phenomenal success, the program was expanded to other cities around the country. In April 1999 Wednesday's Child started in New York City as a collaboration between WNBC 4 and Freddie Mac Foundation. Since January 1, 2014 the Dave Thomas Foundation has sponsored Wednesday's Child. For more information, visit the Dave Thomas Foundation website at www.davethomasfoundation.org