Wednesday's Child is a part of the Dave Thomas Foundation's national campaign to increase adoptions of children in foster care. Each Wednesday (and again on Sunday mornings), a child in foster care who is waiting for a loving, adoptive home is profiled during the evening news on WNBC 4.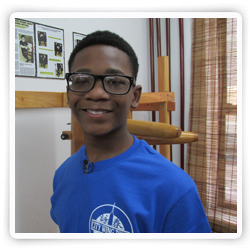 Devon
Devon, 14, is a very outgoing and sociable young man with a great sense of humor. Devon has a lot of interests. He watches Cartoon Network and anything action or comedy related. He likes to play video games, basketball and enjoys martial arts lessons. His favorite classes are math, social studies, physical education and science. Devon at times struggles to do the school work; however, when he applies himself he is capable of doing very good work. He likes many different styles of music, but he prefers hip-hop and rap. Favorite artists include Drake, Lil Wayne, French Montona and Lil Durk. His food preferences include McDonalds, Chinese food, pastas and fried chicken. Devon also has a passion for sports with his favorite teams being the Cleveland Cavaliers and the Chicago Bulls. His favorite players are Kyrie Irving and Derrick Rose. On day, Devon would love to play for the NBA or the NFL, but if this dream does not come through he would like to become a doctor or a lawyer to help others.
Devon is the 2nd oldest child out of his 5 siblings. He likes to take the big brother role when he visits with his three youngest siblings, 2 sisters and a brother who look out for his attention and protection. He also interacts well with all ages of children. However, because of the very different needs of the children, an individual placement is sought for Devon. Continued contact between his siblings would be desired and expected for Devon's psychological well-being.
Devon's ideal placement would be with a mother who has no other children, and who would be willing to give him "presents". He also dreams of having a puppy. A family setting of two parents who can provide him with individual attention would also make the right family for him.
Learn more and inquire about Devon (page will open in a new window)
Watch the video on NBC Website (page will open in a new window)
Search our online database of waiting children
Sign up for our weekly adoption and foster care newsletter
Wednesday's Child TV Schedule
Wednesdays between 5:30-6:00 p.m.
Sundays between 6:00-7:00 a.m.
About Wednesday's Child

Wednesday's Child is hosted by NBC meteorologist Janice Huff, who encourages viewers to call the ACS Parent Recruitment Hotline at 212-676-WISH to learn more about the adoption process.
Wednesday's Child is an award-winning program began in the Washington, D.C. metropolitan area in 1992 which features children who are waiting in foster care to be adopted and success stories of families who have adopted from foster care. Because of its phenomenal success, the program was expanded to other cities around the country. In April 1999 Wednesday's Child started in New York City as a collaboration between WNBC 4 and Freddie Mac Foundation. Since January 1, 2014 the Dave Thomas Foundation has sponsored Wednesday's Child. For more information, visit the Dave Thomas Foundation website at www.davethomasfoundation.org