Wednesday's Child is a part of the Dave Thomas Foundation's national campaign to increase adoptions of children in foster care. Each Wednesday (and again on Sunday mornings), a child in foster care who is waiting for a loving, adoptive home is profiled during the evening news on WNBC 4.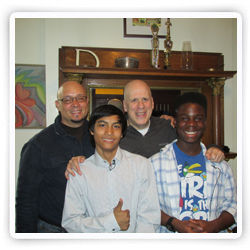 Isaiah's Family
When we first met Isaiah, 15, in February 2013, he spent an exciting day meeting the cast and crew of the play Spiderman on Broadway. This focused, intelligent, and highly motivated teen has a passion for the fine arts and dreams of becoming an actor when he grows up. Isaiah's other dream was to have a forever family that will support his dreams and his educational goals.
Isaiah's dream of having a forever family became a reality in February 2014, when he was adopted by Dominic and Jerry. No strangers to adoption, Dominic and Jerry had previously adopted Jason, 13 from Cambodia in 2003. They began their search for a sister for Jason in 2013. After selecting different children at a matching conference they came across a profile for a child named Isaiah. Both parents were puzzled, because they were not aware of Isaiah. Shortly after, they both learned that it was Isaiah's choice to have them as his adoptive parents. They were flattered by the idea that he selected them to be his parents. After looking at his Wednesday's Child segment their connection with Isiah was cemented. Isaiah's segment became "viral". Dominic, Jerry and Jason fell in love with Isaiah and realized that he was the missing piece of their family.
The family's excitement about having Isaiah as part of the family is evident upon meeting them. Isaiah feels that he "wasn't put into the family, I feel like I was here for so long, "this is the place for me". Isaiah's aspiration of becoming an actor and having a family who is supportive of his goals is also being accomplished. Jerry and Dominic have enrolled him in the Stella Adler Studio of Acting and he will begin attending the Professional Performing Arts High School in September 2014. Isaiah loves teaching his brother to sing and they also enjoy riding their bikes. This close- knit family enjoys going on vacations and loves traveling as a family. Isaiah's smile has grown even brighter since being adopted and feels that "It's cool to know that there are people out there just like you, that want things better for you."
Watch the video on NBC Website (page will open in a new window)
Search our online database of waiting children
Sign up for our weekly adoption and foster care newsletter
Wednesday's Child TV Schedule
Wednesdays between 5:30-6:00 p.m.
Sundays between 6:00-7:00 a.m.
About Wednesday's Child

Wednesday's Child is hosted by NBC meteorologist Janice Huff, who encourages viewers to call the ACS Parent Recruitment Hotline at 212-676-WISH to learn more about the adoption process.
Wednesday's Child is an award-winning program began in the Washington, D.C. metropolitan area in 1992 which features children who are waiting in foster care to be adopted and success stories of families who have adopted from foster care. Because of its phenomenal success, the program was expanded to other cities around the country. In April 1999 Wednesday's Child started in New York City as a collaboration between WNBC 4 and Freddie Mac Foundation. Since January 1, 2014 the Dave Thomas Foundation has sponsored Wednesday's Child. For more information, visit the Dave Thomas Foundation website at www.davethomasfoundation.org