WHO WE ARE
A staff of social workers and family specialists who respond to concerns of parents, youth, foster parents and the general public about child welfare cases.
Contact Us
Helpline number: (212) 676-9421
Collect call number for incarcerated parents: (212) 619-1309
In Person: 9:00 AM – 5:00 PM 
                  MON – FRI  
                  (see address below)
By Mail: 150 William Street
              1st Floor
              New York, NY 10038
WHAT WE DO
Our mission is to support safety, permanence and the well being of all children and families involved with the child welfare system.
We work to provide impartial resolutions to conflicts between clients and voluntary agencies or ACS offices. 
We provide information to the public about child welfare policies and procedures in an effort to ensure that parents, foster parents and youth are aware of their rights and responsibilities and obtain their due process. 
We share information gathered from our interaction with clients to help ACS and partner agencies improve services for children and families.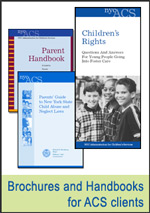 The Office of Advocacy is comprised of three units:
Resources: