The Administration for Children's Services 2011-2013 Strategic Plan

Achieving Excellence in Child Welfare, Juvenile Justice, and Early Care and Education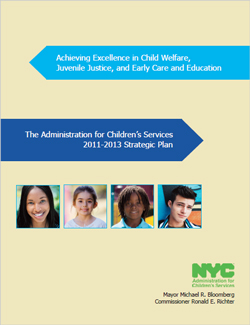 The Plan is the agency's blueprint for providing the highest level of service to New York City's children, youth and families each and every day.
Download the Plan (PDF)
Overview
The Strategic Plan provides a defined set of six priorities which will guide our work over the next two years.  These priorities promise to yield the greatest benefit for the children, youth and families that we serve.  They are measurable, and we will hold ourselves accountable for achieving results.  As outlined in the Plan, we aim to:
1. Create a culture of support and professional development for ACS and provider agency staff
2. Enhance child safety
3. Expand services and planning for teens to help them secure stable adulthood
4. Improve the quality of and access to early childhood services
5. Strengthen placement stability for children in foster care
6. Reduce the time to permanency for children in foster care 
In September, 2012, ACS released the Strategic Plan Update. 
Read the Strategic Plan Update (PDF)