A full house was on hand Friday, July 11, as the ACS Parents Advisory Workgroup (PAWG) gathered various people in a consortium to learn more about the Family Team Conference model of Improved Outcomes for Children. The gathering discussed the strengths and challenges of the model. Family Team Conferencing (FTC) represents a process for engaging family, community members, foster parents and relative caregivers in critical decisions related to child safety, placement (preservation), well-being and permanence. About 100 people attending the consortium heard from a panel of experts, including parents, agency staff, ACS staff and community advocates. "We wanted to make sure those who attended had an understanding of the initiative, specifically the structure of the conferences, the different types of conferences and the process of how the conferences are facilitated," said Dana Guyet, ACS liaison to PAWG and Director of the ACS Office of Advocacy. "We wanted feedback from the group about how to make sure parents attend conferences and feel engaged in the process."

There have been thousands of Family Team Conferences since the process was initiated last year as Phase I of Improved Outcomes for Children, and many parents, workers and advocates have expressed satisfaction with the process. "The principal objective of Family Team Conferences is to empower parents and children," said ACS Deputy Commissioner Elizabeth Roberts of the Division of Family Support Services. "These conferences also bring transparency to the decision-making process, resulting in a more meaningful plan of action that a family can understand and will also follow through."

PAWG is an ACS group comprised of 15 parents and an ACS staff liaison. The mission of PAWG is to explore and address the issues that parents and caregivers face when dealing with the child welfare system, and to effect positive changes by working in partnership with ACS staff.
Among the participants at the Consortium were: Denise Gaines, PAWG and Center for Family Representation; Elizabeth Lauren, ACS Project Manager for Improved Outcomes for Children; Robert Martinez, ACS Borough Director for Bronx/Manhattan's Office of Family Team Conferencing; Sabine Chery and Francisco Guadamuz, ACS Family Team Conference Managers; Jahmani Hylton, ACS Conference Manager-Preventive Family Team Conferencing; Robyn Brown Manning, Kriya Associates; Eve Rentzler, Social Work Supervisor at Good Shepherd Services; Annette Metoyer, Parent with Good Shepherd Services; Sabra Jackson, Parent Organizer, Child Welfare Organizing Project; Keeva Bragg, Child Evaluation Specialist, ACS Division of Child Protection; Paula Moore, Queen's Borough Coordinator, ACS Office of Community Partnerships; Gail Murtha, Director of Expedited Permanency, Children's Aid Society; Christina Richburg, Co-Chair, Bedford-Stuyvesant CPI Coalition and community activist.
Photos from the event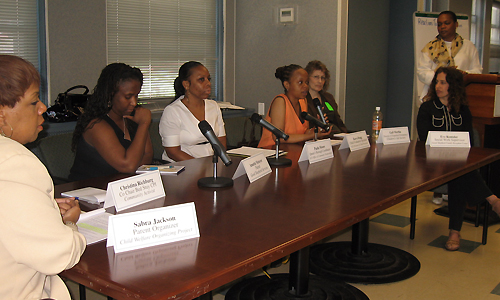 Panelists (l-r) Sabra Jackson, Annette Metoyer, Paula Moore, Keeva Brag, Gail Murtha, Eve Rentzler and (standing) Robin Brown Manning address challenges of Family Team Conferencing.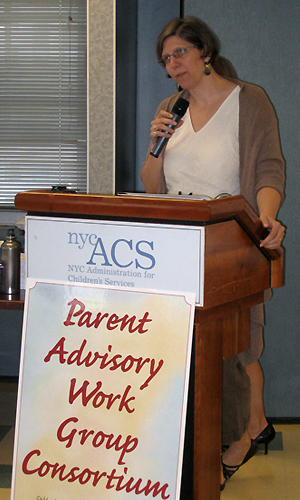 Deputy Commissioner of Family Support Services Elizabeth Roberts addresses the PAWG Consortium.