Washington Heights Family Preservation Program Celebrates 15 Years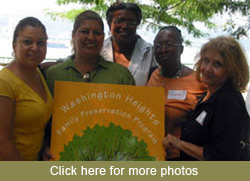 The Washington Heights Family Preservation Program (FPP) celebrated its first Family Reunion at a Riverbank State Park picnic on August 30th. The event commemorated the program's 15 years of service to community-based service providers in Washington Heights.
FFP's mission is to keep children safe, strengthen families and reduce the need for out of the home placement. It is an intensive, home-based preventive service provided by the Division of Child Protection of the Administration for Children's Services. Its 6-to-8 week intervention is designed to keep families safely together. It uses intensive counseling and support services and works with the family to prevent the removal and placement of children into foster care. Its services are provided in the home to stabilize the family by removing the risk of harm to the children rather than removing the children and placing them in protective custody.
FPP is a voluntary program. Families are referred to FPP by their local ACS Field Office. Trained staff use a culturally-sensitive approach to help families develop effective problem-solving skill. They also act as family advocates and help families to learn how to gain access to various community services.
Joining participating families and the Washington Heights FPP staff at the picnic were the Explorers, a volunteer youth group of the NYPD, as well as representatives of various community service providers including Alianza Dominicana and new partners such as Job Corps, AmeriGroup, Community Care and Doctor's Medical Group. All enjoyed a day of barbecue, games, swimming, yoga and other activities.