Youth in foster care spent a rewarding day on Feb. 17 exploring the world of work and non-traditional avenues of employment that could lead to the career of a lifetime. Some 75 young people age 15 and above attended the conference in Manhattan, which included presentations from organizations such as the New York City Fire Department, the US Postal Service and representatives from businesses providing barber, computer repair and pet grooming services. The conference was hosted by New Yorkers for Children, in partnership with the Children's Services, New York City foster care agencies, FedCap, and FEGS.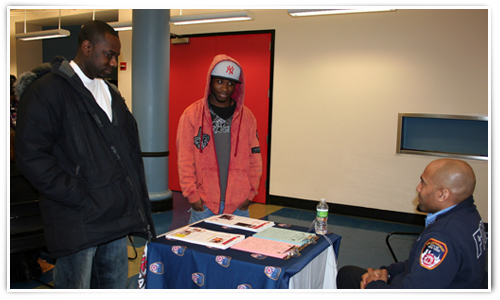 NYFD Fireman Johnson talks with a couple of foster care youths about careers as a fireman or emergency medical technician.
The event targeted youth who are in care and may not be college bound, with the objective of helping them take the next steps to finding meaningful employment and careers. The conference was held at FedCap, a vocational rehabilitation facility. The day began with workshops delivered by FEGS on resume writing, goal setting, interview skills and how to conduct a job search. The workshops were aimed at helping the young adults learn more about the character traits suited to particular types of employment and careers.
According to Latisha, an 18 year old Lehman High School student: "I am interested in culinary arts, and I wonder what it would be like to be a pastry chef. But I also found out from the workshops that I am the type of person who likes to learn a lot of information, and I also am interested social work. I would like to show other kids that it is not so bad being in foster care. I may want to work for my agency when I graduate from college."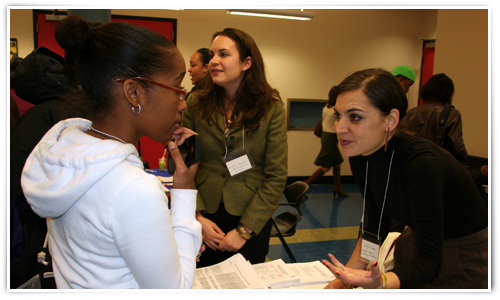 17 year old Nakima listens to Caryne Hayes (right) from C-CAP talk about careers in culinary arts.
Among the more popular tables was Careers Through Culinary Arts (C-CAP) program staffed by Caryne Hayes and Meghan Seradsky. C-CAP works with public schools in New York City and across the country to prepare high school students for college and career opportunities in the restaurant and hospitality industry. "Most of the kids stopping by are getting general information about our program. If they are enrolled at the high schools where we have programs, it is a great opportunity to benefit from all that C-CAP offers," said Hayes.

Candace Arnold and Donald McLachlan (sitting) answer questions at the FEGS table.
Paid internships attracted many to the FEGS table, where program coordinators Candace Arnold and Donald McLachlan handed out brochures and fielded questions from young people looking to earn some cash. The internship program funded by New Yorkers for Children offers 25 youth in foster care paid internships lasting 8-12 weeks for 10-15 hours a week at $7.25 an hour. Positions are available in citywide in office settings, day care centers, after school programs and some retail. According to Arnold, a few positions are still available for the program with runs until August. Youths are accepted on a rolling basis, and those interested should check with their social worker.
A highlight of the day was the presentation of Back-to-School kits containing school supplies and gift certificates, and for three lucky youths who won a raffle, brand new Macbook computers and printers.