LoHud.com - New York's Lower Hudson Valley
New emphasis on family shifts focus of children's agencies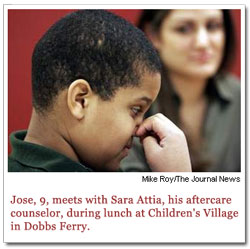 By Shawn Cohen, The Journal News
February 26, 2008

DOBBS FERRY
At 15, Paul was the type of kid who could easily have ended up in a residential treatment center.
Deeply depressed, he spent months lying around his Yorktown house, cutting school, and he would lash out at his father, who wasn't shy about hitting back.
Paul's awakening came during the spring, when he wound up in a psychiatric hospital and actually met some kids who told him what it was like to live in an institution.
"They just said it's terrible there, that there's gang violence and drugs," said Paul, identified by his first name only because of his situation. "One boy told me he got to spend just one week out of the year with his actual family. I got scared."
Paul never had to leave his home, thanks largely to a taxpayer-funded program that assigned a therapist to help the father and son work through their problems. Ironically, the agency that provided the service was Children's Village, a Dobbs Ferry-based agency that runs one of the largest RTCs in the country.
Children's Village is now at the forefront of efforts to keep families together, part of a dramatic shift in New York's child-welfare system away from residential treatment.
New York City's Administration for Children's Services, the largest placement agency, has managed to cut the number of RTC referrals by more than half since 2000. There were 1,975 children in RTCs on Feb. 25, 2000; today, there are about 950.
Many of those children had been sent to Children's Village and nearly a dozen other RTCs in Westchester, Rockland and Putnam counties, where they would receive shelter, schooling and counseling in a highly structured campus setting.
The RTCs are now filling some empty beds by accepting more special-education children who used to be sent out of state and juvenile delinquents. They're also shifting resources to communities, building a network of services to help children remain with their families.
Therapist home visits
Children's Village, for its part, has been awarded more than $5 million in the past year to provide home-based therapy and other support to some 800 families - a figure that's increased 50 percent a year for the past six years.
"Community services have grown by 150 percent in the last three years," said Jeremy Kohomban, president of Children's Village. "Our ability to develop services that are responsive to the needs of families allows us to prevent placements and support children within their communities."
This was shown in the spring when social worker Stephanie Gamzon, working for Children's Village, started showing up at Paul's home. The teen had been discharged from the psychiatric hospital and prescribed an anti-depressant. Gamzon visited once a week to provide counseling under the agency's multi-systemic therapy, or MST, program. Her main focus was the father, Don, who is raising the boy on his own.
"The RTC is all centered on the child, the child, the child," Gamzon explained. "This is more parent focused. I always tell the parents that, as a social worker, I can't come in and fix your child. I can help you to help your child, but I can't do it for you. Because what's going to happen when I leave?"
At the time, Don had difficulty managing his own temper. Through counseling, he learned how his behavior affected his son's.
"It came out that my getting angry only made him get angrier, which would just make the whole situation escalate and become violent," Don said. "It was work for me to control myself when he was getting angry, but I knew I had to do it."
Don, like his son, learned to take "time out" when he gets upset. At Gamzon's urging, he also established a point system that rewards Paul for good behavior, giving him video games, for instance, if he attends school regularly.
Children's Village employs similar incentives in the RTC, where efforts are made to control and modify children's behavior.
For decades, Children's Village and other RTCs survived on the notion that they could "fix" children. They defended institutional care by saying many of these youngsters didn't have viable homes and couldn't be managed on the outside.
Their goal was to treat the children and prepare them for a return to society, but many would spend years at the institutions at high cost - $70,000 a year or more per child - and with questionable results.
A new goal
"Even a generally well-run institution tends to breed dependency," said Mike Arsham, executive director of Child Welfare Watch in Manhattan. "It's like, somebody tells you when to get up in the morning, brush your teeth. It doesn't prepare young people for much, other than living in institutions. Not that normal family life infallibly leads to great life outcomes, but it gives you a better chance."
The new emphasis is on finding ways to maintain and reunite families that previously might have been written off.
"We now, after a couple years working hard at it, are routinely able to place youngsters ... in settings with their families," said ACS Commissioner John Mattingly. "Our system should not deal with the needs of a young person by moving the child somewhere. We should find the help the child needs and bring that help to the family."
ACS and Westchester County's Department of Social Services have been supporting programs such as MST, in which teams of therapists are available to families 24 hours a day. It encourages families to modify the child's social network, while reinforcing or teaching good discipline and family care skills, explained Paul Schiller, who is in charge of Children's Village's MST program.
Another intervention
The program helped Marisol, 36, a Bronx mother of three, keep her family together after her 14-year-old daughter started skipping school and disappearing some nights. Accused of educational neglect, Marisol faced the real possibility that her daughter would be placed in foster care.
"I would lose half of my world because my children are my life," Marisol said, cradling her 2-year-old daughter in her cramped apartment. "I cried many days because I was very scared."
She embraced the MST counselor sent to the home by Children's Village, and learned how to play a more prominent role in her children's lives. The counselor, meeting with Marisol twice a week, helped her implement ground rules for Soriami, and taught her how to defuse crises when the teen would lose control, lock herself in her room or storm out of the home.
"I had to learn how to be assertive and firm," Marisol said.
The therapist also provided relationship counseling for Marisol and her live-in boyfriend, getting him involved in parenting the girl.
The sessions, as designed, ended after four months, and there was no guarantee that the family would stay out of trouble.
Still, the idea behind MST and similar programs is not to create a perfect family; it's to cultivate a family's strengths and teach them how to survive.
The new emphasis has enabled Children's Village to send children back to their homes far sooner than in the past. In 2002, kids were kept there an average of nearly three years. The average stay is now 19 months, which Children's Village credits to more aggressive efforts to reach out to families and prepare for their reunification.
That's why Jose, a 9-year-old from the Bronx, was able to return home after two years at Children's Village. As part of an aftercare program, Jose still attends day school on campus and meets weekly with a counselor there.
During a lunchtime meeting last week, the boy picked at some french fries as counselor Sara Attia advised him to visualize a relaxing place when he gets upset. He told her he was thinking about a "beach, listening to sea gulls, making a sand castle," recalling times that his mother would take him to the ocean when he was younger.
Jose smiled when he considered that he would now get the chance to do that again, back home.