Troubled teen gets second chance through new tough-love program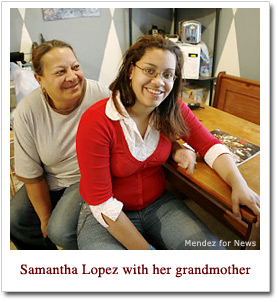 BY KATHRYN LURIE
March 30, 2008
For years, she skipped school, used drugs, scuffled with the law and disobeyed her grandmother, who raised her.
Samantha's luck ran out when she was sentenced to a year in an upstate juvenile detention center for hitting a school security guard.
After a miserable month at Tryon Residential Center in Johnstown, the court reopened Samantha's case and gave her a choice: stay locked up or go in into new tough-love program called Blue Sky.
"I said, 'Yeah!' I didn't wanna be there," Samantha recalled.
Blue Sky, which celebrated its first anniversary in January, is an experimental program administered by New York Foundling that aims to keep troubled teens in their homes and communities - and out of juvenile detention centers.
Funded by the city Administration for Children's Services and the Annie E. Casey Foundation, the program uses different types of therapy to "treat chronic juvenile delinquency," said Dr. Sylvia Rowlands, Blue Sky's director.
Tanya Arcos, the therapist assigned to Samantha's case, knew the teen had a pattern of bad behavior, and saw that the girl's grandmother had little control over her. So Blue Sky initially placed Samantha in foster care.
"There weren't a lot of consequences in the home. So Samantha could come and go and do whatever she wanted. Grandma felt like she was powerless," said Arcos.
Arcos taught Samantha's grandmother, Carmen Lopez, how to use positive and negative reinforcement to improve the teen's behavior.
For example, if Samantha gets into trouble at school, she will have a curfew of 3:30 p.m. for the following five days, instead of 7p.m. If she goes seven days without getting into trouble, she's rewarded by being allowed to talk on the phone for an extra hour one night the following week.
Meanwhile, Samantha's foster mother enforced a similar discipline, preparing the teen for eventual reunion with Lopez.
The typical kid referred to Blue Sky has been found guilty of some charge or has violated probation and is two years behind academically.
Blue Sky doesn't accept children who are suicidal, homicidal, sex offenders, psychotic, autistic, or have an IQ of 65 or below, Rowlands said.
Since the program's inception, "we have been successful in keeping somewhere between 60% to 70% of kids from [juvenile detention centers]," she said, "which is great, because kids who come out of [detention centers] are about 80% at risk to reoffend."
The city has pledged $2 million a year for two years to the program, which has helped 112 kids to date, putting the program on pace for its goal of helping 100 kids a year.
Bill Baccaglini, the executive director of New York Foundling, said Blue Sky already has saved taxpayers $500,000 in juvenile detention costs.
After six months with her foster mother, Samantha moved back in with her grandmother on March 7. She promised to behave, be respectful of her grandmother and stay off drugs.
She's already talking about graduating high school and getting a job working with computers.
"I'm going to stay in school - like I do now," Samantha said.
Back to News Page