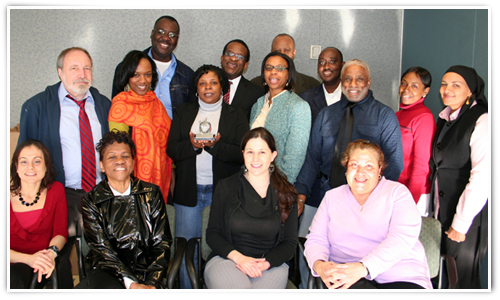 The Neighborhood Advocate Award for support of children and families in Bedford Stuyvesant, Brooklyn, was presented recently to Children's Services. Commissioner John B. Mattingly accepted the award, which is presented annually by the Neighborhood Technical Assistance Clinic (NTAC) to leaders of organizations that support projects on the front lines of neighborhood life.
Commissioner Mattingly noted that the award was being given in recognition of the work of the Children's Services Office of Community Partnerships (OCP), which has been supporting neighborhood-based services and building collaboration through the Community Partnerships Initiative (CPI.) He asked Neighborhood Technical Assistance Clinic for its continued support of the community partnerships and for Children's Services overall work in the community, especially as the agency moves forward in providing services to more young people as a result of the merger of Children's Services with the Department of Juvenile Justice.
Nigel Nathaniel, Director of the Office of Community Partnerships, said he was grateful for the recognition and that Children's Services places a high priority on building community relationships. "We are working with communities to create a city in which people and systems with different strengths and perspectives work together for the safety of children and families."
The Community Partnerships are located in 11 communities throughout NYC that includes community constituents, Children's Services, child welfare agencies, Head Start and Child Care provider agencies and other stakeholders that explore innovative, community-based strategies that can work to improve child welfare outcomes for New York City's children. Each partnership is designed to improve the well-being of children and families in the child welfare system and reduce the use of foster care services in their community. The partnership participants engage in joint planning, service coordination, training and advocacy in the four tasks of the CPI, which are to improve the coordination of the delivery of child welfare services, promote greater community involvement in keeping children safe, support and recruit foster parents and help to facilitate visits between parents and their children in foster care.
Other awardees were Gladys Carrion, Commissioner of the New York State Office of Children and Families; Rev. John Vaughn, Program Director, the Twenty-First Century Foundation; Ana L. Oliveira, president & CEO, New York Women's Foundation and Yvonne Riley-Tepie, Assistant Vice President Marketing, TD Bank. The award was first held in 1998 and to date more than 32 New York City philanthropic executives have been honored.
Also present at the ceremony were Valerie Oliver Durrah, President & CEO of NTAC, Rev. Dr. Gary V. Simpson, pastor of Concord Baptist Church where the event was held, presenter Kate Sullivan, CBS2 Co-Anchor and Brooklyn Borough President, Marty Markowitz.