Take Our Children to Work Day


It was "Take Our Children to Work Day" on July 18, and more than 550 ACS staffers did just that. Children participated at most ACS locations. The day was launched at 150 William St. with a continental breakfast and opening remarks from Commissioner John B. Mattingly and Dr. Elisabeth Jackson, PhD., Director of Neighborhood Based services.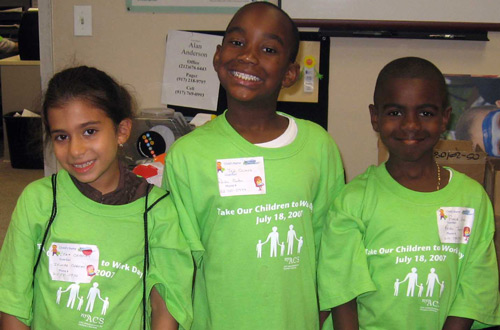 The youngsters in small groups shadowed staff members, toured their offices and participated in career empowerment and development workshops, including budget management, resume writing and yoga instruction.
"We work so hard to keep you safe…and we invited you into our home (ACS offices) so that you can see the principles and values of the agency at work," said Dr. Jackson. "We want you to have a rich experience."
Dr. Jackson complimented staffers who planned, arranged and coordinated the day's program and activities. She urged the children to listen carefully so that they could have a richer and fuller experience.
Special thanks goes to the Mayor's Office, Neighborhood Based Services Unit, the Graphics Unit, Childcare/Head Start, Yoga instructors Alyce Kaufman, Anna Ayzenberg, Vipul Ponappa, Charmaine Roberts-Jeudy and Daidee Leong, the Adoption Unit, Copy Center, Parent Recruitment and Expedited Permanency, Committee Members, all the staff that participated and Lydia Ithier for her dedication and leadership in making this event a success.