Completed Training: Add 448 Child Protectors
By MEREDITH KOLODNER

October 26, 2007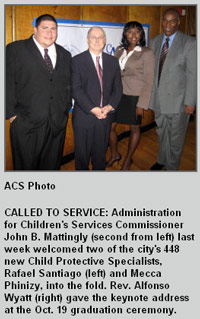 The city welcomed 448 new Child Protective Specialists last week after they graduated from a six-week program that trained them to safeguard children from abuse and neglect.
Graduates will work out of one of the Administration for Children's Services 14 field offices spread throughout the five boroughs. The new class brings the total number of frontline Caseworkers and other child welfare investigators up to 1,300. The ethnically diverse class is overwhelmingly female, with just 50 male members, and includes recent college graduates, mid-career changers, an Iraq veteran and a former foster-care child.
Calls Stress Worth It
"In the coming weeks, months and years, each one of you will encounter complex, frustrating situations," ACS Commissioner John B. Mattingly said at the ceremony. "You will be forced to make difficult decisions, and sometimes you will feel overwhelmed. But you will never go home at the end of the day wondering if you did anything worthwhile or meaningful."
The training is intended to teach the caseworkers how to conduct safety and risk assessments, investigate abuse and neglect allegations, communicate effectively with families, make judgments on whether a placement is necessary, and operate ACS computer databases.
'Help Them Open Up'
One of the graduates spent time in the foster-care system. "Most people think foster children will not amount to anything. My goal was to be someone, and at 16 my goal was to be a Caseworker," said Mecca Phinizy in a speech at the graduation. "I am able to get children to open up about the types of abuse that they have been through, and I feel I can help them."
Ms. Phinizy will be working in the Office of Special Investigations (OSI), which investigates abuse in child care settings and foster care.
The graduates include native New Yorkers working in neighborhoods where they grew up and residents from Puerto Rico, the Dominican Republic, the West Indies, Russia and Africa. Placement assignments were determined by staffing levels and caseloads in each office.
In the first eight months of this year, ACS caseworkers investigated about 39,000 reports of abuse and neglect. In 2006, ACS investigated more than 63,000 reports.