Family Team Conferencing
At the heart of Improved Outcomes for Children is the Family Team Conference model. This model is based on a family/community engagement practice model in which critical decisions and service planning are made by a group (including the family, their supports, community supports and service providers) rather than individually. Through this model, NYC Children's Services is establishing standards of practice based on basic principles and outcomes: safety of children, placement stability and permanency, and well being. NYC Children's Services' Family Team Conferencing model is based off of Team Decision Making (TDM), one of the core strategies of the Annie E. Casey Foundation's Family to Family initiative. For more information about Family to Family, please visit the Annie E. Casey Foundation Website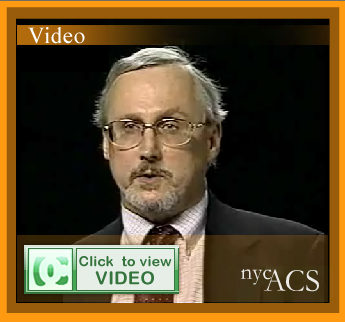 Family Team Conferencing: Objectives, Key Principles, and Structure:
The objectives of the Family Team Conferencing model are:
To improve critical decision making regarding a child's safety, well-being, and permanency by including people important to the family's life, key community supports, and agencies with whom the family is involved.
To comprehensively assess service needs of children and families, and plan and coordinate service delivery. To focus on safety, permanency and well being of children, evaluate the need for ongoing placement or services, reassess the service needs of the family, ensure the case is progressing toward permanency and ensure that the goals of the service plan are being achieved.
The key principles of the conference are:
All families have strengths
Families are the experts on themselves
Families deserve to be treated with dignity and respect
Families can make well-informed decisions about keeping their children safe when supported
When families are involved in decision-making, outcomes can improve
A team is often more capable of creative and high-quality decision making than an individual
The structure of Family Team Conferences:
Family Team conferences are led by trained facilitators. Depending on the timing and type of the conference, the facilitator may be an employee of the Administration for Children's Services, or may be an employee of one of the foster care or preventive providers whom we contract with to provide services. The facilitator guides the conference through the following structure, and ensures that children and families are respected and heard throughout the meeting:
Introduction
Ground Rules
Identifying the Situation
Assessing the Situation
Developing Ideas/Brainstorming
Safety Plan / Action Steps Development
Everyone knows who will do what / when?
Consensus
Recap / Close
Types of Conferences at NYC Children's Services :
Child Protection Conferences:
NYC Children's Services Division of Child Protection will convene and facilitate Initial Child Safety Conferences in order to determine the best safety plan for the child:
Prior to any removal to determine whether to remove a child; and/or prior to initiating any type of court intervention;
To determine whether to accept a voluntary placement request for a child;
To develop an in-home safety plan when it is safe to do so; or
To review decisions immediately after an emergency removal and to ensure that appropriate placement is made. Provider agencies must attend depending on involvement.



NYC Children's Services Division of Child Protection will convene and facilitate Child Safety follow-up Conferences within 20 days of placement to review a placement decision, continue to explore kinship options, ensure that visiting is occurring, and develop a comprehensive individualized service plan. Foster care provider agencies attend. In situations where the child was not removed and an in-home safety plan was developed; a follow-up Child Safety Conference will also be held within 20 days to assess progress on that plan and ensure the safety of the child. Preventive provider agencies attend. Child Safety Conferences are being introduced borough by borough- currently parts of Manhattan and Brooklyn.
Family Permanency Services (Foster Care) Conferences:
Beginning the first quarter after the initial Child Safety Conference, foster care provider agencies will convene and facilitate Quarterly Permanency Conferences to focus on safety, permanency and well being, evaluate the need for ongoing placement, reassess service needs and ensure progress towards permanency. NYC Children's Services attends at month 3 (between day 70 and day 85), month 7 and every six months thereafter. NYC Children's Services will facilitate some of these conferences initially.
NYC Children's Services Division of Family Permanency Services will facilitate Family Team Conferences at critical decision points in a case, whenever there is a potential placement disruption to decide if the child can remain in the current placement, and to decide discharge/reunification and goal changes, including adoption and APPLA (Alternative Planned Permanent Living Arrangement). In addition to the conferences above, the NYC Children's Services Practice Model includes the Parent-to-Parent meeting that the foster care provider agency will be expected to hold no later than 3-5 days after initial placement to establish an ongoing relationship between birth and foster families, and to initiate service planning and visiting arrangements.
Family Support Services (Preventive) conferences:
For all cases referred to Preventive, the preventive provider agency will convene and facilitate a Preventive Services Planning Conference every six months beginning at month 6 of the case to review the service plan with the family, make adjustments to the plan as needed, address any ongoing concerns regarding risk and reach agreement on strategies to reduce risk, assess progress toward achieving service plan goals and examine the need for ongoing preventive services. NYC Children's Services will attend the initial conference at 6 months to review the service plan, determine whether risk is being adequately reduced, what the remaining needs of the family are that must be met, and to reach an agreement regarding additional steps necessary to take prior to terminating preventive services.
NYC Children's Services Division of Family Support Services will facilitate Elevated Risk Conferences (when the case is no longer open with DCP) upon the request of the Preventive agencies when risk escalates and there is a need to re-engage the family in services, adjust the service plan, and identify strategies to reduce the risk to children.